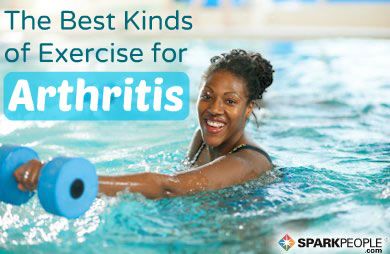 If you live with the daily pain and discomfort of arthritis, you're not the only one. In the United States, an estimated 46 million adults (about 1 in 5) have been diagnosed with arthritis. Hopefully your doctor has given you suggestions about how to reduce the symptoms, lessen the debilitating effects, and improve your quality of life. One of these suggestions was probably to engage in regular physical activity. So how do you get motivated to go to the gym when you can't even get out of bed without pain? Is exercise really going to make a difference?

Research shows a positive relationship between arthritis and exercise:
A 14-year study published in Arthritis Research and Therapy, analyzed aerobic exercise and its impact on joint pain. Researchers found that exercise was associated with a substantial and significant reduction in pain, among men and women of various shapes and sizes.
A 2003 study published in the Journal of Arthritis and Rheumotology found that patients with RA (rheumatoid arthritis) can safely improve their level of physical fitness using a regular strength and endurance training program.
Long-term studies have shown that people with inflammatory arthritis can benefit from moderate weight-bearing activity, and reduce the bone loss and small joint damage associated with this condition, wthout increasing pain or disease severity.
According to a study in the Journal of the American Medical Association, strength training can help people with arthritis preserve bone density and improve muscle mass, strength and balance.
If you have arthritis, three different kinds of activity should be incorporated into your exercise program: flexibility training, strength training and aerobic exercise. That may seem like a lot, but once you get into a routine and notice the benefits each provides, it will become a normal part of your everyday life.
Continued ›
Article created on: 3/30/2007