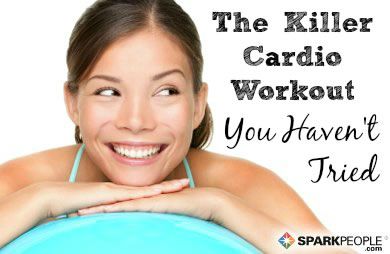 Are you sick of the same-old cardio machines at the gym? Bored by the treadmill? Tired of the elliptical? Can't stand to do another mile on the stationary bike or another flight on the stair climber? Well, then, it's time you head over to the indoor rower. Yes, that rower—the dusty piece of equipment over in the corner of your health club that doesn't get used very often. The one that has a big handle and straps for your feet—that's the one!

The indoor rowing machine is awesome. It used to be fairly popular back in the early health club days but fell out of vogue when the newer and fancier stair climbers, treadmills and ellipticals came on the market. Now though, with more people looking for a complete full-body workout, indoor rowing is experiencing a resurgence in popularity, no doubt thanks to the popular Crossfit style of exercise that often uses indoor rowers in their workouts. And it's with good reason that rowing is becoming trendy again: There are a ton of reasons to love it. In fact, here are nine!

9 Reasons to Try the Indoor Rower
1. Anyone can do it. Old, young, good knees or bad knees, indoor rowing is a low-impact exercise that is easy on the joints. So no matter what size you are or what limitations you face, you can probably do it. In fact, it's the exercise du jour for many people who are recovering from an injury because it's so easy on the body, yet provides a great workout!

2. Rowing burns big calories. Hop on the rower, start moving, and burn some major calories. A 160-pound person will burn about 250 calories in just 30 minutes of rowing, which is as much, if not more than, what you would burn on the stair climber or the elliptical.

3. Strength and cardio in one. The reason why the calorie burn is so high is because rowing requires you to use both strength and cardio endurance at once. The pulling motion of your upper body along with the pushing motion of your lower body requires strength of the legs and torso, while the full movement itself requires the increased cardio output of your lungs and heart. Meaning, your muscles are pushed and you get out of breath. Talk about multitasking!

4. Rowing uses your full body. When it comes to indoor rowing, the question isn't which muscles are used, but which muscles aren't used? From your shoulders to your chest to your back and biceps and triceps, your entire upper body is used. On the lower body, everything from your hamstrings to your quads to your glutes and your calves are engaged when rowing. And don't forget the core! Your full torso, including your abs and erecter spinae (back) are used to power through the rowing motion. It is functional fitness at its best!

Continued ›
Article created on: 9/17/2013