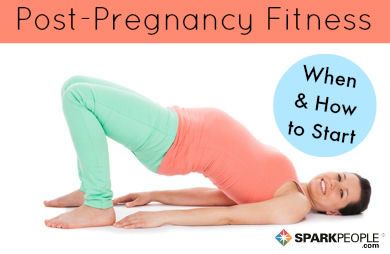 Now that your baby has finally arrived, your life will never be the same. Your body has gone through some major changes, too—and will continue to do so in the coming months.

When you're feeling ready (and after your doctor gives you clearance), resuming or starting an exercise program can help your body heal, become stronger, and get fitter than ever.

Benefits of Exercising after Pregnancy
The advantages of exercise go way beyond simply firming up or losing the "baby" weight. A consistent exercise program can also:

Prevent the baby blues. Research shows that light activity can help ward off the common feelings of sadness, disappointment, and depression that many women experience after delivery.
Promote healing. Getting stronger and fitter helps your body recover. Strong muscles and bones tend to bounce back faster.
Increase energy. You may never have felt as tired as you do right now. Working out can help balance out sleep deprivation and the stress of motherhood, giving you the energy you need to nurture, and play with your little one.
How Soon Can I Exercise after Delivery?
You will need a period of time off to allow your body to rest and heal after giving birth. Don't start your exercise program before your doctor gives you the OK. The most important things you can do during the first weeks postpartum are: care for your baby, rest when possible, and eat a healthy diet. Time for exercise will come soon enough.

Once you're cleared for exercise (usually 6-8 weeks postpartum for an uncomplicated delivery), listen to your body and start slowly. You shouldn't jump back into the same intensity and duration of exercise you were doing before your baby was born. Find an activity (like walking, water exercise or gentle yoga) that feels good—and can even include your baby!

Most women can follow one of the general schedules below to reintroduce exercise, but let your own commonsense and energy levels lead the way. If you aren't feeling up to something, listen to your body and continue to rest longer. Always check with your health care provider before starting or trying any exercises.

If you had a normal vaginal birth:
Most women should wait several weeks before resuming normal exercise, but you can begin some simple movements as early as the day after delivery. This is a good time to try some light exercise while lying in bed, such as kegels, pelvic tilts, and neck & shoulder stretches.

In the following weeks, as you feel able, begin some light walking and strengthening moves for your abs, lower back, and pelvic muscles.

You'll likely have a postpartum checkup around 6-8 weeks postpartum. Ask your doctor about resuming exercise at this time, and if cleared, start with light to moderate exercise, building up to a full training program slowly (and with your doctor's clearance).

If you had a Cesarean birth:
A Cesarean delivery is major surgery, from which you will need extra rest, sleep and good nutrition in order to recover. Along with your doctor's advice, here are a few tips to determine when your body is ready to start exercising after a Cesarean delivery:

All incisions or tears have healed.
Your postpartum recovery is progressing normally, and both you and your baby are healthy. (A high-needs baby is more physically and mentally stressful for mom, which can slow down recovery.)
You feel good after physical activity and don't experience any increase in vaginal bleeding.
You don't feel excessively fatigued from exercise and you recover within your normal period of time following exercise.

The day after a Cesarean delivery, you can usually begin simple exercises (in bed) like kegels, deep breathing (which engages the diaphragm and your deep transverse abdominal muscles), actively pulling your stomach muscles inward (belly button toward spine), and simple upper body stretches for the neck and shoulders as you feel comfortable. If you experience any pain or discomfort during any of these movements, take it as a sign you are doing too much.

In the following weeks, as you feel able, try light walking and strengthening moves for your lower back and pelvic muscles. Expect to wait about 8-10 weeks (and get a physician's OK) to begin any further activity.

Other Postpartum Fitness Concerns

Continued ›
Article created on: 3/2/2006