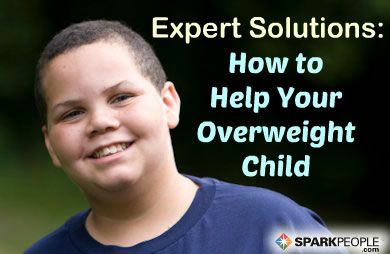 Of course we know that obesity has reached epidemic proportions in this country- and now it's been spilling over to our kids. Obesity among children is skyrocketing, and getting a lot of attention these days, but I think people are still not sure of a couple of things: How can parents prevent their own children from becoming overweight, and what do you do when a child (or adolescent) is obese?

Jen (SparkPeople Community Leader)
I think the first place it starts is with parents. When I worked at the YMCA we had a program for severely obese kids, and 9 times out of 10 the entire family was obese too. So I think there is something wrong with that family's lifestyle that needs to be addressed. A 10-year-old can't go grocery shopping for himself. But if he is given healthy options at home and the parents provide a good example, he's much more likely to continue that behavior—partly because it's familiar. If french fries are familiar at home, then he's more likely to eat that as he gets older and can make his own choices.

Same goes with exercise- if they are given a good example and not allowed to sit in front of the TV all day, they are more likely to continue that behavior.

I think parents can create a healthy environment without focusing on counting calories and losing weight. It's just about being healthy and getting active. I get nervous when I hear people asking for calorie recommendations for their kids. They'll get enough of that pressure from media and society—no need to create more of it at home.

Christie Hadley (Certified Personal Trainer)
I agree with Jen. The parent's habits really impact how the kids act. Also, where children play has changed. When I was young and it was nice outside, I wasn't "allowed" to be inside. We made up games and ran around the back yard. If we came in for too long we were sent directly outside. I actually overheard a mom say the other day that now, she'd rather have her children play inside. That is a big shift in attitude.

In my personal opinion, I feel that the focus shouldn't be on the "good" foods and "bad" foods, and children should never be put on a "diet." The focus should be on a healthy lifestyle—an eat to win attitude so a child can be the best soccer player, ballerina, or math wizard she can be.

Continued ›
Article created on: 4/27/2005