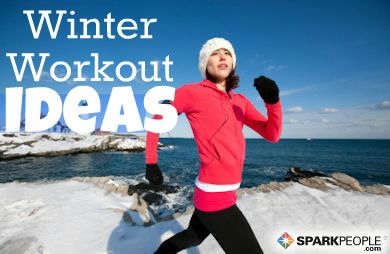 It's freezing cold outside, it's dark when you get home, and you're still recovering from those extra holiday calories you put away over the last couple weeks. That's a pretty good excuse to sit inside by the fire, snuggle up with a mug of hot chocolate, and watch the boob tube, right?

Wrong! While it's tempting to turn into a couch potato in winter (30 percent of people don't exercise at all during the winter months), it's also a good time to take a deep breath, wrap up in warm clothes, summon your adventurous spirit, and get out into that crisp invigorating air. Exercise can help you shed those holiday pounds, while increasing your overall health and quality of life. And, keep in mind the winter bonus: you actually burn more calories exercising in winter because your body has to work hard to keep itself warm.

Here then is a quick rundown of winter sports that can keep you in top form-- so that when you are snuggling by the fire, it'll be as a reward after a fun outdoor workout.

Walking/Jogging
A regular walking or jogging program can benefit you by decreasing your blood pressure, resting heart rate, and cholesterol, while increasing your metabolic rate and ability to burn fat. Wind, snow, and cold needn't slow you down if you dress appropriately with layers to keep you warm and reflective clothing to keep you visible on dark days. Be sure to warm up your muscles first, since cold temperatures make your body less flexible and more prone to injuries. Wear shoes with deep traction to prevent slipping on wet or icy roads. Finally, find yourself a workout buddy who'll help keep you motivated—it's a lot easier to roll out into the cold when you have a committed friend waiting.

Snow Hiking
A step up from walking or gentle jogging, walking around in snow, especially deep snow, can be great exercise, too. It requires more effort from legs and heart than simple walking, and the only additional equipment needed is good, insulated boots that will keep your feet dry and warm.

Snowboarding
Burning anywhere from 250-630 calories per hour, snowboarders are known for having tight abs. But balancing on this board also works the glutes, thighs, and even arms. Look for beginner packages that include lift pass, equipment rental, and lesson. Prices range from $99 for three days to $40 to $70 for each day, depending on your level and the day of the week. Renting equipment (snowboard and boots) can range $20 to $30; lift passes cost $35-$55. As with any vigorous activity, warm up before you start sliding.

Continued ›
Article created on: 1/19/2005