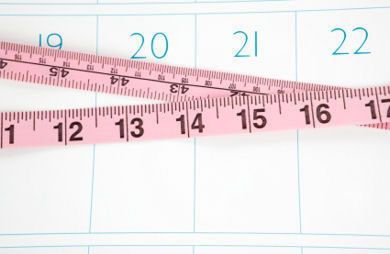 Some people can measure their weight loss by the way they feel and look: firmer thighs, a smaller waist, jiggle-free arms. But then there are the number-crazy ones who desperately need some kind (any kind!) of concrete proof that all their hard work is paying off. They want to gauge their progress a different way. Give them numbers on paper, or some kind of chart and they're ecstatic.

There are so many numbers to go by (pounds, pant size, inches), but not all are created equal. So, which figures say the most about your own figure? If you are someone who gasps when the scale shows a one or two pound weight gain ("I haven't cheated at all. How could I be gaining?"), then learning about body composition will help you see real, measurable results.

Body composition. We hear a lot about it... but what exactly is it? Well, to be considered "fit," you have to meet minimum standards in 5 different areas, known as the Components of Fitness. Body Composition is one of them (in addition to flexibility, muscular strength, muscular endurance, and aerobic fitness). Body composition itself deals with four areas:

1. Weight
Your total body mass. We're all too familiar with this one, in most cases. But weight alone doesn't tell you the whole truth about your progress or fitness level. For example, it doesn't tell you how much fat you carry. People generically want to lose "weight." You could start lifting weights and actually gain weight…but that doesn't necessarily mean you are tipping the scales towards obesity.

How to use it: Forget your preconceptions about the number on the scale. Knowing your weight is good, but not crucial—you want to lose fat, not necessarily weight. If you must weigh yourself, don't make it a daily habit. Weight tends to fluctuate throughout the day, and from day-to-day, by as much as 5 pounds or so. Most of these regular changes are due to food and water. If weight is an important record to you, then do it under the same circumstances (no clothes or shoes, first thing in the morning before eating, etc) and no more than every 1-2 weeks.
2. Fat Mass Usually referred to as body fat percentage. This number tells you how much of your total body weight is actual fat. Men and women go by different minimums and healthy ranges of fat. For example, men need about 3%-5% essential fat at the lowest levels, whereas women need at least 12%-15% to be considered healthy and be able to sustain a menstrual cycle (and numbers this low could be considered underweight). A standard height and weight chart cannot accurately tell you if you are overweight, but body fat percentage, on the other hand, can.
Track your progress: Observing change in body fat is the best way to measure "weight" loss. There are user-friendly formulas that can estimate your body fat percentage, but the most accurate readings come from a qualified fitness professional. To see a trend, reassess your body fat every four to six weeks.
Continued ›
Article created on: 9/22/2004