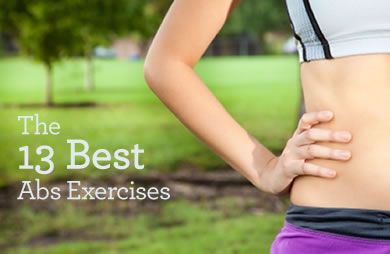 We often get questions about the best abs exercises—after all, who doesn't want to tone their tummy in the least amount of time? There are countless exercises that target the abs, including fitness DVDs (Does "8 Minute Abs" ring a bell?) and even pricey machines that you often see on infomercials. But do you need a video or specialized piece of equipment to get the abs of your dreams?

A study conducted at San Diego State University's Biomechanics Lab (and published by ACE, the American Council on Exercise) says no. Their research revealed that the best exercises for your abs don't require any gizmos, and are surprisingly easy to fit into your day.

Researchers looked at the effectiveness of 13 common abdominal exercises—everything from crunches to the "Ab Roller" machine. Using EMG (electromyography), researchers measured the muscle activity of the participants to determine which exercises best targeted the abs and the obliques, while also limiting the activity of the hips and thighs (because when an abdominal exercise is executed poorly, the hips and thighs engage to "help out" the abs).

Overall, researchers said that all of these exercises are "relatively effective" ways to train the abs—but some are more effective than others.
Continued ›