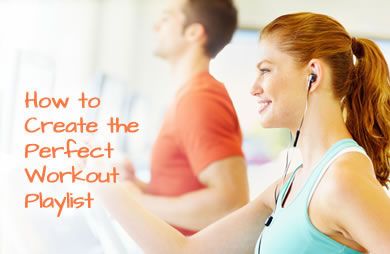 You know that scene in High Fidelity where John Cusack is touting the importance of the perfectly crafted mix tape? A tape that has to kick off with a killer track to grab attention, then take it up a notch, then cool it off a notch?

Sure, that guy was creating a playlist to woo a girl, but he was on to something. Little did he know, he was also giving us words of wisdom on how to best create a set of tunes for a high-energy workout. Below are the seven main components of any good workout playlist, no matter the musical genre. (In fact, I find that the more eclectic the playlist, the more exciting—and surprising—it can be!)

Follow these guidelines to craft a playlist before your next workout, and you're sure to stay engaged and pumped the entire time. After all, music—especially the right music—can make working out more fun!

1. Warm-Up Song
Like John Cusack says, you have to kick off a playlist with a killer track that grabs attention. Choose a song here that inspires and motivates you but has a moderate tempo. During this song you'll be doing some light static stretching and easy movement to warm you up, and you don't want to be rushed, so choose a song that's at least four minutes long. Songs like "Rock with You" by Michael Jackson or "Crazy" by Aerosmith are good candidates for an appropriate warm-up song tempo. However, the best warm-up songs are those that build in intensity and have a super inspirational message. "Proud" by Heather Smalls (best known as The Biggest Loser theme song) is an excellent choice.

2. Get-You-Going Song
The second song of a playlist should be as inspiring and as motivating as the warm-up song, only faster paced so that you can naturally get your heart rate from an easy level up to a moderate-paced workout level. Choose a moderate- to fast-paced track with a strong and catchy beat that you naturally want to match your walking/running/elliptical speed to. "Let's Get It Started" by the Black Eyed Peas is one of my favorites, as is "Running Down a Dream" by Tom Petty.

3. Pump-You-Up Songs
Playlists that feature songs with varying beat speeds are a perfect way to naturally work some intervals into your workout—maybe without you even noticing—because people naturally pick up their pace when a fast song is playing and slow down their pace when a slow song is on. For this reason, be sure to throw in at least one or two super-fast and high-energy songs into your playlist. You want these songs to be music that is darn-near impossible to sit still to. Some of my go-to favorites include "Hey Ya" by Outkast and "Maniac," the Flashdance theme, by Michael Sembello. The fast tempo will help you to burn more calories and have a blast while doing it.

Continued ›
Article created on: 3/21/2012