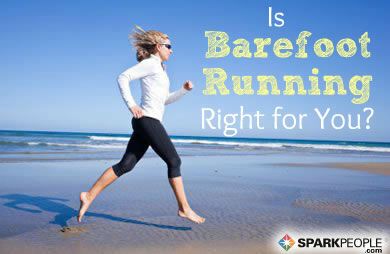 Although barefoot running has been practiced in some parts of the world for hundreds of years, the concept has only recently gained popularity as an alternative to traditional running shoes in the Western world. The book "Born to Run," published in 2009, explored the patterns of distance runners who are able to avoid common injuries by running without shoes. This sparked a whole new interest in barefoot running and minimalist running shoes, which are lightweight and flexible and have very little padding or support. Proponents of barefoot exercise claim that the excessive support and cushioning of traditional running shoes leads to muscle weakness and injury, while opponents contend that running in minimalist footwear (or no shoes at all) doesn't provide enough protection or support.

Is barefoot running just a fad, or is the trend toward minimalism worth trying? It's important to do the research before deciding whether or not barefoot running is right for you. The two sides of this debate each have research to support their claims. First, let's look at some of the research supporting minimalist running.

A 2010 study in the journal Nature found that the majority of runners wearing shoes strike their heels, which causes a large and sudden collision force that happens (on average) 960 times for every mile ran. The authors concluded that this makes runners prone to repetitive stress injuries. People who run barefoot tend to land with a step toward the middle or front of the foot, causing less impact force to the foot. (Learn more about the difference between heel and forefoot striking in this article on proper running form.)

A 2012 study in the journal Medicine and Science in Sports and Exercise found that minimalist runners are "more economical" than traditionally runners regardless of foot strike—even after controlling for shoe mass and stride frequency. The researchers believe that minimalist shoes provide a more "elastic" energy storage and release than other running shoes.

Other recent studies question the validity of the benefits of barefoot running. The journal Sports Health published a review in 2012 that concluded that there is not yet enough research to determine whether or not foot strike has a positive or negative effect on injury. A year later, the Journal of Applied Physiology concluded that the forefoot strike pattern is not more economical than the rearfoot strike pattern.

Potential Benefits of Barefoot Running
While running barefoot or in minimalist shoes might not solve all of your aches and pains, it may help strengthen the muscles, ligaments and tendons of the foot. It can also help lengthen the Achilles and calf muscles, which can shorten over time if you wear shoes that provide a "lift" to the heel.

Continued ›
Article created on: 9/25/2013