3. Reverse Disco Step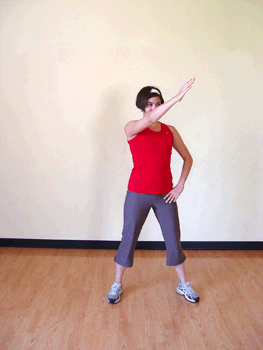 Starting Position: Stand tall with your back straight, abs engaged, shoulders relaxed, legs placed wider than the hips and feet turned outward. Place both hands on your hips.

Action: Breathe deeply and reach your left arm across your chest at a diagonal toward the ceiling. Pull your left hand down and across the front of your body toward the floor as you tap your right toes behind your left foot. Return to the starting position and repeat on this side (pictured) OR switch sides repeatedly.

Special Instructions: Move quicker and/or take larger steps to increase intensity. Slow down and make your movement smaller to decrease intensity.





4. Step Touch with Double Punches

Starting Position: Stand tall with your back straight, abs engaged, shoulders relaxed and elbows pointing behind you, palms next to your waist. You can place a resistance band, measuring tape, jump rope or other long object on the floor next to you as a guide (optional).

Action: Breathe deeply as you step-touch side to side while punching both arms forward on each step to the side and pulling them back in to the starting position on each tap (touch).

Special Instructions: If using a guide on the floor, step across it each time and monitor your footwork to avoid tripping. Be sure to move laterally without twisting or rotating your body. The wider you step to the side and the faster you move, the more intense this exercise will become.




5. Twisty Hop

Starting Position: Stand tall with your back straight, abs engaged, shoulders relaxed, legs together, arms at your sides, and elbows bent 90 degrees with your forearms parallel to the floor in front of you. From there, twist from the waist so that your torso (and arms) turn to the right and your lower body turns toward the left.

Action: This movement combines a twist with a hop. From the start position, hop with both legs together and land so that your lower body now points toward the right and the upper body twists to the left. Hop again, landing in the start position and repeat, twisting to the opposite side during each hop.

Special Instructions: Because of the twisting nature of this exercise, practice caution or avoid this exercise completely if you have any lower back or hip problems. Make sure your back is straight and your abs are engaged at all times. When twisting your upper and lower body should always point in opposite directions of each other. Focus on that twisting coming from the waist. Hopping higher and/or faster will increase the intensity of this movement.


6. Jumping Jacks

Starting Position: Stand tall with your back straight, abs engaged, shoulders relaxed, arms at your sides, and feet together.

Action: Hop out with both feet while extending your arms out, forming an X with your arms and legs. Hop back in to the starting position (legs together, arms at your sides). Repeat.

Special Instructions: Be sure to land softly, keeping the knees slightly bent to reduce impact. Move more quickly to increase the intensity.










7. Mountain Climbers

Starting Position: Stand tall with your back straight, abs engaged, shoulders relaxed, legs together, and arms at your sides. Bend forward to touch the floor (bend knees if necessary), shift your weight into your hands, then jump or walk your legs behind you to start in a plank position (hands under shoulders, abs pulled in tight, body in a straight line).

Action: Breathe deeply, keeping your back straight and abs engaged and "march" by bringing one knee toward your chest, return it to the floor, and then bring the opposite knee toward your chest. Repeat, continuously switching sides.

Special Instructions: Keep your belly pulled in tight at all times and make sure your hips do not fall toward the floor or lift toward the ceiling as you move your legs. You can march in this position (pictured) for a lighter intensity or move more quickly into a jog or run to increase your intensity.

Continued ›