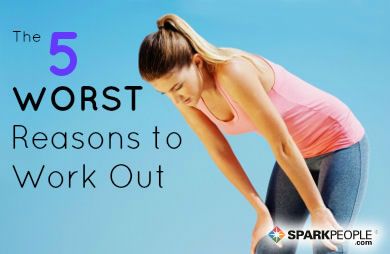 We all have our own reasons for working out. And while all reasons have merit (and there is nothing wrong with wanting to feel good about the reflection you see in the mirror), some reasons for hitting the gym are definitely better and more motivating than others.

In fact, the goals you set and the reasons why you work out help set the tone for your entire lifestyle and can even play a role in your long-term health and success. Of course, it is recommended that you choose empowering and uplifting reasons to lose weight and work out.

Here are five common reasons people exercise that might seem positive at first glance but can actually be unhealthy or destructive. If you fall into one (or more) of these categories, don't despair! We have included better reasons to work out that will help you flip your thoughts into a more motivating direction.



The 5 Worst Reasons to Work Out


Because you feel fat. Do you hit the gym hard the morning after a night of unhealthy eating to help you undo the previous night's damage? While a good bout of exercise can get you back on track, what you don't want to do is punish yourself with exercise. Working out shouldn't feel like torture or used as a way to right your wrongs when it comes to food. When you do that, you're completely missing how awesome exercise is for your health and well-being—and you could be on a slippery slope that leads to more serious food and fitness issues (such as exercise bulimia).
Better reason:

Exercise to feel strong and energetic. Instead of punishing yourself by overdoing your workouts, focus on how great exercise makes you feel. From feeling strong and energetic to perking up your mood and improving your health, moving your body is more than a way to burn calories—it helps you take care of yourself inside and out!
To eat whatever you want. If your sole motivation to work out is to help make up for your regular fast food or dessert habit, it's time to re-examine your priorities. Sure, working out can allow you to offset the calories of indulging in more food, but it's much easier to overeat calories than it is to burn them off. In fact, it takes about an hour of jogging to burn off just one Big Mac (and that doesn't include the fries and soda). Not to mention that exercise can't always undo the negative health effects of a poor diet. Sweets and other junk foods don't give you all the vitamins and minerals you need to reach your fitness goals, either.
Better reason:

Exercise to indulge occasionally in your favorite treats. Instead of exercising to eat whatever you want, think of it as a way to support your healthy lifestyle by boosting your health and happiness—not trying to outsmart a bad diet. You'll still be able to enjoy a treat now and again without worrying so much about the extra calories, but the key is to make those treats occasional—not the norm.
Continued ›
Article created on: 3/15/2011