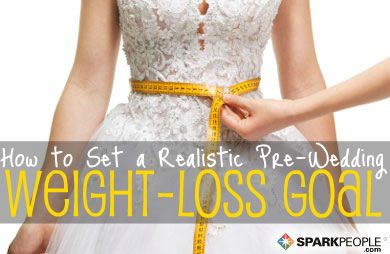 Every bride wants to look her best on her big day. After all, you're spending a boatload of cash on a great gown, an awesome party, and the best photographer you can afford, so it's natural to want every detail to be perfect, right down to the fit of your dress and the confidence you exude while wearing it.

Losing weight for an upcoming wedding is no different than dropping pounds or toning up for any other special occasion, whether it's a reunion, beach vacation, or milestone birthday. Whether you're the bride, a maid of honor, or a good friend or relative who is going to be in her share of photos, the big questions are always: How fast can I lose weight? How much weight can I lose by the date of the event? How can I fit into a gown that's two sizes too small?

Unfortunately, there are no simple answers to these questions. The answer depends on your current weight, how many pounds you have to lose, how much time you have to get there and, of course, how hard you're willing to work to make that happen. SparkPeople.com is America's most active weight-loss and fitness website, and our free tools, plans and resources have helped thousands of people all over the world lose weight and reach goals just like yours. Unlike quick-fix weight-loss plans that promise big results and rarely deliver, by following our free, safe and medically accepted program, you can expect to lose 1-2 pounds per week.

It might not sound as glamorous as the claims on a lot of other diet plans, but it's safe, healthy and realistic—and doesn't involve crazy diet restrictions or hours of daily exercise. (And let's face it, who has time for all that anyway, let along the willpower to not eat ice cream for 9 months?)

Weight loss comes down to a simple equation of calories in versus calories out. Our plans allow you to cut some calories and burn some extra ones to ultimately lose up to two pounds per week. However, individuals with more than 100 pounds to lose could lose 1% of their weight per week, meaning that a 300-pound woman could lose 3 pounds per week by following the same program. To find out how much weight you can lose by your wedding day, calculate the number of weeks between when you plan to start your weight-loss program and the big day itself. Three months out, you're looking at about 24 pounds gone. Start six months before your wedding and you could lose double the fat: 48 pounds. Begin your plan a year in advance and the sky's the limit: You could lose 50-100 pounds or more by the time your wedding date arrives. Obviously, the sooner you start, the better, especially if you have a lot of weight to lose. Start your free program today at www.SparkPeople.com.

Continued ›
Article created on: 9/27/2010