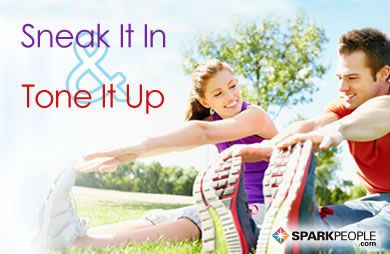 If you think that you're too busy to fit in a full workout, think again. Plenty of research shows that small bouts of exercise can add up and provide just as many heart-healthy benefits as longer workouts. You don't even have to be at the gym or wearing workout clothes for it to count. You can squeeze in little bits of activity here and there so that even when you're too busy for a full workout, you can stay active and burn calories.

Below are simple and inventive ways to transform the must-do activities of daily life into mini-workouts.

Cleaning the House
Unless you're lucky enough to have a housekeeper, most of us probably have cleaning on our to-do lists. Instead of seeing it as a chore, start thinking of cleaning as a serious double-duty workout. Simple and easy cleaning, such as dusting, taking out the trash, straightening and changing the bed linens, can burn up to 170 calories per hour for a 150-pound person. And heavier duty tasks such as sweeping the floor, washing windows and cleaning the garage can burn more than 250 calories an hour.

To up that calorie burn even more, get creative! When scrubbing the bathtub, take fewer breaks, and scrub extra hard to work your muscles (don't forget to switch arms). While vacuuming, add some lunges instead of letting your arms do all the work. When cleaning the stove, don't just bend over; squat down to get to those hard-to-reach places. When doing laundry, use the bottle of detergent as a dumbbell and do a few bicep curls on your way out of the laundry room. Or sneak in a few push-ups on the kitchen counter before you start scrubbing. The opportunities when cleaning are endless, and how awesome is it to have both a fit body and a clean house?

At Work
We've all heard the advice to take the stairs instead of the elevator and park at the back of the lot to get more walking in, but there are even more easy ways to squeeze activity into your workday. Instead of emailing or calling a coworker, walk over to his or her office for that report you need. Or suggest trading the normal sit-down meetings (which normally also feature not-so-great pastries and sweet treats) for walking meetings. Walking meetings aren't perfect for all types of business, but the activity and break from the norm can encourage new thoughts and unique solutions to problems, making it great for brainstorm sessions.

If you have a buddy at work who is also looking to get fit, invite him or her to an active lunch break where you go for a brisk walk outside, climb a few flights of stairs or even hit the work gym if you have one. Plus, having a buddy can certainly help you to avoid office temptations (like the vending machine at 3 p.m.) and remind you to take a break to be active no matter how stressful or busy your day is.

You can squeeze plenty of activity in on your own if you don't have a like-minded coworker. Try this printable 15-minute desk workout that you can do anytime, as long as you have an open wall and a chair! Better yet, stash a pair of dumbbells or a resistance band in your drawer or locker to use during breaks or while you talk on the phone. If you have the space, play a workout DVD or one of SparkPeople's online workout videos on your laptop and have a co-worker join you. Unless you have a shower at your workplace, go for yoga and Pilates DVDs that will tone your muscles and give your mind a break from work without leaving you a sweaty mess.

Continued ›
Article created on: 6/19/2012