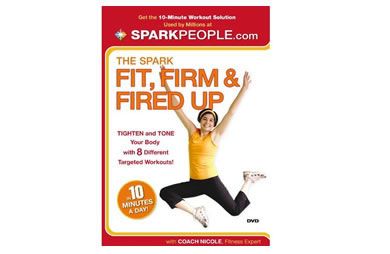 Are you having trouble squeezing exercise into your busy days? Do you need a workout plan that is simple to follow, yet effective? Are you thinking about making fitness a habit, perhaps part of your daily life? Whether you need help starting a consistent fitness program or just want new ideas, my newest workout DVD, The Spark: Fit, Firm and Fired Up in 10 Minutes a Day can help! I designed all eight workouts for this DVD to compliment to our new book The Spark, and like that book, it will change how you view exercise. The whole point of the program is to make fitness a habit, to start a workout "streak" that lasts and get real results. It even includes several bonus features and training tips to help you get the most of your workout plan. Use the Fit, Firm and Fired Up DVD in conjunction with The Spark to take your weight-loss and fitness to a new level!

Don't have your DVD yet? Click Here to Buy Fit, Firm and Fired Up from the SparkPeople Store. You'll

earn 250 SparkPoints

for your purchase!

21-Day Workout Plan
At SparkPeople, we believe that exercise is one of the most powerful things you can do to transform your body and life. Exercise, done consistently, has the power to change your mood, energy level, productivity, and motivation; it can also help you tone your body and lose weight. In the book The Spark, we recommend trying a 21-day "exercise streak" where you exercise every day (or at least 5 days a week) for 3 weeks. This will spark your metabolism, create powerful momentum, and most importantly, help make exercise an integral part of your life. By following our plan, your body will be more FIT, your muscles will be more FIRM, and your mind motivated, confident, and FIRED UP!

I designed this DVD to give you plenty of workout options. Try any of these 10-minute workouts whenever you can fit them in. Use our preprogrammed options for longer workouts. Or, create your own workout plan! If you're ready to really fire up your body and mind with a daily workout program, here's a weeklong workout program that you can follow for 21 days by using the workouts from this DVD.


| | | | | | | | |
| --- | --- | --- | --- | --- | --- | --- | --- |
| | Day 1 | Day 2 | Day 3 | Day 4 | Day 5 | Day 6 | Day 7 |
| Workout Title | Lower Body Blast | All About Arms | Call On Your Core | Love Your Hips, Glutes and Thighs | Pump Up Your Upper Body | Crunchless Core Challenge | Strengthen and Lengthen |
| *Cardio Requirement | none | 30 mins. | 30 mins. | 30 mins. | 30 mins. | 30 mins. | none |
| Total Workout Time | 10 mins. | 40 mins. | 40 mins. | 40 mins. | 40 mins. | 40 mins. | 10 mins. |


*Please note that you can do cardio on any 5 days that fit your schedule. If you are new to exercise, aim for 5-10 minutes of cardio to start, gradually increasing until you meet the 30-minute requirement. Keep in mind that you can do shorter workouts throughout the day to accumulate these cardio minutes. If you're an experienced exerciser who does more than 30 minutes of cardio per day, feel free to continue with the cardio duration that suits your fitness level.
Do one workout each day. Follow one 10-minute workout (Day 1, Day 2, etc.) each day according to the chart above. If you want to increase the intensity, use a heavier weight or repeat the workout one or two more times that day.
Do five 30-minute cardio sessions per week (optional). You don't have to do cardio for this program to work, but you should add this element for maximum benefit. You can pick any activity you enjoy or follow the 15-minute bonus cardio workout on this DVD. My Cardio Blast with Coach Nicole DVD also offers six different 10-minute cardio workouts that you can mix and match to meet this cardio requirement!
Stick with the plan. After you've completed all 7 workouts during the span of the week, start over with Day 1 again until you've repeated the program for at least 3 weeks. It's that simple!
Article created on: 1/27/2010