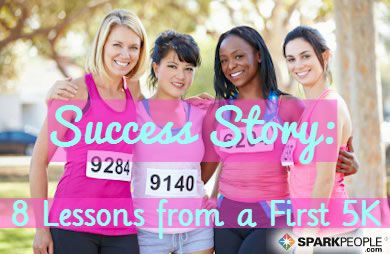 I never considered myself a runner. I ran maybe once a week for 30 or 40 minutes, and then I wouldn't feel like doing it again for a few days. Needless to say, I never really "get better" at running—I pretty much stayed the same because I didn't put time into it. But after I read a recent SparkPeople article about the benefits of taking part in charity races, I was really motivated to try one myself. I thought that maybe running for a cause would make running less boring—maybe even fun—and encourage me to do it more often. So this past weekend I laced up my new running shoes for my first 5K race.

Now, I really didn't train properly for this 5K (3.1 miles), but I figured I was in good enough shape to handle it, as I do cardio regularly and run my occasional 3 miles without any problems. Here's what I learned along the course:

1. Don't be nervous. I'll admit that I was nervous once I arrived! I was having flashbacks to high school track meets, which always put butterflies in my stomach. I mentioned to a friend that I felt nervous and he said to me, "Don't be. There will always be people who finish before you and people who finish after you." And he was right. I knew that I wouldn't finish in last place and I knew that I wasn't competing against the other runners—I was there for me.

2. Pace yourself. I am no good at this. I started out running faster than I've ever run in my life. I think the adrenaline got me going! But I was also near the front pack of people who are really, really fast. So I sort of stayed with them the best I could, even though their pace was much faster than what I could handle. I finished my first mile in under 7 minutes (believe me, I am as shocked as you are), but lost steam along the way and each mile thereafter was slower. I liked that the fast runners really pushed me to work harder, but if I were to do it again, I'd try to find people closer to the pace I could keep up with more comfortably.

3. There is no shame in walking. Some people run; some people walk. Others do a little of both. Even the fastest runners pulled over to the sidewalk to take walking breaks along the way, and I was one of them! I wouldn't have thought that I would need to walk, but the combination of a fast pace and steep hills (and maybe the lack of training) made it necessary for me. I took walking breaks four times throughout the short race. Once I got my heart rate down, I'd start jogging again.

Continued ›
Article created on: 6/8/2010