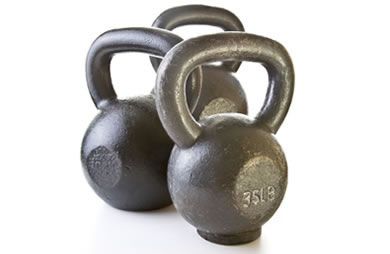 Kettlebells were practically unheard of in North America until recently, but now exercising with a bowling-ball-shaped weight with a handle is the newest fitness trend. Used by fitness enthusiasts, collegiate athletes, and pro sports teams alike, more and more people are becoming curious about kettlebells. Here's what you need to know.

What are kettlebells?
Kettlebells have been around for ages. Made out of cast iron, they're cannonball-shaped weights with a single handle on top. Although they look really different from the free weights and machines that occupy most gyms, they are "one of the best and most efficient fitness tools you can use," according to Henry Marshall, a NSCA-certified personal trainer and IKFF- and AOS-certified kettlebell trainer. Marshall explains that although kettlebells originated in Russia and continue to be popular in Eastern Europe, "American strongmen like Eugene Sandow and the Saxton Brothers trained with them in the early 1900s, too."

What are the benefits of kettlebells?
The purported benefits of kettlebells appeal to people of all fitness levels, ages and genders. Somewhere along the way, says Marshall, "the fitness industry lost the real definition of 'fit' and replaced traditional full-body exercises with isolation exercises. Lately though, this cosmetic type of training is being replaced with movement-based training, which some call functional fitness training." That's what kettlebells provide, and individuals who want a more practical and traditional style of training are turning to kettlebells. Proponents of kettlebells, including Marshall, say that the benefits of kettlebell training are many. Kettlebells offer:
Full-body conditioning. "The body learns to work as one synergistic unit linked strongly together," he says.
Big results by spending less time in the gym. "Because kettlebell training involves multiple muscle groups and energy systems at once."
Increased resistance to injury
The ability to work aerobically and anaerobically simultaneously.
Improved mobility and range of motion
Increased strength without increase of mass. Kettlebell exercisers are lean and toned, not bulky—a benefit that appeals to women and men alike.
Enhanced performance in athletics and everyday functioning
Major calorie burning (In a recent study conducted by the highly respected American Council on Exercise, participants burned approximately 20 calories per minute--that's 1,200 calories per hour.)
How do you start using kettlebells?
Most commercial gyms do not have kettlebells, but small boutique gyms and independent trainers offer group classes and individual instruction. The best way start using kettlebells is to find a trainer or instructor with a kettlebell teaching certification. The most common and reputable certifying bodies, which train kettlebell experts around the world, are: Patty Scott, a SparkPeople member (ZORBS13) and Agatsu-certified kettlebell instructor, stresses the importance of getting personal instruction when it comes to using kettlebells. "With the popularity of kettlebells, a lot of people are learning the basics from DVDs and YouTube. I cringe at some of the instruction given on websites, even though the instructions come from extremely well-respected and certified kettlebell trainers," she warns. Scott, who was an experienced fitness professional and trainer long before she tried kettlebells, uses herself as an example. "When I first started using kettlebells, I sustained some nasty bumps and bruises. I cannot imagine what would happen to a person with less experience!"

Continued ›
Article created on: 10/21/2008