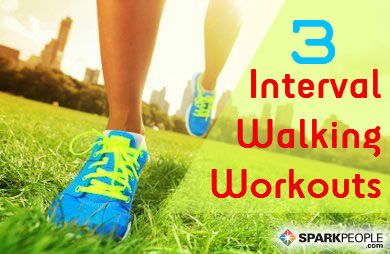 This walking program uses intervals (short bursts of higher-intensity activity followed by lower intensity recovery periods), which can be a more effective way to train (and burn calories) than exercising at one intensity level. If you're new to walking or exercise, start with the Beginner program. As you progress, slowly increase your time and eventually move to the Intermediate and Advanced workouts. Because this is a general program, you may need to adjust the recommended speeds, intensities, and times to suit your fitness level. Be sure to refer to our Walking Guide for more information and resources for walkers.

Getting Started
Use the FIT (Frequency, Intensity and Time) Principles for a safe and effective workout!
Frequency: Try the walking workout listed three to five times per week, depending on your fitness level. Beginners should do fewer days, while intermediate to advanced walkers can safely do more.
Intensity: Walk at a brisk—not leisurely—pace. Don't worry about what your pace really is, but do pay attention to your overall intensity, aiming for 5-7 on a scale of 1-10. You'll find a full explanation of the 1-10 Intensity Scale (known as RPE) below the workouts.
Time: Try to follow the suggested workout guidelines to the best of your ability, which means that you'll gradually increase your walk time as you progress from the beginner to the intermediate and advanced interval workouts.
And remember, always warm up and cool down. Warming up at a slow pace will help prepare your joints, muscles and heart for exercise. Cooling down will prepare your body to return to a resting state, help prevent muscle soreness, and prevent illness and injury.


Beginner Interval Walking Workout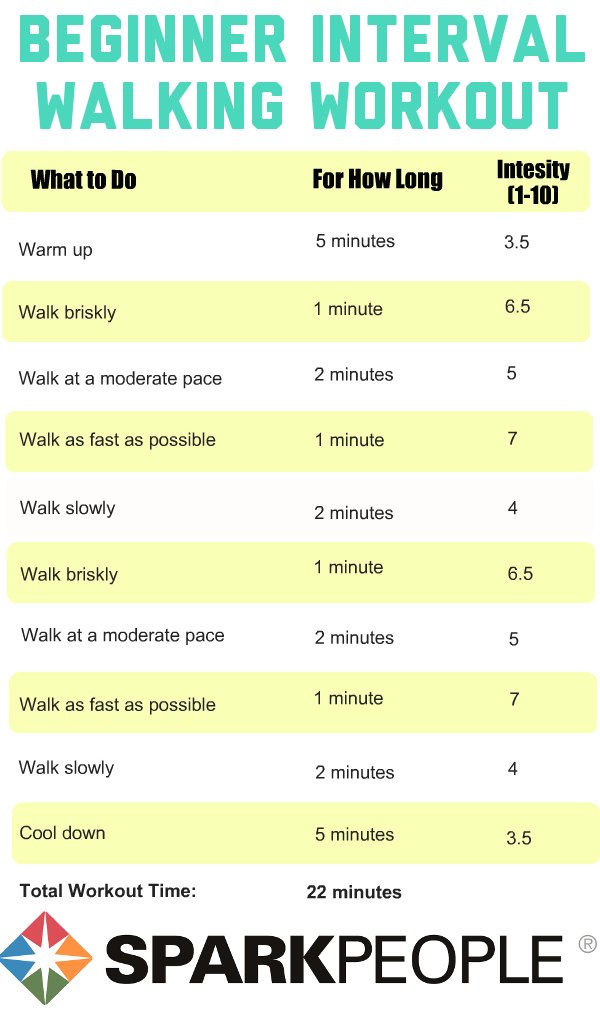 Continued ›
Article created on: 11/7/2008