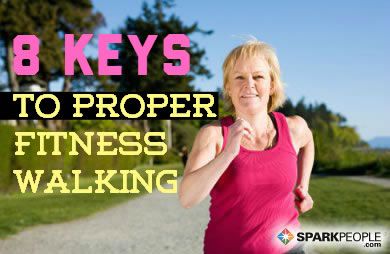 Walking comes naturally to humans. It's one of the earliest skills we develop, long before we learn how to talk (or invent excuses to avoid walking). And given good, basic health, it's something you can do throughout your life without worry about overdoing it. Prior to the last century, walking was the primary mode of day-to-day transportation for most people, and often involved much more time and distance than most of us spend at it today.

So if you're wondering whether walking is challenging enough to keep you fit, don't. Fitness walking (as opposed to leisurely walking to do everyday tasks) can build endurance, strengthen your bones, improve your health profile and help you manage your weight. And many people who have successfully lost weight and kept it off over time have made fitness walking the foundation of their fitness routines. But like anything else, the more walking you want do, the more important it becomes to do it right. By the time many of us get to adulthood, especially if via the sedentary route, we may have developed some postural quirks and bad habits that can make even simple walking a source of aches and pains.

So, here are some walking basics that will help keep your walking workouts safe and effective by building your walking technique from the ground up.

Think "Heel to Toe"
Comfortable and efficient walking begins with a good foot strike, which allows your ankle to move through its complete range of motion. Here's how to do it properly.
Step forward landing squarely on the heel of your foot.
Roll forward onto the ball of the foot.
Raise the heel and push off with your big toe.
As the heel of your front foot is striking, you are being propelled forward by your back foot, pushing off the ground. Unlike a running stride, your feet should never lift off the ground completely when walking.

To get an idea of how this heel-to-toe motion should feel, try sitting on a chair with your legs extended straight out in front of you, toes pointing straight up to the ceiling. With your left foot, bring your toes back toward you so your heel is extended and your foot is flexed; with your right foot, push your toes forward as if pushing on the air with the ball of your foot and big toe. Then slowly reverse the positions of your feet, moving back and forth several times for one minute. This is the ideal motion for walking. But because most of us don't walk perfectly, you may feel some burning or tension in your shins or calves. This means that those muscles (where you feel the soreness) are underused, and you may need to do some strengthening and stretching exercises so that walk as close to perfect heel-to-toe form as possible.

Continued ›