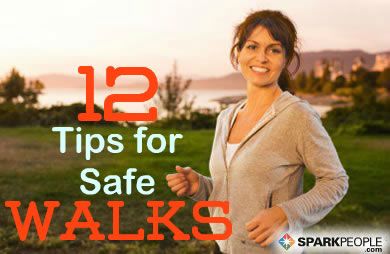 If you are new to exercise, here are some important health and safety tips so you can start your walking program off on the right foot.
Always check with your doctor before starting an exercise program. He or she may require that you have a physical exam or give you special instructions based on your medical history.

Don't overdo it, especially if you are a beginner. Let your body adjust to the new activity, gradually increasing the duration and frequency of your workouts.

Wear appropriate shoes. Not every shoe offers the stability and cushioning you need to walk.

For the first few weeks, do not push too hard. Your breathing should be elevated, but you should not be gasping for air. Use the Talk Test to know if you're walking at the right intensity level: If you cannot answer a question, you are walking too fast. If you can have a full conversation, you are walking too slowly.

Walking shouldn't hurt. If you experience any kind of muscle, joint, chest or head pain, see your family physician right away.

Wear a watch so you can monitor the time spent walking. Set small goals to gradually increase the amount of time you walk each week. You can also wear a pedometer to keep track of distance and steps, which can be a big motivator to keep going! For more information about choosing and using a pedometer, click here.
Continued ›
Article created on: 11/7/2008