Joe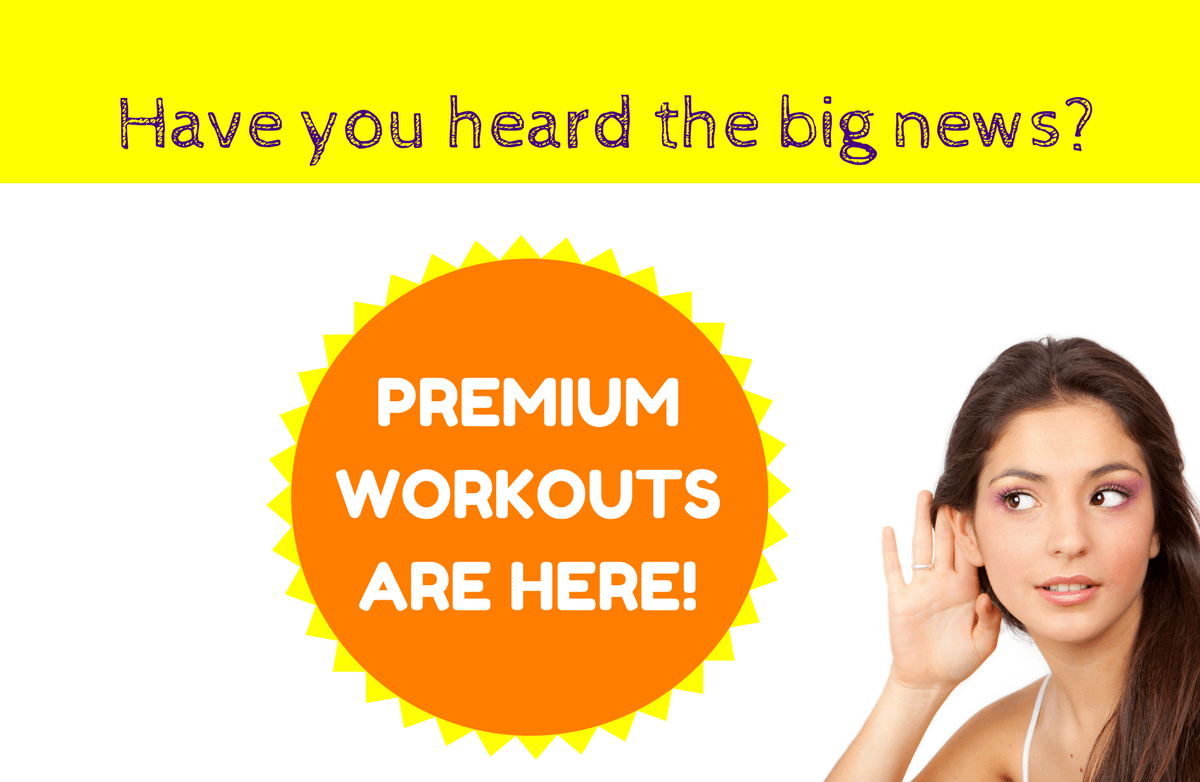 Sometimes you wake up in the morning and you think to yourself, "Today is going to be a good day." And on some of those days (most if you're lucky), you're right and the day is fabulous. If you had that thought this morning, you nailed it! Because today we just so happened to release a new way to help our Premium members get fit: guided workouts that you can do wherever you go! We know you have questions, so I took a stab at answering some of the ones I think you're likely to ask:


What Are Premium Workouts?
Our new workouts are a series of exercises put together by our coaches that help you focus on your particular fitness goals. Our coaches met to discuss the best exercises you can do to target specific parts of your body. After a few conversations, they broke the workouts into four categories: Sculpt and Strengthen, Calorie Torching Cardio, Minimize the Impact and the Total Body Challenge. You can browse through a number of workouts from any of these categories to get the results you're looking for.

How Are Premium Workouts Different Than Other SparkPeople Workouts?
They make things so much easier.
Seriously, we built these workouts to save you time. Not only did we organize the collection of different exercises in a thoughtful way, but we also created a new tool that makes these workouts easier to do! Once you pick your workout for the day, you will see a screen like this that will help you get started:
From here, you can set how long you'd like to workout (either 10, 20 or 30 minutes), see a list of all the exercises the workout will take you through and choose whether or not you'd like voice prompts to help you through the series of exercises. (
Tip:
If you don't want the prompts, you can choose to listen to music instead, simply by clicking on the musical note button.)
Once you have your workout just the way you want it, click on the "Start Workout" button and get going. Our tool will guide you through the series of exercises, with an animated GIF of each exercise that shows you the right movement and the proper form. A countdown timer will show you how long you should do that particular exercise before moving on to the next one. If you have voice prompts enabled, you will get audio guidance from our coaches about proper form for the exercise, or modifications you can do if you need them.
If you have voice prompts turned off (or you need a little break), hit the pause button to see notes from our coaches on how to do the exercises the right way. When you're ready to start again, hit the resume button and get back to it!
These Workouts Sound Great! Is There Anything Else We Need to Know?
Just the best part.
When you complete a Coach-Created Workout in our new tool, it's automatically tracked to your fitness log! That's right, the calories you burn working out will be tracked without you tapping another button. I don't know how that makes you feel, but it makes me feel like this:
This new feature is rolling out to all Premium members today. App users, you may need to
download the latest version of our app
. Desktop users, you should be able to see them now by
clicking here
. Give them a try and tell us what you think--we've been working on building this tool for quite a while now and we hope you love it.
Don't have Premium, but want to see what these Coach-Created Workouts are all about? Sign up for a FREE, two-week free trial of Premium by clicking on the button below.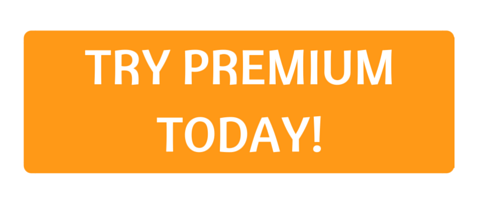 Posted 11/30/2017 4:00:00 PM By: Joe : 31 comments 6,652 views
Read More ›
Hello again, and happy October! We're launching something new today that we're super excited about and we think you will be, too!

Starting today, you can try SparkPeople Premium for FREE! That's right, we're now offering a free trial of our Premium membership to all members with no obligation to continue with the upgrade once the trial is over. It's a two-week trial, and it's on us. :)


Why Did We Decide to Roll Out a Free Trial?
It's been about a year since we launched SparkPeople Premium and the response has been overwhelmingly positive. The members who have decided to take the Premium plunge don't regret it, and many of you have been nice enough to let us know how much you love Premium.
But there's still many of you out there who haven't yet tried on Premium to see if it's a good fit. We understand; plunking down money on something that sounds awesome but you've never tried is hard. So that's why we wanted to give you a chance to give us a try.
How Does It Work?
No matter where you start your trial--on the site or in the app--it's easy to sign up for the SparkPeople Premium experience. But the process does vary a little depending on your starting point.
In the app
, you'll see a big, orange button at the bottom of the Premium Features screen. When you hit the button, you'll see a confirmation screen from your operating system of choice (iOS or Android), informing you that you're signing up for a free trial. Once you click the button on that screen confirming that you want to give the trial a whirl, you'll get all the benefits of Premium.
If you're on our website
, you can sign up for your free trial on the
Premium Overview page
. You will have to enter your credit card information--we do this so you can continue to use Premium after your trial is completed--and the trial will start once you click the button at the bottom of the page.
Regardless of where you start, the trial will last two weeks. You can cancel at anytime--don't worry, you won't hurt our feelings. There's no obligation here, we just would like you to give Premium a spin, because we think it's the best SparkPeople experience we have to offer. If you decide to continue on with Premium after your trial, you won't have to do anything; we'll start your subscription right at the end of the trial so there won't be an interruption to your benefits.

Speaking of the Benefits of Premium…
In case you don't remember what we offer with SparkPeople Premium, allow us to give you the quick rundown:
advanced reporting,
our Email-a-Coach feature,
an ad-free experience on our site and in our apps
free access to SparkCoach and
our Secrets of Success e-book.
If you'd like to get a better idea of what all these benefits are exactly, check out
this blog we wrote
that's just about that. PLUS, you'll be the first to get access to new tools and features we'll be rolling out to Premium this year!
If you have any questions about this, hit us up in the comments below, and we'll be sure to answer quickly. Now go and give
SparkPeople Premium
a try!
Posted 10/2/2017 1:00:00 AM By: Joe : 32 comments 8,100 views
Read More ›
The rumors you've heard are true: We launched a new version of SparkPeople Mobile today and there's something special in this version for you.

Don't have the newest version yet? Go download it quick by clicking here. We promise to wait. Got it? Great!

This newest version of the app contains the bug fixes and minor improvements you've come to expect from each new version we put out, but there are two features that make this version really stand out: our new Before & After photo frame and our new Collage photo frame. Let's go through them, shall we?

Say "Hi" to Photo Frames
Before & After:
Many of our members use SparkPeople as a way to reach their weight loss goals. Healthfully dropping excess weight is a great way to feel better, more energetic and happier, and we're thrilled you rely on SparkPeople to help you get there. But sometimes it's hard to understand how much weight someone has lost until you see a side-by-side comparison of "before" and "after" photos. When you are presented with visual evidence of the wonders of weight loss, well, it just clicks. So we thought, why not make it so our members can show their progression from right in the app?
Using our new Before & After frame, you can pick two pictures and stitch them into a single picture to share in the Community Feed. The frame also allows you to overlay the date the picture was taken and what you weighed at the time. After tinkering with it a little, the end result will look a little something like this: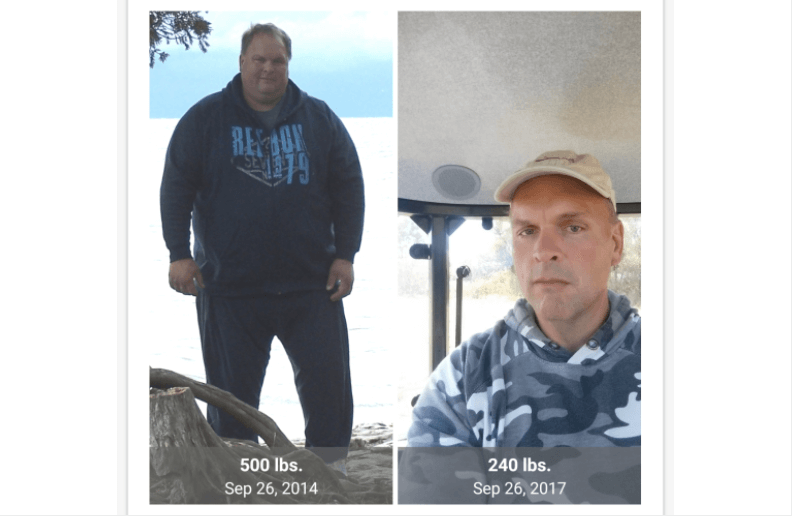 The picture above is an example of this new frame, using pictures from one of our members, Jon. You can
read more about his success here
. Way to go,
WEWRTFO
!
Collage:
Sometimes you get so excited about something that one picture just isn't enough. Maybe you had three awesome meals in one day and you want to share them all at once. Or maybe you're just so excited about something, the only way you can express yourself is to mash a bunch of pictures together so the end result can capture how you feel. And that's why we made the Collage frame. :)
With the Collage frame, you can click on the same button you used to share a photo to the Community Feed, but now you can pick more than one picture. Once you've picked all the photos you want to include in your collage, hit the checkmark button at the top right and we'll generate a collage image for you out of those pictures. But if you don't like how we made it, you can tweak it to your heart's content. You can pinch to focus in one one of the images, swap image spots so they line up the way you want them to, and more. Give it a try and you'll see something like this one I made of my kids:
And We Have One More Announcement to Slip In
Starting with this version, we'll be asking you a few questions in the app feed. We wanted to ask these questions so we have a better idea of who you are and how we can personalize the app specifically for you.
We know that our articles about maintaining weight might not be helpful to members trying to lose weight, and blog posts about our favorite muffin recipes probably aren't going to be helpful for a member who's trying to control their carbs. If we know a little more about you and your goals, we can make it easier to reach your goals.
You won't see these questions often, but if you do see them pop into your feed please take a second to answer. We really appreciate it and we think you'll notice a difference.
We hope you love these new frames as much as we loved playing with them while we tested this latest version. If you have any questions about these new frames, please ask in the comments below.
Posted 9/26/2017 2:00:00 PM By: Joe : 34 comments 7,399 views
Read More ›
Hi there, SparkPeople. We're back with more exciting app-related news that's sure to make you "appy!" :)
As you might remember from
a blog we wrote a few weeks ago
, we've been changing how we approach mobile apps by cleaning up some of our lesser-used apps so we could spend more time bringing you new and awesome features in the apps you use the most. Today we want to tell you about some of the new things your
SparkPeople Mobile app
can do. We think you'll be as excited as we are, so let's get to it:
Posted 7/19/2017 5:00:00 PM By: Joe : 29 comments 7,370 views
Read More ›
We're Making a Few Changes to our Apps
I wanted to take a little time today to let you know that we're making a few changes to some of the apps we've published in the past, and to let you know how some of these changes may affect you.
I'm not sure if you know this, but SparkPeople has published more than 20 different apps over the years, and we currently support more than 15 of them. (You can see the
apps we currently offer here
.) All of the apps we've created were exciting projects that let us focus on certain aspects of what makes SparkPeople such a wonderful website and community. With each app we've made, we've also learned new lessons that we've been able to apply to our other apps. We have been very lucky to get such an opportunity to figure out the app ecosystem so we could develop apps that many of you love. :)
Posted 6/20/2017 11:00:00 AM By: Joe : 36 comments 10,181 views
Read More ›
Hello there, lovely SparkPeople!
Today I get to do one of my very favorite things in the whole world: Announce that we've released a feature you're going to love! It's literally the best. :)
One of your most frequent requests since we launched the Community Feed back in March was to give you the ability to tag your SparkFriends when you make posts, and to be notified when someone tags you or responds to one of your posts. If you're an Android user, you might've noticed that we snuck these features into an update a few weeks ago, but today we're pushing this out to all iOS and desktop users too! We've also expanded user tagging to our message boards, team boards and team walls as well.









How User Tagging Works
If you hit the "@" symbol and start typing the name of one of your SparkFriends, we'll start suggesting all of your friends that match what you've typed. This will also work if you're writing a comment to post and want to tag someone else who has commented, or the person who originally made the post. If you're writing a new post it works a little differently: You can only get tagging suggestions for your SparkFriends, as no one has commented on your post yet. You can still tag any SparkPeople member l by typing in his or her full username, it's just that we won't suggest that name to you.
What Happens When You Tag Someone?
Great question! What happens for you depends on how you use the SparkPeople community.
If you're a dedicated user of the SparkPeople Mobile App and have notifications for our app enabled, we'll send you a push notification any time you're mentioned. Click on the link and be taken right into the community conversation in which you were tagged. If you have notifications disabled, you risk missing that warm, fuzzy feeling that comes baked into each message. So make sure to flip them back on and hop into the conversation.
If the website is more your speed, you'll get an email from us every time you're mentioned on the site. Click on the link in the notification, and be whisked right to wherever people have been talking to you. You'll get this email if you have enabled this option under "Other Friend Feed Settings", which you can find on this page if you're logged in. Make sure to flip the option on so you stay in the loop!
We're thrilled to launch this new feature, but we want to hear from you. Let us know what you think in the comments below and we'll be sure to respond over the next, few days.
Posted 6/1/2017 5:00:00 PM By: Joe : 39 comments 8,548 views
Read More ›
The power of community is strong in many ways, but when it comes to weight loss it's the secret weapon to success. According to a Northwestern University study, people who actively participated in online social communities lost more than eight percent of their body weight over the course of six months, versus just five percent in those who did not connect with others.


The Community Feed: the Best Place to Meet Someone New!
Lucky for you, the SparkPeople Community Feed has been out for awhile now and you—our members—are using it more and more every day. Some of you use it to show pictures of your progress, while others use it to give and get motivation, and some share photos, observations or memes that gave you a giggle.
The Community Feed
is a tool for success and fun,
but there is yet another option available,too, one which you might not have thought about:
finding new workout and accountability buddies
that can help you on your path to reaching your goals.
Community is a big reason we come to work every day, and it's the grounding for so many of your successes over the years. The action of tracking your fitness and diet, and reading our latest tips about how to make small changes aren't difficult to do on your own. But sometimes it can be incredibly hard to follow through with those tips on your own; it can be easy to give up on your tracking and give in.
That's why SparkPeople isn't just a diet and fitness tool website, but rather
a community of like-minded people
who help each other each day to take small steps towards success. We can give you the advice and the technology, but you give our members the motivation to reach their goals.
We've known for years that members who are more active in our community are more likely to reach their goals. Why not use the Community Feed today to meet someone new who can help you reach yours? Be proactive with these three tips that will lead you to a new SparkFriend today.
Filter your feed for "Goal Posts" and find people who have similar goals.
Not everyone in our community is trying to achieve the same thing. Some members want to lose weight, while other want to maintain and others are just looking to make healthier lifestyle choices. While you don't have to interact with people who are exactly like you, finding members who are working toward similar goals as your own will give you the opportunity to find and share advice on some of the challenges that you face together. A quick scan of the Goal Feed should give you an idea of members who are facing the same struggles as you.

Filter your feed for "Trending Posts" to find members who motivate you.
The Trending Feed is where we show posts that have motivated our members most. Sometimes, you might not need to make friends with someone on the same journey as you, but you just want a little motivation. The Trending Feed is made up of posts from all kinds of people who only have at least two things in common: they're a SparkPeople member and they're taking steps to become a happier, healthier version of themselves. You never know what kind of inspiration you might encounter. And who knows, maybe your inspiration today will become your good friend of the future!
Check out the #firstpost hashtag to find new members and give them encouragement.
We all have to start somewhere. Think back to the first day you admitted to yourself that you had to make some changes. It was exciting, but a little scary too, wasn't it? We all go through a range of emotions when we decide to make lifestyle change for the better, and it isn't easy. Click on the #firstpost hashtag and you'll see posts from members who are finally taking the plunge and jumping feet-first into our community. Get in there and give them a little support now and they'll be grateful. You just might meet someone there who will give you the support you need when you need it most, too!
Remember that these are three of our favorite ways to find new buddies in the Community Feed, but this list isn't exhaustive. We hope that the feed is a place where you can find people just like you that make your journey easier and more fun. If you can think of any other ways to make new friends using the Community Feed, we'd love to see them in the comments below!
Posted 4/13/2017 12:00:00 AM By: Joe : 43 comments 12,372 views
Read More ›
There Are Two Ways to Figure Out How Many Steps Are in a Mile

Hi there. If you're checking out this page, you're probably looking for a way to figure out how many miles you need to walk to get in your 10,000 steps or 15,000 steps in a day. Sure, you could use one of those "how many steps in a mile calculators" you find online, but who knows how accurate those are? Wouldn't you rather figure out how many steps you walk in a mile with a proven, mathematical formula, based on research?
We thought so.
Posted 4/11/2017 12:00:00 AM By: Joe : 100 comments 66,633 views
Read More ›
Hey there, SparkPeople,

We have an exciting announcement for you about SparkPoints! Starting now, you can earn SparkPoints in a new way while helping us spread the word about your favorite recipes on SparkRecipes.

It's super easy! Each time your share one of our recipes to Facebook, Twitter or Pinterest, you'll get three SparkPoints from us as a thank you. You can earn up to nine points per day, every day. :)

If you'd like to check to see how many SparkPoints you currently have, you can check the total number—as well as ways you can earn more points—here.

That's it—just a simple update to make your day a little brighter. If you have any questions about this change, please let us know in the comments below!


Posted 1/31/2017 4:00:00 PM By: Joe : 3 comments 5,819 views
Read More ›
Today is a good day. The sun is shining (from where I sit) and the holidays are fast approaching. It's almost a perfect day, in fact, and there's just one thing that could make this day any better: getting an introduction to the Advanced Reporting perks you get with SparkPeople Premium.

You and I both know that the term "reporting" isn't one that causes many people to quake with excitement. When most people think of reporting, they think of spreadsheets full of rows of numbers in a teensy-tiny font. And that's valid, because we've all seen reports like this and have tried to avoid them. Once you start thinking about how reporting can help you better reach your goals, though, the concept of advanced reporting gets significantly more exciting.

Let's Talk Basic Reporting
SparkPeople has always provided our members a number of robust reports that help them get a better idea of where they're at on their path to where they want to be. If you wanted to know how many calories you've eaten during a certain day or what your calorie differential for a given day was, we have a report for that. It's also important to point out that while we have a number of reporting options, some of our basic reports are only available on our website, not in our app. If you'd like to see a list of all our basic diet and fitness reports, click here.

But these reports can only take you so far. For instance, what if you wanted to see how many calories you've eaten every day for the past month? Or what if you wanted to dig even deeper and chart out your daily protein consumption over the past three months? Our basic reporting doesn't give you these options, but it doesn't mean you aren't asking those questions. This is where SparkPeople Premium comes into play in a big way.

Advanced Diet and Fitness Reporting with SparkPeople Premium

SparkPeople Premium is an upgraded membership to our community. While we at SparkPeople pride ourselves on keeping our website free to anyone who wants to use it, we do offer a membership option that allows you to unlock benefits that aren't available to all users.

One of the best benefits of SparkPeople Premium is our Advanced Reporting. If you're a Premium member, you gain access to two reports that can help you jumpstart your SparkPeople journey: the "Premium Trend Report" and the "Food Ranking Report."

The Premium Trend Report: Get to Know How You've Been Doing

With the "Trend Report" you can chart your progress over time, for a number of diet and fitness data points. Two measurements go into this report: the time period you want to look at and the thing you want to track over that time period.

You can track all kinds of stats in this report, including calories eaten, calories burned, fat, fitness minutes, fiber, cholesterol and more! With time periods ranging from the past week to the past year, it's easy to see how far you've come over time or how you've been doing lately. If you're really looking to make changes to your diet and fitness habits by examining how you've been doing over time, this report is invaluable.

The Food Ranking Report: A Snapshot in Time, At Any Time

Sometimes, you just need to get through the day. If it's lunch time and you only want to know how many calories you've eaten and how many more you can eat today, our basic reporting is fine. But, if you want to know how much fiber you've eaten so far out of how much fiber you should eat for the day, you need the food ranking report. This report lets you know how well you're doing right now, and what small steps you need to take for the rest of day to meet your nutrition goals. Nothing helps you stay on track quite like this simple snapshot.

Added Bonus: Export All Your Data, at Any Time!

Starting last week, we brought another benefit to Premium that will knock your socks off! You can now export all your health and fitness information, at any time, with a single click. This one is for all our members out there who really like to geek out on data. If you want to cross tabulate, filter, sort, pivot table or do any other kind of data-crunchy thing to the information you've gathered while using SparkPeople, have at it. This data is your data to do with it as you will.

If you've made it to the end of this post, two brownie points to you. :D We hope that you're as excited about Advanced Reporting as we are, and as always, we want to hear from you. If there's a report you think we should include with Premium but don't currently have, let us know in the comments below!

Haven't given Premium a spin yet? There's no time like the present: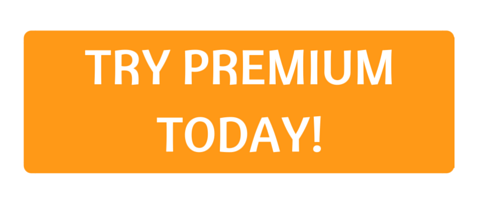 Have you tried Advanced Reporting? Share your thoughts below!
Posted 12/15/2016 12:00:00 AM By: Joe : 16 comments 15,091 views
Read More ›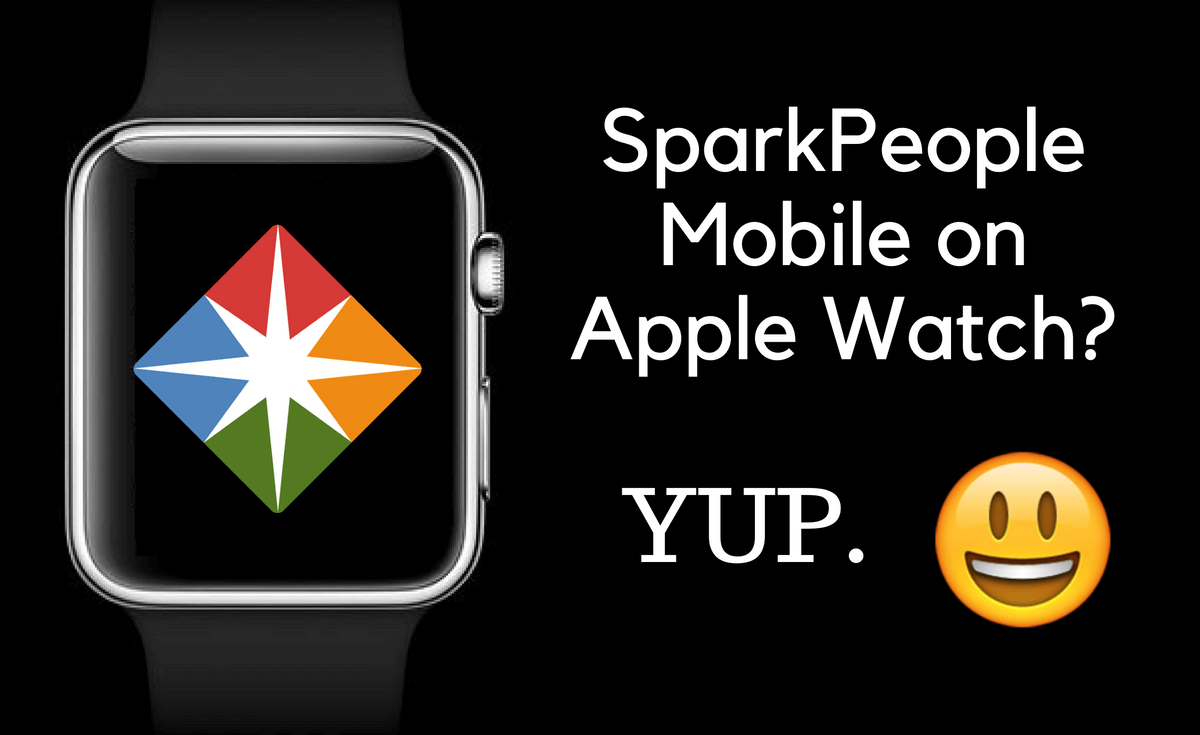 Today is one of the very best days, because today is a day upon which we released the newest version of our SparkPeople Mobile app for iOS. Let's all cheer together!

All right. We could hear you all the way over here. :)

So what does this newest version means for you? Of course, as always, there's a few bug fixes that will help the app run more smoothly. But there are also two big changes that you should be aware of, one for all iOS users and the other that is only available for our Premium members.


Watch Me Now, Apple
SparkPeople Mobile
is awesome at integrating with other fitness devices and platforms. Fitbit, Misfit, Runkeeper, Garmin and Google Fit: We integrate with all of these and more. But there's always been one device we didn't support, a device that many of you have asked about: the Apple Watch.
Starting today, you won't have to ask again.
With the newest iOS version of SparkPeople Mobile, you can interact with the app from your Apple Watch. Want to see how many calories, carbs, fats or protein you've eaten today? Check your watch. Drank one of your eight glasses of water for today and want to track it, but don't want to pull out your phone? Do it from the watch. Suddenly realize late in the evening that you forgot to spin the SparkPoints wheel for the day? Do it from the watch.

Want to know what it looks like? Let us show you:

From here on out, the app on your phone will be seamlessly integrated with the watch on your wrist. It's like we're really living in the future. :) We plan on bringing new functionality to the Apple Watch app in the future, so consider this just the start of something even more wonderful. :) (Android user? No worries! We're working on an Android Wear app next. Keep an eye out and you'll see it soon in a future update!)

Got Premium? It Just Got Better!
Starting today, with this new version of the app,
all SparkPeople Premium members can now export individual health and fitness data into a spreadsheet
, to crunch as they will. (All Premium members can also
export their data from our website
, but in order to export your data from the app, you'll need the newest version.)
Why does this matter? Because it's your data and you should be able to do what you want with it. One of the
main perks of Premium
is the advanced reporting it provides, and this seemed like a logical next step. You can request a download on the Premium screen in the app, or the Premium page on our site and we'll send you a link to download your report once it's ready. So for all you spreadsheet nerds out there (I know there's more of you than just me), let's get analytical!
And what if you don't have Premium yet, but have really been thinking about it? Why don't you treat yourself? It's only a $30, one-time payment (not yearly), and you get all these features. Best of all? Premium is going to just keep getting better. ;)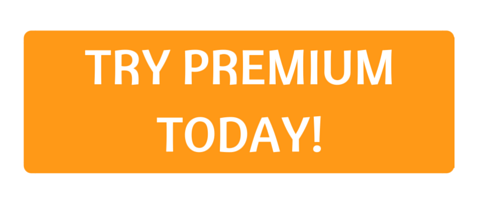 Posted 12/9/2016 4:00:00 PM By: Joe : 2 comments 8,749 views
Read More ›
If you use the SparkPeople Mobile app on an Android device, you may have noticed things look a little different today. Cleaner and quicker. Easier on the eye. Just…better.

It's true, we did make some changes to our app. (Good eye.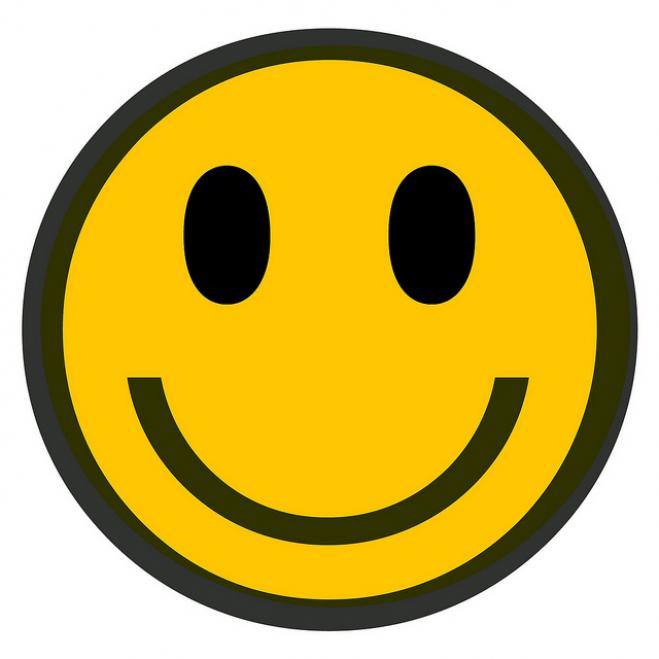 ) Starting today, you can download the newest version of SparkPeople Mobile, which now conforms to the standards of Material Design.


What Is Material Design?
It's a design language that Google developed a few years ago for all of its websites and apps. (If you use
Gmail
,
YouTube
or
Google Maps
, you might recognize some of the design elements that you now see in our app.) Google developed the design structure to make sure their apps looked good and were easy to use. After they rolled out the design to their own apps, they provided all Android app developers the specifications for their new language.

Why Bring Material Design to SparkPeople Mobile?
Our new design makes the app easier on the eyes, but also so much easier to use. For example, we got rid of the navigation bar at the bottom of the screen. Instead of clicking through the app by finding the right menu or submenu, you can now use the small, blue "plus" button at the bottom right of the screen. This button will open a series of options for you to select, depending on which screen you're on. As you can see, the options on the home screen are pretty different than the options on the Log page:
By giving you options based on the screen you're on, we can help you get around the app faster.
One Hamburger, Simplified Navigation
Another thing you might notice--after you've poked around a bit--is that we didn't get rid of the navigation altogether; we just made the navigation much, much easier to use. Check out the three horizontal lines at the top left of every screen (in the design world, we call this a hamburger menu). We've put all of the different sections of the app in this hamburger menu, in a logical, easy-to-understand order. No more clicking around the app, trying to figure out how to get to a screen you can't locate. Now, just click the hamburger and go where you need to be.
Quick note on the Friend Feed: we kept your Friend Feed at the bottom of the homescreen, because it just seemed to fit there. So if you're having a problem finding the friend feed, just scroll down to the bottom of your home scren. ;)
Poke around the app and let us know what you think! We've been using the app internally for a few weeks now and we just love the design, and we hope you will too.
But Wait, There's More!
Starting today, with this new version of the app,
all SparkPeople Premium members can now export their individual health and fitness data into a spreadsheet
. (All Premium members can now use this feature, but only Android users can do this in the app. Don't worry iOS users--this feature will be coming to your app in a few weeks.)
Why does this matter? Because it's your data and you should be able to do what you want with it. One of the main perks of Premium is the advanced reporting it provides, and this seemed like the logical next step to us. You can request a download on the Premium screen in the app, or the Premium page on our site and we'll send you a link to download your report once it's ready. So for all you spreadsheet nerds out there (I know there's more of you than just me), get ready to get analytical!
And if you don't have Premium yet, but have really been thinking about it, why don't you treat yourself? It's only a $30, one-time payment (not yearly), and it's so, so good.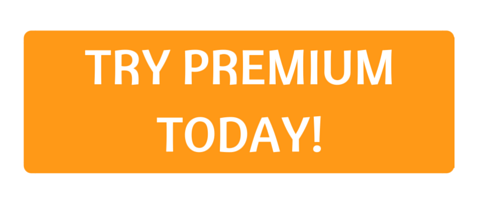 As always, we'd love to hear what you think about the new changes. Leave us a comment below withquestions, concerns or compliments and we'll make sure to reply.
Posted 12/7/2016 3:00:00 PM By: Joe : 14 comments 11,185 views
Read More ›
Hi, SparkPeople!

Get ready to get excited, because we just brought over 500 FREE fitness videos to your Amazon Fire device! We just released an app for Amazon devices that will allow you to stream the best videos SparkPeople.TV has to offer, from the comfort of your own home, on your TV.

If you don't know what Amazon's Fire TV or Fire TV Sticks are, allow us to explain: These little devices, made by Amazon.com, plug into your TV and let you stream videos and music from the internet. If you're an Amazon Prime member, you get access to thousands of free movies and TV shows (if you aren't a member, you should check it out), but even if you aren't an Amazon Prime member, you get free access to our app!
Posted 11/11/2016 2:00:00 PM By: Joe : 13 comments 20,820 views
Read More ›


iOS SparkPeople Mobile users, it's time to dance on the rooftops and shout in the streets: Starting right now you can connect your app to Apple Health!

Since we launched Google Fit integration for our Android users a few months ago, one of the biggest requests we've received from our members on the Apple side was that we open the iOS version of our app to Apple Health; today we're happy to bring that integration to you.
Posted 11/1/2016 1:00:00 PM By: Joe : 14 comments 17,192 views
Read More ›
Hi there, SparkPeople!

We wanted to take a moment today to let you know that we've made an update to our SparkPeople Mobile app, and to give you the heads-up on what we changed so you can be in the know.

While we updated both apps recently, some of the changes we made apply to both Android and Apple versions of our app, while some of the changes we made were focused on Android only, in order to bring the functionality we already had in the Apple version to the Android version. To help you understand the differences, let's start with the things that apply to both versions, shall we?
Posted 9/9/2016 10:00:00 AM By: Joe : 2 comments 19,375 views
Read More ›
Read More Entries ›