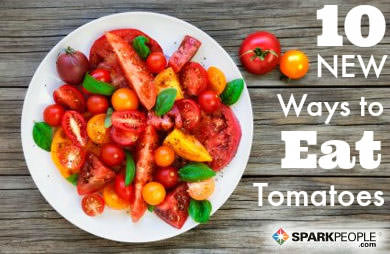 Tips for Best Tomato Taste
Choose unblemished ripe tomatoes from a farmers' market or your family garden. Heirloom varieties come in different flavors and colors—for example, yellow tomatoes are generally milder and less acidic; some types remain green when fully ripe. Never store tomatoes in the refrigerator; they'll lose flavor and get mealy. To make peeling easier, core the tomato, then scrape the blade of a small paring knife over the skin to loosen it.
Oven-Dried Tomatoes
Halve ripe tomatoes lengthwise and scoop out the seeds. Place on a rimmed baking sheet lined with foil; drizzle with olive oil and sprinkle with salt and pepper. Place the sheet in the oven on the lowest temperature (150 to 170 degrees) and let the tomatoes dry for 8 hours, until they're shrunken but still a little plump. Store in the refrigerator for up to 2 weeks, or freeze for up to 6 months.
Keep reading for nine more ideas!
Read More ›
If you've eaten out or thumbed through a cooking magazine in the last few months, chances are that you've noticed the growing popularity of heirloom vegetables. A friend recently asked me what heirloom produce is and what makes it different. Heirloom vegetables are typically grown on a family farm by seeds that were saved by a previous harvest. Some heirloom seeds are believed to go back to the 1950s before farming became more commercial, efficient and mass produced. Heirloom varietals are full of concentrated flavor because farmers have retained the best seeds year after year, focusing on quality instead of size and appearance. Heirloom tomatoes, beans, squash, and garlic are some of the most popular varieties. You can use heirloom vegetables in any recipes that call for them. We've featured 8 recipes that are easy to prepare and taste great too!
Grilled Heirloom Tomato and Goat Cheese Pizza
Read More ›