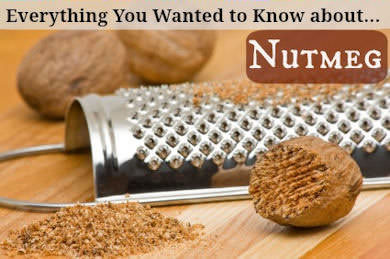 It just wouldn't be the holidays without this warm and nutty spice. Impress friends and family at the dinner table with some trivia. Did you know nutmeg is actually the seed of a type of tree?
Nutmeg Basics
Cut open the fruit of a tropical variety of evergreen tree and you'll find this inch-sized brown seed. It doesn't look like much but this little baby packs in warm and earthy flavor when it's freshly grated. Ground nutmeg is also widely available, but isn't as potent.
Native to Indonesia, the Caribbean and part of India, the outer covering of nutmeg is cultivated as an entirely different spice known as mace.
Nutrition Info
One tablespoon of nutmeg has just shy of 40 calories, 1 gram of fiber and B-vitamins like thiamin, B6 and folate. You'll also find minerals like copper, iron and potassium.
What to do with Nutmeg
Use nutmeg to add a spicy, sweet kick to baked goods. Banana, pumpkin, apple and carrot get along famously with this sassy spice. Sweet foods love nutmeg but so do creamy dishes like fettuccine Alfredo, mac and cheese and creamed spinach. You'll find it in lots of holiday recipes; everything from pumpkin pie to green bean casserole.
Shopping and Storage Tips
Read More ›
With so much talk about hot sauce, we had to taste test all the popular varieties for ourselves. We got our mouths fired up for this spicy taste test. Find out who topped our list.
It's All About Sodium
Hot sauce is the new ketchup. Dab a little on sandwiches, pizza, pasta dishes, chili, grilled meats, eggs – almost any dish. If you check out the label, you'll notice that there's not much nutrition information per serving—no calories, fat, saturated fat, carbs, or protein (or at least so little that it can be listed as zero by food labeling guideline). What it does have is sodium—and some brands have more than others.
Read More ›
The fiery red sauce in the green-topped squeeze bottle is a staple in my kitchen. Loyal fans will not go near another chili sauce – it's so popular it has
its own Facebook page
.
What is Sriracha?
Sriracha was developed in Los Angeles, California in the early 1980′s by David Tran. His Chinese and Vietnamese roots were the inspiration for this American-born chili sauce.
Pronounced "SIR-rotch-ah" this sauce made from chili peppers, garlic, sugar, salt and vinegar is the perfect balance of hot, spicy, tangy and sweet. Instead of just being hot, Sriracha has serious flavor that keeps food-lovers coming back for more. It even has a nickname – affectionately dubbed "rooster sauce" (the bottle dotes the image of a rooster – Tran's astrological sign).
Read More ›
It's hard to believe that a tiny part of a flower can also be a highly prized spice. Have you ever tasted the most expensive spice in the world?
What Is Saffron?
The delicate threads of saffron are actually the stigma of the purple crocus. Each flower gives only three strands that must be hand-picked. An acre of crocus flowers will yield 5 to 7 pounds of saffron, which is why the price tag for one ounce (approximately 13,000 threads) can easily approach $500.00! You may be able to find ground powdered saffron for less money but it's not nearly as flavorful and loses its "umph" quickly.
Thankfully a little goes a long way. Trying to figure on how much to buy? The spice gurus at
Penzey's
give these helpful conversions: 1 gram = 2 teaspoons whole, 1 teaspoon crumbled or ½ teaspoon powdered.
Read More ›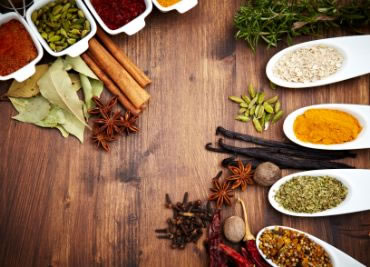 Chef Meg collects spices the way some women collect shoes. These zero-calorie, fat-free flavor boosters are her secret weapons for delicious healthy food.
Read More ›