All Entries For
speedy suppers
Who's hungry?
Me, too!
In today's installment of Speedy Suppers, we bring you
Chef Meg's Healthy Chicken-Vegetable Casserole
, a makeover of those dump-and-bake comfort recipes we all remember from childhood. This healthy meal has far less sodium and fat than a traditional creamy chicken casserole, and it's packed with vegetables, too.
Chef Meg uses a standard--but lighter--white sauce instead of canned, condensed soup, and she uses whole-wheat pasta for a burst of fiber. Bell peppers add another layer of flavor.
Even better--this homemade meal will be on the table in under 30 minutes, and it serves 6. That means you've got lunch ready for the next day!
Read More ›
In a perfect world, we would all cook healthful, balanced meals from scratch seven nights a week. But who's perfect? When you're trying to eat right, work out and live your life, there's no harm in taking some help from the supermarket. According to a recent survey of SparkPeople members, more than 60% of us rely on a microwave, a can opener and a toaster oven for dinner from time to time. (Check out the
FITNESS 2009 Healthy Food Awards
for more dinner ideas that use supermarket products.)
However, we all know a can of soup or a frozen cheese pizza doesn't constitute a well-balanced meal. The trick to eating right with these shortcut foods is to
use them as a basis for your meal, not as your entire meal.
We took five popular "convenience" foods from the supermarket and used them to create an entire meal!
Read More ›
Fire up the grill--it's dinner time! Tonight, let's celebrate summer with burgers, grilled corn, a salad and cantaloupe. Warm night, juicy burger, fresh melon… that's the life!
Burgers have earned a bad rep. When made with lean meat and kept a moderate size (3-4 ounces before cooking), burgers can have a regular place in a healthy meal plan.
Be creative with your burgers tonight! I've scoured SparkRecipes for new and delicious
burger recipes
. (If, like me, you prefer meat-free burgers, we've got plenty of those
recipes
, too.
Try the
Super Juicy Grain & Seed Turkey Burgers
,
Blue Cheese Burgers
or
Spicy Black Bean Burgers
Read More ›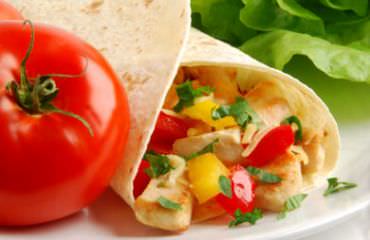 I don't know what the weather's like where
you
live, but it's smoking hot in the Midwest these days, which means that I'm in no mood to turn on the oven.
This week's Speedy Supper will help you keep your cool in the kitchen:
Cobb Salad Wraps
!
The classic composed salad is filled with plenty of tasty ingredients: hearty romaine lettuce, avocado, chicken, bacon, hard-boiled eggs and more.
Unfortunately, many of those ingredients are high in fat and calories.
A restaurant version can have more than 500 calories and 25 grams of fat.
This wrap, made with whole-wheat tortillas for some fiber and staying power, clocks in at about
350 calories and 15 grams of fat
--a better option than the original.
This salad, made famous at the Brown Derby in Los Angeles, is delicious and easy to make. Even better, it's open to interpretation; you can add or omit ingredients to suit your tastes and depending on what you have on hand.
Get the recipe for
Cobb Salad Wraps
now!
Read More ›
Fast, easy, tasty.
That's what dinner should be.
This week's Speedy Supper is ready in 20 minutes and requires little work on your end. Whisk together a quick Dijon mustard sauce, spread it over salmon fillets and pop them in the oven. While the fish is cooking (and you can swap the salmon for any kind of fish you like or even chicken breasts), cook up a bag of frozen broccoli and some whole-wheat couscous or brown rice. Pour everyone a glass of milk and serve some grapes or fresh melon on the side and relax for a couple of minutes until the oven timer goes off.
Eat and enjoy.
Get the recipe for
Baked Salmon Dijon
now.
Read More ›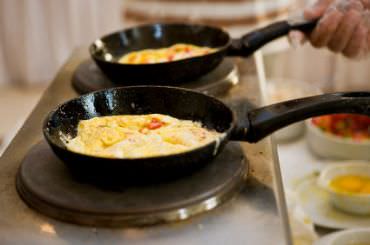 Judging from last week's response, you like the new
Speedy Suppers blog series
we've started.
Our
Skillet Lasagna
was last week's most viewed post.
We're going to continue to bring you Speedy Suppers each Thursday, and
we need your help.
Post your suggestions in the comment section below. Your recipe must be on
SparkRecipes.com
, so if it's not already, upload it soon!
This week's Speedy Supper comes from our very own Coach Nicole, who has been making these mini frittatas for years. The recipe calls for tomatoes, goat cheese and broccoli, but you can use any cheese or vegetables you'd like.
I know she shakes up the recipe from time to time, and I've made it myself a few times. I swapped red peppers for tomatoes, feta for the goat cheese and spinach for the broccoli. You really can't go wrong!
While she usually makes them for breakfast, I thought they'd make a great dinner.
Each frittata has just 71 calories (I usually eat two), and it's great paired with salsa or a green salad and whole-grain toast.
Read More ›
Mmm, Italian food.
Cheesy, rich and delicious.
Whether it's covered in red sauce, white sauce or anything in between, we're fans of all fare from the boot-shaped country. My boyfriend, Fred, lived in Naples as a kid and his mom cooks some really delicious, authentic meals. When he makes dinner, it's usually some sort of pasta dish.
Unfortunately, Italian favorites like spaghetti and meatballs or lasagna are fairly time-consuming for a weeknight meal. They're pretty heavy, too!
I came across this popular dish on SparkRecipes:
Skillet Lasagna
. It takes just under half an hour, instead of an hour or more like regular lasagna. A perfect addition to our
Speedy Suppers blog series
. Seems like a keeper to me! Plus, it has only 336.5 calories and 10.6 g fat and serves six. Leftovers--yeah!
We'll be making some modifications to this recipe in our flexitarian household, but the versatility is one of the advantages of this dish. Here are some tips to modify this recipe for your family.
Read More ›
Soup is filling, hearty and easy. Many of us are more likely to reach for a can opener and a condensed version when we're craving soup, but homemade soup is surprisingly fast to make. The best part is that one pot of soup can yield two meals for a family of four. After all, soup is one of those foods that always tastes better the next day.
I created this soup years ago after trying a great version at a Mexican restaurant in Bowling Green, Ohio. I ordered the "Zuppa Azteca" each time I stopped there during my drive north to visit friends in Michigan. Theirs is made with chicken roasted on the bone and homemade stock--incredibly delicious but not conducive to a quick weeknight supper.
Theirs had fewer tomatoes, no beans and white rice. I wanted to add more nutrition, so I added spinach, a green pepper and more tomatoes, and I use white meat chicken instead of dark. Beans and brown rice add fiber. This new soup is a good compromise of taste and time. (There's also a vegetarian version that I make these days. See below for more info on that!)
These first two recipes in what is becoming a series called "Speedy Suppers" have both been Mexican/Southwestern. I'll branch out for my next installment, I promise. I do know how to cook other cuisines!
Read More ›
I love
Spinning
class. For me, it's a great workout--and 45-60 minutes of letting someone else tell me what to do. Compared with my other favorite form of fitness--yoga--Spinning requires less immediate focus and allows more time for contemplation. Through rolling hills, sprints and grueling jumps, I focus on the finish line--and quite often the delicious dinner I'll make once I get home.
I have been inspired to make plenty of new recipes while on a bike--both on the trail and in the Spinning studio. Sometimes they turn out so-so (a strange lasagna using root vegetables and collard greens in a vegan cream sauce--what?) and other times they rock my world!
The idea for this
Mexican pizza
came to me just a week ago, and my boyfriend is already asking when we'll be having it again.
When I was a kid, my parents were big fans of Chi-Chi's--the only thing resembling Mexican food we could get in southeastern Ohio. My palate wasn't quite as adventurous back then, so I'd always order the kids' Mexican pizza--ground beef and cheese baked on a tortilla and served with salsa. My tastes have changed--and so has my Mexican pizza.
I wanted a real pizza crust, something whole-grain and substantial enough to hold the plethora of produce I wanted to throw on top. Pizza crust is often dusted with cornmeal, so why not make a
cornmeal crust
?
I often struggle with dough. Too sticky, too dry, too chewy, too crispy--it's hard to achieve the proper balance. I hit gold with a variation of my mom's whole-wheat pizza dough. It's sturdy and chewy without being too doughy. It crisped up nicely, especially when I parbaked it in my cast-iron skillet. (The secret, I think, is plenty of fork holes to allow steam to escape the 3/4" crust.)
The crust, I realized, would make two pizzas. There would be food for tonight, tomorrow's lunch and snacks over the weekend!
The crusts rolled out and set to bake for a few minutes, I moved on to toppings. What would crown my Mexican masterpieces?
Read More ›