All Entries For
sparkpeople challenge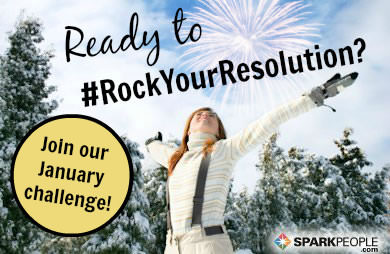 We're (finally!) entering the home stretch of the holidays. If you've been following along with our
#SparkTheSeason
challenge, we hope you've been creating and sticking with goals to keep you motivated throughout the month of December. But January is coming up fast, and if you're anything like us, you're probably starting to think about your goals for 2014. Whether or not you believe in
making New Year's resolutions
, you can't deny that January is a prime time to kick your routine up a notch after a few months of heavy eating, drinking and general merry-making. And what with the dreary weather and the warmth of the holidays behind us, a little extra boost of motivation after the first of the year can't hurt! That's why we're introducing a brand new challenge for January, hot on the heels of our #SparkTheSeason challenge:
#RockYourResolution
!
Read More ›
Thanksgiving is coming up in just a few short days, and you might still be participating in our November
#Fit2Feast challenge
(WooHoo!). We know that it's tough to stay motivated leading up to the holiday season, so congratulations for participating and making it this far already!
You might have made some good strides (hah!) with our November challenge, but we recognize that you're probably going to need some motivation to stay on track through the busy month of December—which can easily be the hardest month of the year to stick with a healthy eating and exercise program. There always seems to be an endless barrage of feasts, family gatherings and work parties to attend! However, we've seen time and again how just a little bit of accountability can go a long way, no matter what the time of year (yes, even in December). And that's why, by popular demand, we're hosting a challenge to get you through the bulk of the winter holiday season. Welcome to our
#SparkTheSeason
challenge!
Read More ›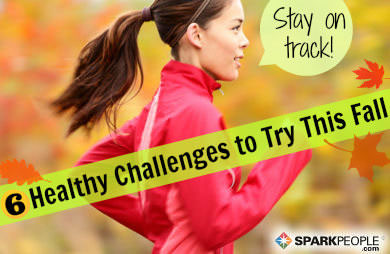 The days are shorter, the weather is colder, and the couch is looking a whole lot comfier. This time of year, attendance at the gym drops and our desires to exercise and eat right fall lower on our priority list. Between back to school, tailgating, Halloween, Thanksgiving, Hanukkah, the year-end frenzy at work, Christmas, New Year's and everything in between, it's no wonder we need to "restart" again on January 1.
As fall morphs into the busy holiday season, let's choose to make this year different. Let's commit ourselves to
just one simple goal
to stay on track. You might not be able to do everything perfectly between Halloween and New Year's Eve, but you
can
do
something.
SparkPeople has a lot of fun, simple and effective challenges that are the perfect pick-me-up for your program. I would recommend choosing ONE program listed below to focus your efforts. These are all great ways to re-commit this fall and hit the ground running this holiday season!
Read More ›
Halloween is just one week from today, and we all know what that means—the holiday season will be upon us before we know it. Unfortunately, the "most wonderful time of the year" also tends to be the most stressful time of the year for a lot of people; especially for those who are striving to lose weight or get fit. How do you avoid falling off the wagon during such a busy time full of food, friends and family obligations? Read More ›
We're taking a big step in helping you get fit! SparkPeople has just released the
Spark
, our very own activity tracker that integrates perfectly with the rest of SparkPeople's online tools. The
Spark Activity Tracker
requires no charging, determines the specific type of workout you're doing (walking vs. running vs. elliptical) and automatically logs your fitness minutes directly to your SparkPeople Fitness Tracker!
The new Spark Activity Tracker is just one more way to get you motivated and moving toward your goals—and we're here to help you along the way. Everyone who uses a Spark is eligible to participate in monthly fitness challenges that will motivate you to get out there and walk, run or bike your way to reaching your goals each month. Our very first challenge, the
Trick or Track Halloween Challenge
, starts on
October 1
and offers some BIG prizes!
Summer, along with its skin-baring swimsuits and styles, may be behind us. But fall's cozier, covered-up fashions are no reason to stop working on your fitness! In fact, the body hugging trends of fitted ("skinny") jeans and leggings may be even more reason to keep up with your healthy diet and fitness plan.
As a fun way to motivate our readers to keep working toward their goals, I developed a brand new challenge that is sure to kick your butt—and legs and abs—into shape. I know how much people love plans they can follow, so I created the
30-Day Skinny Jeans Plan
. Don't be alarmed: Even if wearing these trendy pants isn't high on your priority list, I
promise
you'll get a lot out of the challenge, including motivation, support, and new workout combinations designed to help flatten your belly, strengthen your legs and re-shape your rear.
You can head right over to
www.sparkpeople.com/skinnyjeans
now to check out the challenge, or keep on reading for more details on how the plan works and what to expect.
Read More ›
We love fall. With kids going back to school, the changing leaves and the chilly dip in the weather, there's just something about the season that carries a promise of change and new beginnings. And who doesn't like the feeling of starting over on a fresh, clean slate?
Now is the perfect time to kick off a brand new challenge to help you get on your way to your healthiest, fittest self yet:
30 Days of Fit Food
. It's a great way to kick the season and head into the holidays (just around the corner!) feeling your best.
Read More ›
As you know, we're now on Instagram, the photo and video sharing app! We love how easy Instagram is to use and that it allows us to share fun, healthy tidbits from behind the scenes at SparkPeople every day. While we do love writing about healthy living, it's true that a picture is worth a thousand words.
Over the last few months, we've loved seeing your photos documenting your healthy living habits. From your daily lunch photos to selfies after the gym, we love witnessing the proof that healthy living is possible--and fun!
You know how much SparkPeople likes challenges. We had such fun with our
#backontrack consistency challenge in August
that we're doing another one--on Instagram this time!
Fall is a time when many people, well,
fall
off the healthy living wagon. Days are shorter, nights are longer, and the air is colder. Snuggling up on the couch or staying in bed becomes that much more appealing. We're hoping that by getting you excited about all things autumnal. From the first signs of the changing leaves to pumpkin-flavored everything, from fall sports to Halloween costumes, we want proof that you're making every day healthier and happier. Our staff will be sharing their own proof on the SparkPeople Instagram account.
The challenge is simple: Take a look at the graphic below, which shares the day-by-day themes for the challenge, starting with October 1. Share your photos every day (or most days), making sure to tag them #sparkpeople and #fallfavorites to join in the challenge and give us permission to repost them. (And don't forget to start following us to get the inside scoop on healthy living.)
Read More ›
It's almost August, and whether we like it or not, the days of summer are dwindling. Bathing suit season may be mostly behind you, but that doesn't mean it's time to abandon your healthy efforts now that autumn is in sight! Plus, maybe all those barbecues you've attended this summer are starting to show on the scale. Maybe your vacations and kids' activity schedules have taken precedence over your exercise routine. Maybe, now that the wild ride of the season is coming to an end, it's time to get back on track and consciously recommit to your healthy lifestyle. And we're here to help you do it with a brand new challenge!
Read More ›
Raise your hand if you're a morning person!
…Anybody?
Ok, so
waking up in the morning
is tough for most of us. However, when you make an effort to do so consistently, it's entirely possible to make it a habit—which is a great way to build more fitness and productivity into your day. So, how would you like a little extra boost of motivation to A) Get up in the wee hours, and B) Make strides toward your healthy lifestyle goals at the same time?
We're going to help you do just that with our
''Rise and Shine'' Challenge
!
Read More ›
It's almost March, which means we've made it through the worst of winter (knock on wood!). Can you believe that spring is less than a month away? Although the arrival of spring promises warmer weather and better conditions for exercising outdoors, it might also make some of us realize that we hibernated a
little
too much over the winter. Maybe you skipped a few workouts due to bad weather or
the flu
, or
the winter blues
derailed even your best efforts to stay consistent. It can be hard to get active again after a lull in your exercise plan, but it's entirely possible to get back on your feet. And we're here to help you do it!
Read More ›