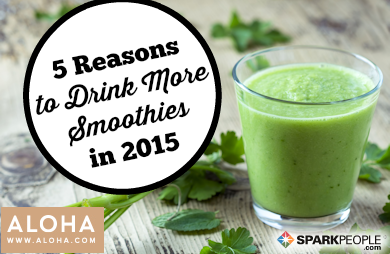 It needs to be said: juice cleanses are so 2014. If you're not feeling satisfied from last years' liquid craze, then why not give smoothies a spin? For a true meal replacement made from whole-food fiber, protein, and nutrients, juices simply won't do. Here are a few reasons why smoothies will take your sips to a whole new level in 2015:
1. Drink smoothies, save money.
When you think about it, isn't it kind of ridiculous to pay up to $12 dollars for a 12 oz. bottle of pressed juice? It's even crazier to think about especially because a lot of the good stuff is removed and discarded in the juicing process: fiber, vitamins, minerals, even protein.
But making your own smoothies can be both cost and health-effective. Using your own ingredients is definitely the way to go, particularly after a long few months of pre and post holiday shopping. But here's some good news: one
ALOHA Daily Good Greens pack
comes in at $2.50, while a serving of Premium Protein is around $4.20. Combining the two together gives you a high-quality meal replacement at an unbeatably low cost. So long, overpriced beverages!
Read More ›
Made with wholesome fruit, milk and ice, what's not to love about a
healthy smoothie
on a hot day? Not so fast—although they may sound innocent enough, these summer sippers could actually be massive calorie bombs in disguise. Many common selections at smoothie chains and fast food restaurants pack
two times more sugar
than a candy bar and more calories than a burger and fries! Before drinking up, read on for the best and worst picks from popular smoothie establishments across the country.
Read More ›
For my family, spring signals the beginning of little league baseball and a renewed level of busyness that makes staying on top of nutrition a bit of a challenge. Recently, I've been using
berries
, another spring/summer favorite, to keep my kids fueled up. Using a simple blender, I can have a tasty treat whipped up in minutes that includes many greens that my kids wouldn't normally eat.
Berries
are sweet, but also contain a boost of disease-fighting antioxidants, fiber and vitamins. It's fun to hear my kids ask for a second glass, especially when I know it's loaded with spinach, kale, or
chia
or flax seed to add fiber, protein and healthy omega fats. I make it a goal to get at least three servings of fruits and vegetable in each smoothie I make.
When I see deal on berries, I buy double what I need and put half in the freezer. Then I can just pull out what I need, whenever I need it, and clean up is easy too: just pop the blender parts in your dish washer or hand clean with hot soapy water. Fuel yourself with berries and other great smoothies by trying these SparkRecipes.
Read More ›