I loved teaching Spinning classes at
my alma mater's recreation center
. The equipment was state of the art, the sound system was superb, and the students packed into my 6 p.m. classes and loved the challenge of a 60-minute ride. There was just one clock hanging in the room—off to the side and behind most of the bikes—yet there was a handful of students who would ask me to remove the clock from the wall during class. I guess they didn't want to look at it during class, but couldn't stop themselves from doing so. When you're working out and you don't absolutely love to do so, it can be downright discouraging to feel like you've put a dent into your workout goal, only to look up at the clock and see that you're not even a quarter of the way through. Ugh.
Where I teach now, there is no clock hanging in the Spinning room at all. The only clock available is lying on the floor by the instructor's bike, for his or her benefit alone.
This led me to wonder: Do you watch the clock when you exercise?
Read More ›
I may have a job that I love, but I thoroughly look forward to the weekends. I like to relax, sleep in, spend more time with my boyfriend, and do as little as my heart desires. Each day promises freedom and potential to do whatever I want!
Most of us have more free time on the weekends. Sure, we have laundry to wash and groceries to buy, but we usually plan some much-needed football watching, naps and friendly socializing in there, too.
When it comes to eating healthy and exercising, the weekend could either help or hurt your efforts. You probably have more time to plan and cook healthful meals on the weekend, but you're also more likely to dine out on these days. Likewise, you probably have more time and freedom to work out on a Saturday than on a Monday, but many of us prefer to use the weekends as rest and recovery days.
Since I've been
tracking my workouts more diligently
this year, I have noticed certain patterns in my behavior. Earlier this year, I learned that
I don't like to exercise on Fridays
(a habit that I have since changed!), but I've also noticed how the weekends affect my own workouts overall.
This led me to wonder: How do weekends affect your workout routine?
Read More ›
As a small company, everyone at SparkPeople wears several hats.
Kelly
, our office manager answers the phone, mails prizes, monitors message boards, and keeps our office life running smoothly (which involves about 1,000 other tasks).
Paul
is a programmer who also helps me shoot workout videos and provides comic relief (an important job). Rachel oversees our sister site BabyFit.com, but also does accounting and HR work. And while I spend most of my time working as editor of SparkPeople.com, I also blog here, create fitness videos, and help brainstorm and test products that we sell in
our online store
. We are a busy bunch!
Working with the SparkPeople Store is a lot of fun, whether my involvement is as simple as
testing the Bamboo tanks
for a few workouts or more time-consuming, like writing the daily content for our
day-at-a-glance calendar
.
But there is one product from our store that I am particularly fond of, and not just because it is my brainchild. It acts as a motivational tool and a reward system all in one. It keeps me accountable, but it's also fun and easy to use. And now that I have it, I can't believe I went so long without it—especially because I have used it every single day since January 1 of this year.
Read More ›
I am not a morning person. When my alarm goes off at 7:30 a.m., I like to hit snooze at least once or twice. Even when I finally give in and open my eyes, I will lie in bed in protest for up to 15 minutes before I even move my body or get up. But just because I'm up and moving, don't expect me to actually TALK to you. I need a good hour before I feel like speaking a single word to anyone, so I'll get by with gestures or grunts as long as possible until I'm forced to speak actual words—it just takes too much energy. If sleeping counts as a hobby, it's one of mine for sure. What can I say? I like my sleep…and my bed, which is the most comfortable thing on the planet.
Sometimes I feel like I have no excuses for being this tired in the morning. I don't have any kids to care for. I don't lead a very stressful life. I take good care of myself and usually sleep for 7-8 hours each night. Most of my co-workers juggle work, family life and childcare while also exercising, training for marathons and volunteering.
Coach Tanya
, for example, is up at the crack of dawn (well, it might as well be) to hit the gym before she has to get her kids off to school in the morning and goes to work. Honestly, I don't know how she does it. What excuse do I have to feel too lazy or tired to walk down the hall to the bathroom?
Fitness experts say that morning exercisers are more likely to stick with an exercise routine than evening exercisers, and I can understand why. (How often do other obligations arise at that hour that would prevent you from working out?) But I am not a morning person and I don't know that I could ever wake up even earlier—especially to exercise.
This has led me to wonder: Are you a morning exerciser?
Read More ›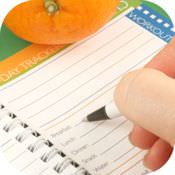 Many of us have come to appreciate one of the most valuable tools in our arsenal to lose weight and reclaim our health and that is by keeping a food journal. Tracking calories and nutrients allows us to become more aware of our food intake, portions, and most importantly to ensure we are getting the proper nutrients our body requires.
However, according to
The American Academy of Family Physicians
, keeping an exercise journal is a huge motivator for many when it comes to physical activity.
Read More ›
You want to be a fit person, right? Now that I've made fitness a habit in my life, I'm sharing my own secrets to keeping fit and staying healthy in the ongoing
Habits of Fit People
series.
Here's one that works for me: Mixing up your workout routine.
So why does something like this matter?
Read More ›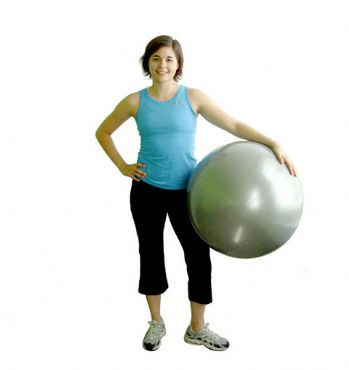 Most fitness experts and trainers have super-toned bodies that are sculpted (I can only assume) by many hours in the gym. How do they do it? How much time do they really spend working out?
I can't speak for them, but I can tell you what I do to stay in shape. My routine isn't crazy or impossible—it's pretty balanced. I'm always preaching about the importance of moderation and that is what I strive for when I work out. For me, it's not about how many calories I burn (in fact, I don't pay any attention to that), and it's not about trying to look better (although it's a nice perk, I've learned that focusing on the fitness instead of my appearance yields better results). It's about strengthening my heart, muscles, and bones. It's about feeling better about myself, maintaining a healthy body weight, and setting aside a small amount of time for myself in a day that's otherwise full of helping others. In fact, I exercise for all of the same reasons as most of you. So are you ready to see what my weekly routine is like?
Read More ›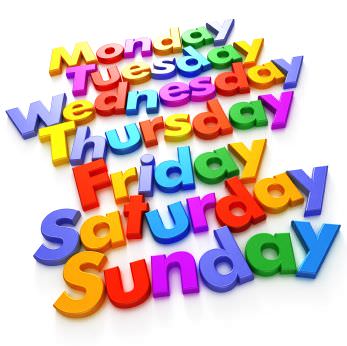 I've been keeping track of my workouts and trying to create SparkStreaks this year by logging my workouts on a monthly calendar. It's been so motivating to see all the days checked off that it makes me want to work out more often. But I've noticed a pattern. While I can get to the gym and exercise most days of the week, my "rest" days tend to fall on the same days each week. And it's for no reason other than this: I don't like to exercise on certain days of the week.
So I started to wonder whether other people have similar patterns. Do your "off" days tend to be on the weekend?
On Monday? Or somewhere in between?
Read More ›
We always talk about the importance of rest when it comes to your exercise routine. Your body needs that time to recover, and your overall health and fitness level will benefit from non-exercise days. But how much rest is too much? Research from the University of Missouri at Columbia found that only two days of inactivity are enough to cause the size of fat cells to increase by 25%! Surprised? Although this research was done on animals, the same could be true for people.
Read More ›
You want to be a fit person, right? That's why I'm sharing my own habits for keeping fit and staying healthy in the ongoing
Habits of Fit People
series.
Here's one that works for me: Developing a plan B.
So why does something like this matter?
Read More ›
I recently saw
an article talking about the 10 habits of fit people
. Sounds interesting, right? Well, some of them were okay, but it's a lot of the same things you hear all the time. Who needs to hear more about "making lasting lifestyle changes," or to "exercise in the morning"? Well, maybe some of us do. But it got me thinking—what are
my
habits for keeping fit and staying healthy?
Here's one that works for me: Marking my calendar.
So why does something like this matter?
Read More ›