Quinoa
pronounced KEEN-Wah has quickly become a staple in my cooking. I love that it is quick and easy to prepare, has outstanding nutritional value and is allergy-free. Since it cooks through in less than 20 minutes, it is a useful grain substitute in just about any recipe. A single serving is high in healthy fats, fiber protein, iron, magnesium phosphorus, and riboflavin.
Quinoa
is also gluten free! Increase your nutritional grain options with these quick and convenient
Quinoa
recipes.
Read More ›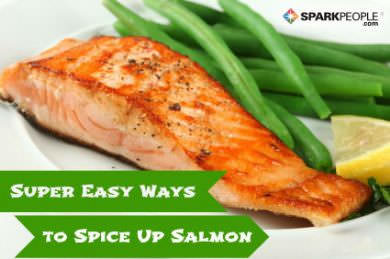 When I was in high school, my parents made a big lifestyle change that included improved diet and exercise. One of our staples when eating out became salmon. Many years later, it's still my favorite fish, but now I enjoy it at home around our family dinner table too. The best thing about salmon is that you don't have to be a professional chef or require expensive ingredients. This fish is simple to prepare, cooks fast, and has high levels of omega-3 fats and protein, but is relatively low in calories. I prefer fresh wild salmon, but you can opt for farmed or canned salmon also. Whether you already love salmon, or if you're ready to try something new, try these simple and healthy recipes to acquaint yourself with this amazing fish.
Read More ›
As the weather turns cold, heat up your meal planning with cozy soup recipes. Soup doesn't need to be boring, plain or unsubstantial. Add ingredients like beans, lean proteins and whole grains to turn it into a complete nutritious meal. Avoid high sodium broths. Instead use spices and seasonings to add flavor. Double the recipe and use the left over's for tomorrow's lunch or freeze it to enjoy another night. Curl up with a cup of soup this week by using these recipes and resources.
Read More ›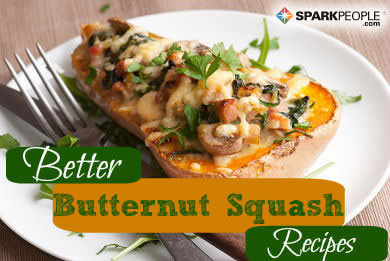 Butternut squash is my favorite fall vegetable. I tell my kids that it's like vegetable candy, because roasting brings out its natural sweetness and reduces the need for sugar in our favorite fall deserts.
Consuming butternut squash adds fiber, potassium, magnesium, vitamins A and C to your diet.
Here's an easy way to pick the perfect one at most stores
. For maximum efficiency, roast extra squashes and freeze the extra flesh for later use. If you're short on time, just pick up some pre-cut Butternut Squash in the freezer section at your market. Another fun tip is to grind the seeds in a coffee or spice grinder and use as a natural thickening agent in soups and stews.
Celebrate fall with these butternut squash recipes.
Read More ›
In summertime, many of us moms feel like the kid in "Home Alone"--or at least we feel like making that face! The kids are hot, hungry, and tired, and so am I! What do I feed them that is healthy and quick. It only adds to the drama if you're at work and you have teens at home alone or a babysitter with limited cooking skills.
Everyone will smile with these simple and easy healthy lunches for your tots, pre-teens and full-blown teenagers that eat like adults (I have three of those myself!). Bonus: Most of the meals can be made ahead and changed slightly to yield a new lunchtime menu.
Get your summer kitchen ready and organized!
Read More ›
Sauces can make or break a dish, both in taste and in nutrition. Take the classic cream sauce, for example. Delicious, yes. Healthy, no way! The ingredients are usually white flour, butter, and heavy cream, with some whole milk added for good measure.
Thankfully, we can improve on the classics to make them a welcome addition to the healthy kitchen.
Let's edit the name ever so slightly. Rather than a
cream
sauce, we're creating a
creamy
sauce.
Rather than heavy cream, start with flavorful liquids that have little to no salt, such as homemade stock.
I often make a quick stock by pouring boiling water over dried mushrooms, which serves two purposes: the steeping liquid becomes the stock, and the mushrooms add texture to the sauce. When combined with a roux, that flour-and-fat combo that is cooked to create a thickener, the thin stock yields a velvety sauce the plenty of "mouth feel"--no cream needed.
Thankfully, you can re-create a "creamy" taste and texture with foods that are low in fat and calories. Swap heavy cream and whole milk for skim milk, unsweetened soy or almond milk, silken tofu, nonfat Greek yogurt, or (my favorite) evaporated 2% milk, which is what I used to trim the fat in
Chef Meg's Light Alfredo Pasta with Veggies
. The end result is a creamy dish that's light enough for summer, which is great because it pairs so well with all those garden-fresh vegetables!
Read More ›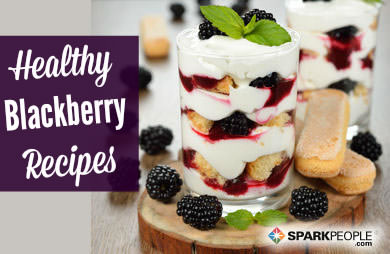 Picking blackberries is one of my all time favorite summer activities. It was my fresh blackberry pie that won my husband's heart when we were first dating. Fortunately for him, we bought a house that has blackberries growing abundantly in our back yard. I love harvesting them with my kids on warm summer afternoons.
Blackberries are rich in antioxidants and are a good source of dietary fiber, vitamin C, vitamin K, manganese vitamin E, folate, potassium and copper. They are also are great as snacks or can serve as an exotic new ingredient in your regular cooking regimen. I've gathered our top blackberry SparkRecipes to help you get started.
Read More ›
Some time ago, I received a phone call from a frantic mother asking for fun and healthy treats to bring to her child's Valentine's celebration at school. She needed these snacks to taste great while also obeying the school district's wellness policy. What healthy substitute could she serve to convey the spirit of Valentine's Day while pleasing all those sugar-loving taste buds?
I let out a sigh as I experienced a quick flash-back to 1970 and thoughts of Terry, my fourth-grade crush. Anyone in my age bracket will remember the days when each child had to bring a shoebox to school to decorate with red construction paper hearts, paper doilies, and lots of glitter. This decorated box became your mailbox for all the valentines you would receive from your classmates. About two weeks before the big event, a letter was sent home from the teacher containing the name of every child in the classroom and parents were instructed to make sure that a valentine was provided for each child on the list so that no feelings would be hurt. Of course, these were also the days of "hand-made" valentines; no mass-produced, store-purchased valentines allowed. This project took days to complete as creativity and perfect penmanship were at an all-time high. A perfect valentine had to be created for each classmate to convey your true intent. Mixed messages could turn into mayhem in a classroom already charged with excessive energy and excitement.
These days, some schools do not even allow Valentine's celebrations since they cut into valuable classroom time. Other districts allow an hour of fun, but the foods distributed during party time must comply with wellness policy guidelines. I have assisted several school districts with wellness plan development, so I know a thing or two about making smart substitutions for sugary Valentine's treats.
I have put together a list of three easy-to-make, healthy treats for your child's Valentine's party-- the same three treats that I suggested to the mother on the phone years ago. They were a hit with her child's class, and hopefully you will find one to brighten up your child's Valentine's Day celebration as well. Remember, check with your child's teacher about what food allergies are present in the classroom before bringing in anything edible.
Read More ›
I never used to enjoy salads, let alone vegetables. It took me several years of trying new veggies, prepared in all kinds of ways to
find stuff I really enjoyed eating
. And I'm glad I experimented, because we all know
how important veggies are
for our health, and that they can help with weight loss because they're low in calories, yet high in fiber and water (both of which
help keep you full
).
Don't get me wrong: I'm not about to nosh on a bunch of plain steamed broccoli and tell myself it's delicious. (I've done it, but I don't make it a regular thing.) I still enjoy cooking and combining veggies with other foods so that they taste delicious and I actually want to eat them.
That said, I think you can trust me on this simple salad recipe. For me, a good salad has to have three key things: fruit, nuts, and protein—especially if I'm eating it as a meal. My latest salad concoction is so super delicious that I made it every single day while I was on vacation last week—and still came home wanting more of it. It's the perfect combo of bitter, sweet, savory and tang that I think you'll love it, too. Think of it as a delicious delivery device for your daily greens.
Read More ›
My boyfriend, Sam, loves riding his bike. He recently sold his car, and he spends much of the year training for and competing in endurance bike races. The man loves to climb mountains on two wheels, and he commutes about 26 miles a day to work, five days a week. On weekends, he's gone for hours at a time, riding along country roads in Kentucky with his teammates (he and a friend started a local cycling team, BSM).
As anyone who works out regularly knows, the more you exercise, the more you need to eat. All that time on the bike means he eats a ridiculous amount of calories each day. He eats a very clean plant-based diet, as do I.
In early December, he challenged me to create a recipe to cure his
Nutella
addiction. During race season, Nutella on a fresh baguette is his favorite treat. However, despite how delicious his beloved hazelnut-chocolate spread is, he knew it wasn't exactly healthy.
I've made
my own almond butter
for years, and I had been experimenting with a chocolate version since last spring. I even gave jars of it as gifts to my family members who have birthdays in March and April.
I was adding all sorts of ingredients: cocoa powder, sugar, coconut oil, maple syrup, even cacao nibs. They were all good, but the recipe just wasn't perfected. I kept changing the recipe and eventually stopped making it regularly. (I, too, developed a Nutella addiction over the summer! An intervention was almost needed.) Then I decided to start over. Two ingredients, 15 minutes start to finish, and better than anything you can buy at a store.
Even better: No hydrogenated oils, fewer calories, less fat and sugar--and more fiber! (You could make this with hazelnuts and it would be more like Nutella--or any other nut you like.)
Keep reading for Sam's upgrade to this recipe, plus directions and the full nutrition breakdown!
Read More ›