Who doesn't love the taste of warm and chewy pizza? Turns out, it does have a place on a healthy plate. Here's how!
Read More ›
I recently spent a day speaking to high school students at my alma mater, where my sister is a senior. I was thrilled to see healthier options (like fruit and salads) than when I was there, but looking up and down the table, most of the kids had French fries, some variation of breaded meat on a white bun, and chocolate milk or a juice drink. Many also had a vegetable or, more commonly, a piece of fruit, but those bags of French fries were ubiquitous--just as they were when I was in school.
Clearly, kids are still resisting the healthier options in the lunch line, but I don't think any of them would argue that the pizza and French fries they love so much should be considered vegetables.
Pizza
is
a vegetable, at least according to the government. More specifically, the tomato paste
on
frozen pizza
served at schools is considered a vegetable. And French fries stay on the menu, too.
Last January, the Agriculture Department proposed changes that would have limited the number of potatoes served each week and required that at least 1/4 cup of tomato paste be used per serving before pizza could be categorized as a vegetable.
The changes were aimed at reducing childhood obesity rates and getting more greens veggies and fruits to the lunch tray--and cutting the amount of salt in half over the next decade.
We already know that
eating lunch at school increases a child's risk of being obese
, so what happened? Congress last week blocked the Agriculture Department from moving forward with those rules, and the status quo lunches will remain.
Read More ›
Pull a pizza out of the oven and watch the room fill with smiling faces. Even though pizza can be a calorie buster, there are a some simple techniques to turn that morning-after frown upside down. First, substitute high carbohydrate pizza crust with thin, whole wheat or alternative crust options like tortillas or pita breads that also have higher levels of protein and fiber. Second, try making your own sauce to avoid preservatives and hidden ingredients. Third, let your creative side take over, using healthy ingredients, spices or produce from other cultures and cuisines, such as Thai peanut sauce or Mexican spices and vegetarian refried beans. Fourth, pile it high with fresh and colorful vegetables, favoring greens over cheese, and giving preference to lean meats like chicken breast, ground turkey, or turkey sausage. Finally, try the grill instead of the oven. Brush on some olive oil and place it over direct heat. Brush the exposed side with olive oil and flip over. Add your favorite healthy toppings and watch your family and guests line up for a slice.


SparkPeople Cookbook SNEAK PEEK: Meg-herita Pizza
Veggie Pizza on Whole Wheat Crust with Feta and Mozzarella Cheeses
Stepf's Mexican Pizza
Read More ›
Today in our ongoing
Food on the Run series
we are going to look at smart strategies in food selection the next time you select
Domino's Pizza
Our goal remains to recommend items around 250 calories and 10 grams of fat per serving or less. Some meal plans can easily allow for a higher calorie or fat intake but typically most require a total meal that is less than 500 calories and 20 grams of fat.
Read More ›
I love
Spinning
class. For me, it's a great workout--and 45-60 minutes of letting someone else tell me what to do. Compared with my other favorite form of fitness--yoga--Spinning requires less immediate focus and allows more time for contemplation. Through rolling hills, sprints and grueling jumps, I focus on the finish line--and quite often the delicious dinner I'll make once I get home.
I have been inspired to make plenty of new recipes while on a bike--both on the trail and in the Spinning studio. Sometimes they turn out so-so (a strange lasagna using root vegetables and collard greens in a vegan cream sauce--what?) and other times they rock my world!
The idea for this
Mexican pizza
came to me just a week ago, and my boyfriend is already asking when we'll be having it again.
When I was a kid, my parents were big fans of Chi-Chi's--the only thing resembling Mexican food we could get in southeastern Ohio. My palate wasn't quite as adventurous back then, so I'd always order the kids' Mexican pizza--ground beef and cheese baked on a tortilla and served with salsa. My tastes have changed--and so has my Mexican pizza.
I wanted a real pizza crust, something whole-grain and substantial enough to hold the plethora of produce I wanted to throw on top. Pizza crust is often dusted with cornmeal, so why not make a
cornmeal crust
?
I often struggle with dough. Too sticky, too dry, too chewy, too crispy--it's hard to achieve the proper balance. I hit gold with a variation of my mom's whole-wheat pizza dough. It's sturdy and chewy without being too doughy. It crisped up nicely, especially when I parbaked it in my cast-iron skillet. (The secret, I think, is plenty of fork holes to allow steam to escape the 3/4" crust.)
The crust, I realized, would make two pizzas. There would be food for tonight, tomorrow's lunch and snacks over the weekend!
The crusts rolled out and set to bake for a few minutes, I moved on to toppings. What would crown my Mexican masterpieces?
Read More ›
Pizza is a favorite food for many of us.
In our ongoing
Food on the Run
series, we take a look under the red roof for healthy options as we eat on the run.
Read More ›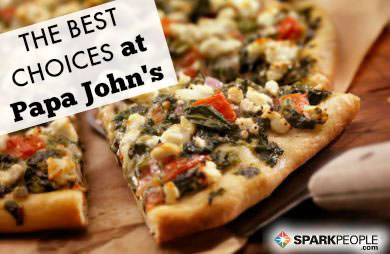 Thank you for making the new
Food on the Run series
a hit!
Based on your great comments, this week we take a look at pizza.
I'm sure you will find out some surprising facts, just as I did.
Read More ›
Have you seen the commercials for "The Natural" pizza from Pizza Hut? We did, and we couldn't wait to give it a try. Would there be a difference? Would this pizza be any lighter in calories or lower in fat? Would it be healthier in any way?
One Friday afternoon, we ordered four pizzas: a Natural and a regular half-pepperoni and half-sausage and a Natural and a regular cheese pizza.
Read More ›
The day we decided to test
Amy's
single-serve pizzas, a long line for the microwave and toaster oven formed in the office kitchen. Luckily, these pizzas were such a hit that we didn't mind waiting our turn!
Update
: Read on to find out where and how to buy Amy's products!
Read More ›