There's no question that owning a pet can be great for your health. Our pets melt away stress, make great workout buddies, and are constant sources of unconditional love. So, it's only fair that we return the favor and treat our four-legged companions with as much love and care as possible. Our friends at
Nature's Recipe
believe that all pets deserve to live long, vibrant lives. That's why they focus on providing real, delicious pet food at a real value. We are proud to partner with Nature's Recipe to nourish the relationship between you and your pet with the Make It Real™ 30 Day Challenge. Take our month-long pledge to get happier and healthier together, with fun activities to do each day that will bring you and your furry friend closer than ever.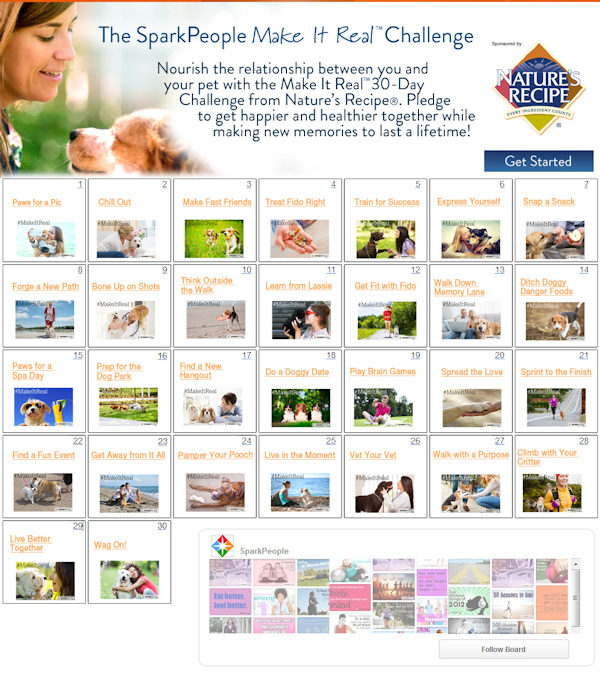 What can I expect from the
Make It Real™
Challenge?
30 Daily "Mini Challenges"
Each day, you'll get a "mini-challenge" to complete to help you strengthen your relationship with your pet and renew your commitment to the health and happiness of your companion. Some days will include fun interactive activities with your pet, and others will have you complete a task to help you become a better, more informed pet owner.
Yep, you read that right! You can earn 5 SparkPoints for each daily challenge you complete. Just visit the challenge page and click the "Earn Your SparkPoints" button to tell us that you completed that day. It's just that easy!
We will be using the hashtag
#MakeItReal
on Facebook, Twitter and Pinterest throughout the challenge. Ask questions. Tell stories about your pet. Tell us how the challenge is going for both of you and what you've learned. Encourage your pet-owner friends to join you! When you use the
#MakeItReal
hashtag, we'll be right here to support you and cheer you on! We also encourage you to use it on your own social media pages to connect with others who are completing the challenge. Be sure to follow our
We Love Our Pets pinboard
, too, for more tips and motivation as you go along.
Open to Anyone: Invite Your Friends to Join!
While members can earn SparkPoints for participating, this challenge is open to anyone!
Share the challenge page
with your friends by posting it on Facebook, sending an email link, and more. You do not have to be a member to participate. Anyone can sign up for daily challenge emails just by entering their email address.
Sounds great! How do I sign up?
Go to our
Make It Real™ Challenge page
and sign up by clicking the "Get Started" button to enter your email address. After you've signed up, you will receive one email per day for the next 30 days with a reminder to complete your daily challenge (and get your SparkPoints). Note that once you sign up, you should expect to receive your first challenge email
the following day
at 8 am EST.When does it start?
RIGHT NOW. The challenge is open and ready for you to join—and you can start or join at any time. The sooner you start, the sooner you'll be on the path to a stronger bond with your furry friend!
What are you waiting for?
Sign up right now
to get started today—and get ready for 30 days of fun with Fido. (Be sure to follow us on
Facebook
,
Pinterest
and
Twitter
, too.) Let's do this!
Will you be participating in our 30-Day Make It Real
™
Challenge? Let us know in the comments if you (and your pet) are up for the challenge!
Read More ›
As a runner it's nice to have a partner to run with, regardless if that partner runs on two legs or four legs.
A dog can make a great running partner
, not only can they help
keep us motivated to run
, but they can also provide us with a sense of security and companionship especially for those of us who must run in remote areas.
But before you get too eager to put a leash on your four-legged friend, there are a few tips to consider prior to taking your first step out the door with your running buddy.
1. Get medical clearance from your dog's vet
Just like we need to get medical clearance for exercise, same is true for our pets. This is especially necessary if your pet has led a fairly sedentary lifestyle. While your dog may spend hours running around the backyard, it is not quite the same as running five, three or even one mile.
2. Know which breeds are best for running
Knowing which breeds are best suited for running can help determine if Fido is going to make a great running partner or best left hanging out in the backyard. There are certain breeds where running may actually be detrimental to your dog's well-being. Some breeds, such as the Border Collie are more prone to hip dysplasia issues which can be aggravated from running while other breeds, such as the Pug and Bulldog are more prone to respiratory and overheating issues. Runner's World has compiled a
list of dog breeds
and the distance each breed can safely run. But remember your dog's vet is the best source of advice as to whether your best friend can run or not.
Read More ›
It's no secret that there has been a lot of extreme heat in many of the states this summer and it doesn't seem to want to let up. Where I live, it has been extremely hot and humid, which has put a big damper on some of my daily walks with my 9 month old puppy, Zoe. Neither of us has been enjoying the heat, but she loves being outside and going for walks. However, when she is panting quite a bit by the time we get to the top of the driveway, I know there is no way to get her to go for a walk and not have her be overheated.
Dogs and cats don't sweat like humans do, so they have a harder time trying to cool themselves off. Some signs that your pet may be overheated may include excessive panting, increased heart rate, and in extreme cases – vomiting and diarrhea.
Coach Tanya
recently shared some
tips for helping us stay cool and healthy during extreme heat
, but what's a dog or cat to do in this type of extreme weather? Well, there isn't much they can say or do about it, but there are plenty of things we, as responsible pet owners, can do to help them stay cool and healthy.
Read More ›
As some of you may remember, I have a yellow lab named Zoe (along with a new puppy adopted from the shelter and three cats). When my husband and I brought Zoe home though, our lives changed forever! She is full of character and enthusiasm, to say the least. While I've been taking her to obedience training classes to get her to learn how to behave well, she is not the only one that has been learning new things. Zoe has taught me some very valuable life lessons that I think may help others too.
Read More ›
As
obesity has risen
over the years, the waistlines of our
pets have unfortunately followed that trend
as well. While we are in charge of our own journey to a healthy lifestyle, our pets don't have that choice. We are in charge of what and how often they eat, along with what types of exercise they get and how often.
According to
this study
in The Wall Street Journal, the main culprit of overweight pets are "owners who routinely overfeed pets, don't exercise them enough and are unaware of the severe, and costly, health problems caused by excess weight. Common woes include diabetes, arthritis, kidney failure, high blood pressure and cancer." Wait...aren't those some of the same problems that we face due to excess weight?
If you have visited
my SparkPage
, you may have noticed that I am an animal lover. I currently have 3 cats and a 10 month old puppy. Over time and even more recently I have seen some very overweight pets, even right here in my neighborhood. While I may not be the perfect pet parent, I am always doing what I can to make sure that none of my fur-babies become a statistic of having any complications of being overweight.
Read More ›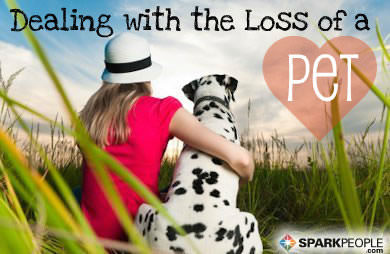 A few days ago I received a phone call from a friend who was crying and quite despondent. When I asked her what was wrong, in between sobs, she said her beloved golden retriever had passed away that morning . Having gone through this same journey with our golden retriever Belle in 2004 this news brought back a flood of emotions. The news of Missy's passing reopened wounds that I had been able to suppress over the past seven years.
Our sweet Belle was diagnosed with cancer in November 2003. It seemed to have come out of nowhere. One day she just quit eating and within days started losing weight. We had noticed her activity was not like it was, but she was ten years old so she no longer had the vim and vigor of a puppy. We were shocked to hear the diagnosis. Never in my wildest dreams would I have ever thought dogs got cancer. She lived another three months before we had to make the toughest decision in our lives and that was to put her quietly out of her suffering. Let me tell you it was the most difficult part of the whole journey, but our vet was the best. She allowed us to stay with our beloved Belle until she took her final breath. To go home with just a collar and leash was devastating. In fact it was just a few months ago that I was finally able to let go of her collar and leash and surprisingly it still had her smell emanating from the purple 'necklace' she wore for years.
Read More ›
It's been just over a year since my favorite four-legged fitness buddy stumbled into my life. One March evening, my husband and I found the stray puppy darting back and forth across a busy street. She didn't have a collar or microchip, and by the looks of her bony ribs, she had been on her own for a while. After calling shelters and searching for her owner, we officially adopted Ginger as part of our family.
Now it's a normal part of our routine to walk (or run) with Ginger every morning and every night, too. Managing the household, going to work, waking up, cooking dinner, hitting the gym—it all revolves around Ginger's exercise/feeding/potty routine these days. We push back everything else to make sure one or both of us walks or runs with her not once, but twice a day.
If I go out of town sans dog like I did last weekend, I actually miss my daily walks with Ginger. Left to my own devices, I don't have a built-in workout "appointment" each day. I have to motivate myself to get active, which is far harder than knowing Ginger is waiting for me by the door.
This led me to wonder: Does your pet motivate you to work out?
Read More ›
I have been a lover of animals ever since I was a tiny tot. We grew up with cats, a bird and a handful of goldfish for pets, but I never experienced the joy of dog ownership until I was in college and my roommate got a miniature daschund that I helped care for. I would feed her, play with her, take her out in the middle of the night, and take her on long walks each day when my roommate was away at work or class. It took dedication, work, and an adjustment to my schedule, but I
loved
that dog, and the
benefits of her companionship
made it all worth it. When my roommate and I went our separate ways, I knew I would have a dog of my own someday, but not until I was ready to adjust my routine and lifestyle to best accommodate the dog's needs.
However, things don't always go according to plan. Just a few weeks ago, my fiancé, Evan, found a stray dog near our home. It's not uncommon for us to chase down stray dogs, check for tags, or keep them in our fenced-in backyard until we can find their owners, so I didn't think much of it. But no one was looking for this dog that was very underweight and seemingly untrained, and by the time he had moved her from the backyard to our basement, I had a feeling she was here to stay. I wasn't sure that we had the time to care for a dog. I had always envisioned getting one in the future, maybe if I stayed at home or worked part time—not while we each worked full-time and part-time jobs that keep us away from home for long hours. After much planning, research and discussion, we adopted Ginger. My how our lives have changed over the last few weeks…
Read More ›
Nothing makes me happier then to come home after a hectic day only to be met at the door by my beloved Miniature Schnauzer, Brooklyn
(see photo left)
. No matter what is going on in my life she is a constant joy. In the past seven years, there hasn't been a day where she doesn't greet me tail wagging and ever so eager to welcome me home. Talk about unconditional love. There is nothing that beats the pure joy she brings to our family—in fact she is a member of our family.
Read More ›