All Entries For
pam peeke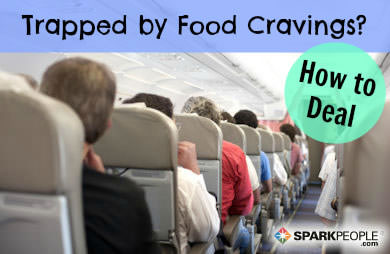 I've just returned from a meeting at Harvard, where I participated in discussions about the new news in the science of addiction. Ironically, as I hopped on board my flight to Boston and was securing my seat belt, I looked up at the TV screen in front of me. It was lit up and clamoring for my attention with an invitation to "Chow Down. Eat Up!"
Fascinated, I timed how long the invitation stayed up in my direct viewing. It stayed that way throughout the prep for departure and popped right back up after the flight attendant's usual safety lecture. I felt like the screen was reaching right into my brain's reward center, trying to infuse it with cues to
eat, eat, eat
!
It's only an hour flight, but as soon as it was safe, the attendants were soon marching down the aisles announcing "cookies or nuts?" Captive in front of the screen and now invited to eat some hyperpalatable sugary/fatty/salty products, I noticed that most people caved. The majority of people grabbed a bag or two of the free food fare, and washed it down with a soda. This vivid memory was front and center in my mind as I began my meetings, reflecting on the remarkable way our brains are subjected to hijacking opportunities every minute of the day.
And there's ground-breaking science to confirm that our reward centers are indeed undergoing real organic changes when we encounter any kind of cue to eat. Dr. Nora Volkow, Director of the National Institute of Drug Abuse, is a lead researcher in this field and has laid the groundwork for understanding how a cue affects how we make food choices. Peering into the brain using specialized brain scans,
Dr. Volkow and her team
found that it's the
cue
, not the actual consumption of the food, that really ignites the emotion (limbic) and reward centers (nucleus accumbens) areas in the brain. In other words, there's a process of conditioned learning that going on. Here's the sequence:
Read More ›