All Entries For
motherhood
Forget about talk radio, research labs, late night TV, or a magazine rack full of scantily clad cover models. Everything you need to know about fitness and nutrition, you can learn from your kids.
Here are 11 things children can teach you about healthy living:
Read More ›
A recent Duke University study examined the link between marriage, kids, and obesity among 4,500 couples. The researchers found that for every child a woman has, her risk of becoming obese increases 7%. But women aren't alone—Dad's risk also increased (by 4%) for every child.
Read More ›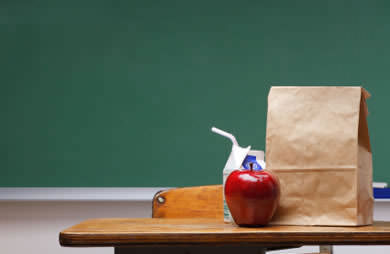 To ensure that your child has ample fuel to power through those long classes, make sure they are eating a wide variety of foods from the major food groups. Use the
USDA MyPlate
as a guide to make sure you're covering all the bases. Here are some tips on making lunchtime nutritious:
Read More ›
Have you thought about how great it would be to include your family in your pursuit to exercise more regularly? Family exercise will improve the health of your loved ones, make exercise more fun, and at the same time develop stronger connections between all of you. With a little creativity, you can find a way to make it work for everyone.
Read More ›
Still trying to decide what to get Mom for Mother's Day? How about a delicious home-cooked brunch?
Just in time for mom's big day, we've launched our first FREE e-book, "
Light and Easy Mother's Day Brunch Recipes from SparkPeople
," which gives you a sneak peek into "
The SparkPeople Cookbook: Love Your Food, Lose the Weight."
Written by SparkPeople's very own healthy cooking expert, Chef Meg, this e-book contains 3 sweet and 3 savory dishes that are perfect for Mother's Day brunch, including:
Skinny Eggs Florentine
Light Lemon Sauce
Spring Cupcakes with Citrus Icing
These simple, healthy recipes are perfect for any morning meal--no special occasion needed. But we're sure that mom will be delighted if you treat her to these recipes on Mother's Day.
To download the full recipes or preview "
Light and Easy Mother's Day Brunch Recipes from SparkPeople
" for FREE,
click here
(and scroll down to choose the file type you prefer).
If you don't have an e-reader, such as a Kindle or NOOK, you can still read these e-books. Both Amazon and Barnes and Noble offer free downloads of their e-reader apps for PC, Mac, iPhone, iPad, and other mobile devices.
Read More ›
Every parent learns early to dread Daylight Saving Time and the longer days of summer.
That spring forward – or the fall back, for that matter – can wreak havoc in the sleep patterns of even the most settled baby. And things get even more complicated when the baby grows into a child who can talk and argue.
When we set our clocks ahead an hour each spring for Daylight Saving Time, the days seem to lengthen. We might get up in the dark, but the light lingers longer in the evening--and it only gets worse as the summer progresses. Bedtime comes and the sun still is up. Even your preschooler can see that. The question is inevitable.
If it's not dark, why do I have to go to bed?
Read More ›
CONTEST CLOSED! The winners are:
BTORRES317
KATHYRB
PATTIMARR
MZBAYOUSLF
THEREDA
LUVS2BIKE101
We'll be shipping the books via Amazon today!
For years my mother was a police officer and then a police dispatcher. She worked swing shift, doubles, whatever she had to do to provide for her kids.
The Thanksgiving when I was 16, she was scheduled to work until 6 a.m. She planned to come home, sleep for a few hours and start dinner. She had recently separated from her husband and was working extra shifts to make a good life for my sisters, brother and me. My mom came home that morning and told us to make sure she was awake by 10 a.m. so she could start the turkey. There were bags under her eyes, and it was clear that she was exhausted.
My 14-year-old sister and I decided we weren't going to wake her. We enlisted our little brother and sister, then 4 and 6, and the four of us made the entire meal. We'd been helping her for so many years that, though the dishes didn't have mom's magic touch, we knew exactly what to do.
My mom awoke with a start a few hours later. She bounded into the kitchen, apologizing for oversleeping. Then she looked around and saw that we had started--and nearly finished--cooking without her. She cried, we cried, and that was the best Thanksgiving we ever had, just the five of us.
Some of my earliest memories are of being in the kitchen with my mother. Making that and every Thanksgiving dinner together, sorting through dog-eared family recipes, baking dozens of cookies each Christmas, cooking was how we bonded. My mom taught me how to separate eggs, why you should never slam the oven door when baking a soufflé, and how to make the flakiest pie crust you'll ever taste.
As a child, cooking seemed commonplace, never difficult or time-consuming. My mom brought us into the kitchen, let us help her make dinner, and assigned us tasks to occupy us and ease her workload. Before I could reach the counter, I loved grating carrots, stirring cookie dough, and shaking salad dressing.
By the time I was a preteen, Mom was working full time and putting herself through the police academy. I helped with dinner more often, even if that meant grilled cheese and tomato soup.
It wasn't until high school and later college that I realized what a gift she had given me. I had friends in college who didn't know how to boil water for pasta. Do you add the pasta first? How much water? How long does it cook?
When I moved into my first apartment, I started hosting dinner parties, first just lasagna and simple comfort foods, but later roast chicken and risotto with butternut squash, quite a fancy meal for a college student on a budget.
Today, I make a living writing about food (and healthy living). Teaching me to cook was the best gift my mother could give me, just as her mother gave her.
This week, I want you to share your stories about cooking with your own mom. And, as way to say thanks to moms everywhere, we're giving away six copies of "
The SparkPeople Cookbook: Love Your Food, Lose the Weight
."
Read More ›
Hi! I'm Tina, the face behind the healthy living blog
Faith Fitness Fun
, where I discuss a variety of topics related to health and fitness. Join me as I share some ways I used motherhood to actually help me get fitter than I ever have before!
When it comes to being a fit mommy, popular media like to focus on celebrities who drop all their baby weight and have six pack abs within six weeks of delivery. The messages that weight loss and fitness progress should happen in the blink of an eye can discourage those of us without access to personal chefs and hours to spend with trainers. I want to tell you not to get discouraged!
I know from personal experience that, with a little consistency, persistence, and balance, changes can happen and you can have a fit, healthy, and strong body. After my son's arrival in January of this year (in an ice storm, no less), I had 30 plus pounds I needed to lose to reach my happy weight.
I achieved my
Body After Baby
goals with the help of some lessons from motherhood. And that's what I want to share today because I know you can do it. Whether or not you're a parent, these six lessons I learned from motherhood can help your goals too!
Read More ›