All Entries For
leslie sansone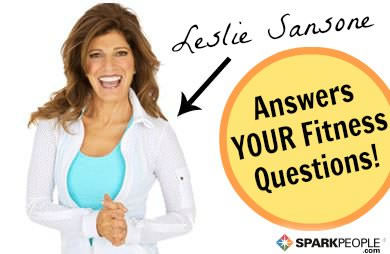 A few weeks ago
, we asked you if you had any questions for legendary walking expert Leslie Sansone. Today, Leslie is delivering answers and giving some great insights on fitness! We're a HUGE fan of Leslie's work (you can see our past interview with her
here
), and we're so honored that she took the time to answer questions again, both from us and from YOU! Take it away, Leslie!
Read More ›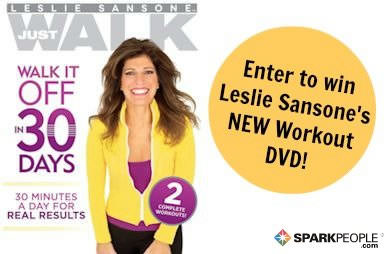 This contest is officially closed. The winners are:

DEEDEE2610
MOLLYJ96
WOODMAN169
GRANNY2B2
STANDY15

Congratulations!
We're big fans of Leslie Sansone. Her approachable, safety-focused workout DVDs completely align with SparkPeople's philosophy that fitness should be an enjoyable, attainable part of life—without making drastic sacrifices or falling for gimmicks. Leslie is the real deal, and she's helped millions of people around the world lose weight, get fit and feel great about themselves through her fitness DVDs.
A few years ago, Coach Nicole
reviewed one of Leslie's DVDs
and really enjoyed it. So, when we found out that Leslie has a new DVD coming out, we couldn't wait to get the scoop!
Walk It Off in 30 Days
is a month-long program that combines walking and strength training to get you results in 30 minutes a day. Here's what the most recent press release has to say about the program:
Read More ›
A few months ago, I had the amazing opportunity to
interview Leslie Sansone
for the dailySpark. Sure, I knew who she was and that our members love her, but I had never actually tried any of the "Walk Away the Pounds" DVDs that made her the famous fitness guru she is today.
Leslie was kind enough to send me a free copy of her newest title,
Leslie Sansone Walk At Home: Walk Your Belly Flat
, a 3-mile walk you can do from the comfort of your living room. I busted it out on a cold day that I didn't want to head outdoors for a walk. Want to know what I thought about it? And more importantly, whether it'll help you lose that stubborn fat around your midsection?
Read More ›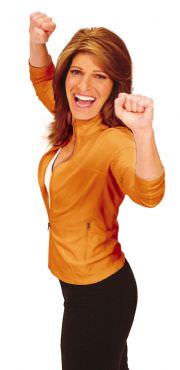 Leslie Sansone
really walks the walk. For 27 years, she has helped people get in shape by putting one foot in front of the other. Best known for her "Walk At Home" and "Walk Away the Pounds" fitness DVDs, she truly is America's fitness-walking authority. I recently was given the opportunity to interview Leslie via email, and the passion in her answers jumped off the screen.
Read on to see Leslie's answers to member-submitted questions, her
#1 secret to keeping her walks fun and interesting
, and her
top 5 tips to starting a solid walking program
.
Read More ›