All Entries For
jennifer kries
In today's world, we all
sit for too many hours each day
. We drive instead of walking. We take the escalator instead of climbing the stairs. As a result, our posture suffers—and our necks get tight because we spend hours looking down at our smart phones. (What's so "smart" about that?) We forget to breathe because we are constantly multi-tasking. And as a result, we suffer from a multiplicity of ailments, especially chronic shoulder tension and
back pain
. We are more "connected" than we have ever been, yet we are increasingly disconnected from ourselves and what we need to do to truly live vital, healthy, and inspired lives.
So what can you do? The answer is MOVE. But more specifically, strengthen your core, which can help stabilize your spine, improving its fluidity and flexibility.
The following simple exercises are a powerful antidote to all that sitting. They are a potent time-saving combination of Pilates moves and yoga poses that will help you stop pain in its tracks, reduce stress (which can also contribute to back pain), and improve your spinal alignment. This series also stretches and strengthens the core and back.
So, want to feel stronger and longer, leaner and meaner, more fluid and flexible in just a few minutes? Grab your mat, and let's get started!
Read More ›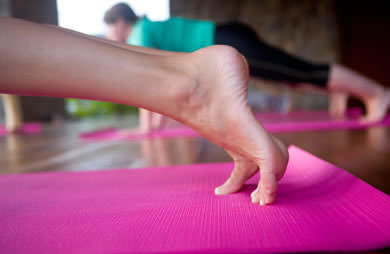 I have always thought of the combination of Pilates and yoga as the perfect marriage. Both are transformational, focused methods of movement that facilitate positive change in the body, mind and spirit. In my opinion, their differences complement one another in the best of ways. Pilates is known as a "workout," and yoga as a "practice"; however, the irony here is that, in order to improve at anything, we have to practice, and when we practice well both Pilates and yoga are can be exceptional workouts. And as you will see, both are worthy of your time and attention for innumerable reasons.
Unless you're very familiar with both—or a trained instructor—it may be difficult to tell how these two programs are different. In truth, there is a lot of overlap and similarities between yoga and Pilates. And what better way to understand them both than with a little history lesson on each.
Read More ›
Life is all about balance. Yoga helps me balance my busy life. It tones and strengthens my body, and it also calms and quiets my mind. I practice and teach Ashtanga yoga, a rigorous and regimented branch of yoga with a long history and an emphasis on linking breath and movement. It's tough--my heart rate stays up high enough that is counts as a cardio activity--and each movement is held for about five breaths with no breaks throughout the 75- to 90-minute practice.
While Ashtanga is my yoga of choice, there are times when even my yoga practice needs some balance. Therefore, a couple of times a week, I practice yin yoga, as a complement to my Ashtanga practice.
My best friend is a yin yoga teacher, and she first introduced me to the practice. She has rheumatoid arthritis, so yin, which targets the bones and fascia rather than the muscles as vinyasa (a "yang" yoga practice), is her yoga practice of choice.
Yin yoga poses are held much longer than in other varieties of yoga: 10 breaths up to 10 minutes, depending on the practice. While the Ashtanga primary series includes more than 70 poses, a yin practice might only include five to 10 per class. Yin yoga is very slow and relaxing. Because the poses are held longer than in other classes, yin yoga can be mentally challenging.
I've taken a few classes and a workshop, and I practice at home, but I've never tried a DVD. When I saw that one of my favorite Pilates and yoga teachers,
Jennifer Kries
, had a Yin Yoga DVD, I picked it up at the library and eagerly reviewed it.
Read More ›