Now that Christmas and Chanukah are behind us, many of us are starting to focus on the new year just a few short days away. This is a time of year when we all vow to purge unhealthy habits and replace them with healthier ones. There is something about having the opportunity to have a fresh start--to leave the past behind us and move onto the future.
Four years ago today, I joined SparkPeople as a member, just like you. During the past 48 months I have literally transformed my life, not just for my health's sake, but in developing the confidence to go out on a limb and take risks--risks that once paralyzed me.
For many, many years I allowed my weight to define me as a person. I believed that others judged me by my size and while that may not have been the case, I believed it. In other words, I put up walls around me that kept me from reaching out. I did not have the confidence to embrace the joys of life.
Read More ›
You want to be a fit person, right? That's why I'm sharing my own habits for keeping fit and staying healthy in the ongoing
Habits of Fit People
series.
Here's one that works for me: Shooting for a fun fitness goal.
So why does something like this matter?
Sure, exercise itself can be fun, especially when you really enjoy doing something so much that it doesn't even seem like a workout (for me, that's tennis). But to keep at it day after day, week after week, year after year…you see where I'm going here. Over time, what was once fun can seem monotonous and your motivation to exercise can drop faster than a skydiving elephant!
All of this changes when you set a fun fitness goal. I'm not talking about "exercise 5 times a week" either. Set a goal that
inspires
you to train so that you can reach it. This way, your desire to reach your fun fitness goal will motivate you to keep exercising consistently. So what kind of fitness goal is fun and motivating enough to help you stick with a workout routine?
Read More ›
There are many days in our lives that will define who we are and what we are made of. Let today be your day!
One of the most defining days in my life came on Sunday, October 11th, the day I ran my first marathon--the 2009 Bank of America Chicago Marathon. A dream I have been envisioning since I took up the great sport of running 3 1/2 years ago in the spring of 2006. The journey hasn't always been easy, but it has been well worth the blood, sweat, and tears I put into the training.
While waiting to board my plane on Friday I had my first run-in with another runner traveling from the Dallas area to run his 50th marathon. Having already qualified for Boston in 2010, he was running Chicago to improve his qualifying time for a faster corral. Talk about feeling out of my league, that was a true understatement--but he was more than kind to tell me the tales of his own 30 year running career. What I learned is, we all came to running with our own goals in mind, but quickly discovered the great joy it brings to our lives as we overcome the obstacles the sport can bring to us. I have learned so much hands-on knowledge from other runners, but most importantly I take away much more--the camaraderie that few amateur athletes share and that is our true love of the sport!
Read More ›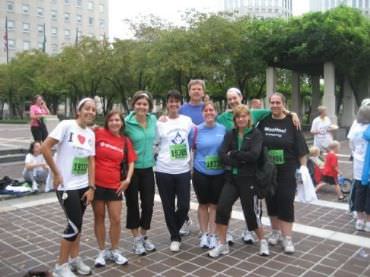 It was exactly one year ago today that I
blogged about running my first 5K race
. "I am not a runner. I really do not enjoy running," it opened.
It was true. Running was something I did rarely because it made my lungs burn and my heart race. It challenged my body (and my mind) like no other workout ever could. I didn't think it was fun and I wasn't sure that I believed the so-called "
runner's high
" even existed.
Six months after that race, I still didn't call myself a runner. When
interviewed by a local reporter
, I distinctly remember her asking me if I was a runner. "No way!" I had said—because I wasn't. Even though I had fun during that first 5K race and hoped to do more, I hadn't set any goals to run and I still couldn't make myself stick with it.
How could so many people run and actually enjoy it?
Coach Jen and Nancy were both training for the Chicago Marathon. So many of
our most successful SparkPeople members
had lost 20, 50, even 100 pounds and started running 5Ks and eventually half and full marathons. And they all seemed to be having
fun
while they did it. Was something wrong with me?
Around July, I started running more regularly (once a week) to take advantage of the beautiful summer mornings. Then I increased to twice a week. By the end of August, I was regularly running three times per week, solely because I wanted to
thoroughly test the Nike+ SportBand
before I posted a product review. Little did I know it, but my determination to test that little gadget put the universe into motion and resulted in something I never expected.
Read More ›
My brief interaction with a fellow runner a few weeks ago has changed my attitude about running, at a time when I needed it the most.
Read More ›
If you've been following my blogs for awhile, then you know that I started running about seven months ago. I began by
running a mile
just to see whether I could, which, for someone who formerly ran only when chased (and how often do you think I was chased? Um, never!), this was quite a feat.
I kept running not so much because I liked it, but because it was an effective form of cardio that, on weekends, allowed me to work out without driving to the gym. (My gym is convenient because it's close to work, but it's 12 miles from home, and I prefer to walk and bike on the weekends.)
So on Saturday mornings, I would wake up at 7, run around downtown Cincinnati for about 2 miles, then run to the farmers market. I'd arrive, sweaty and red-faced, buy my fruits and vegetables and walk home (getting a strength workout in as well--I buy A LOT of produce each week!). I covered about 4 miles, 3 of which were spent running. I am usually busy from Friday night through Sunday night, so any time I can multitask, I do.
Then, I had a change in plans one week and needed to miss my favorite Spinning class. Instead of skipping cardio for the day, I rose early and ran. I had so much energy that day, and I decided to keep running a couple of times a week.
I had no intention of running hills (painful and no fun, I thought), and though I had vaguely set a goal to run a 5K "sometime," I wasn't training for one.
Enter, our resident running coach, Nancy, who could sell milk to a dairy farmer. And now read the story of how I ran my first 5K, with the company and support of SparkPeople to guide me!
Read More ›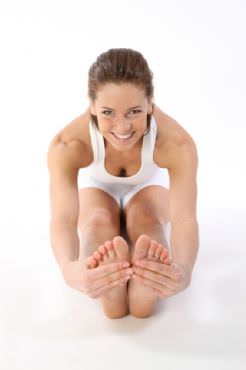 For the past 4 1/2 years I have spent the better part of my exercise routine on the elliptical, treadmill, walking outside, running, and doing some strength training to boot, but I spent very little time on flexibility. I have managed to exceed my cardio and strength training exercise expectations well beyond my dreams, but the one thing I have not done in many, many years is to bend over and touch my toes.
I am not kidding when I say that I lacked the flexibility to do what seems so natural to so many. Just look at little kids--they think nothing about touching their toes, but for me this was a feat that I have not been able to do for ages--that was until I took up
Pilates
12 weeks ago. And last week I achieved what I never imagined and that was to bend over and touch my toes!
Read More ›
We've all had those times when we set a goal, start working toward it, and then begin to wonder if we're going to be successful. Was my goal to aggressive? Is this the wrong time to pursue it? Do I have all of the tools I need? Whether your goal is to lose 5 pounds or 100, to run a 5K or run a marathon, it's easy to let self-doubt creep in. I've been experiencing a lot of that lately.
Read More ›
This past weekend I took the next step in my fitness career by taking the Road Runners Club of America (RRCA) Coaching Certification Class. This was a very intense two day course covering all aspects on becoming a certified running coach. Let me tell you, I learned so much in those 16 hours that my head is still spinning. Now I have to study so that I can take my exam in the next few weeks. I do have my work cut out for me, but I have confidence in due time I will be a coach.
Read More ›
I don't know about you, but this year is flying by. It's hard to believe in less than 2 weeks half the year will be well behind us with only 6 more months left to go until we begin 2010. This had me thinking it was time to re-evaluate my goals that I made 6 short months ago.
While I have never been one to make
New Year's Resolutions
, I do like to set goals for myself to strive for each year. I believe goals are the fundamental driving force that keeps us on this path to healthy living.
Read More ›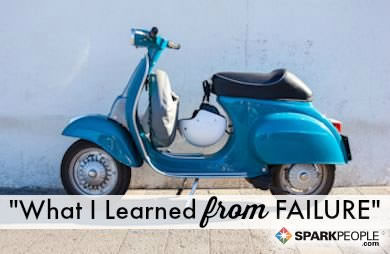 Last year, much to my mother's dismay, I bought a scooter, the photo of which I proudly display on
my SparkPage
. Scootering (if that's not a verb, it should be) around town has been a fun and eco-friendly way to travel, seeing how my "Buddy" (that's the model's actual name!) gets about 100 miles per gallon and looks oh so cute, too.
But Buddy isn't all fun and games. You see, in Ohio (and most other states, I believe), you have to have a motorcycle permit to drive a scooter, and earn your motorcycle license (endorsement) to get full driving privileges. I took my written permit test last year after buying Buddy, knowing that it would only be valid for just one year. Within that year, I'd have to pass the full motorcycle licensing exam (or pony up the cash again for yet another permit).
If you know anything about motorcycle driving tests, you probably know about their reputation for being challenging. Many people fail the first time. It's not out of the ordinary to drop your bike or fall, to hit cones or stall the engine. Knowing that, I went to the course and practiced one night before testing day. I aced all the maneuvers on my own and felt pretty confident about my upcoming test that weekend. Can you see where this might be going?
Read More ›
I'm studying to be a yoga teacher. On Day One of training, my palms were sweating, my heart was racing and my mind was running. I would soon have to face my biggest fear in yoga: Inversions.
I had spent the past two years avoiding headstands, arm balances and handstands. "I'm not strong enough," I told myself at first. Soon the strength was there, but the fear remained. In headstand, my hands wrapped around my head and my elbows tucked in, I felt claustrophobic. Add a teacher who just wanted to help me, and I felt even more cramped down there.
I once accidentally kicked a teacher who tried to help me get into headstand. I wasn't ready, and I told her that, but she wanted to help. I felt surrounded by limbs, the room was closing in, and I wanted down. I didn't try again for over a year--at teacher training.
I have some control issues. I like life to happen on my terms. While that doesn't always work, with inversions, it did.
On that first night in teacher training, I watched women kick up for the very first time. Some of these students were brand-new to yoga, and they didn't have that fear. No one had ever told them they couldn't do yoga, that they couldn't do a headstand, so they never took it to heart. I told myself I couldn't, so I didn't.
That night, I set a schedule. I would master headstand (against the wall at first) by the end of training.
Read More ›
Food is your body's fuel. Put in the right formulation and the body "purrs like a kitten." Put in the wrong formulation and things start to go wrong.
Do you see your body as a sports car or a truck? Does your image of your body effect your eating and fitness habits?
Read More ›