These days,
high intensity interval training
is hot. More and more exercise researchers are discovering that steady state cardio still does a body good—but pushing your body during shorter bursts of high intensity effort can achieve similar—if not better—results in less time. Sure you have to work harder but I prefer to think of it as working
smarter
, taking a 60-minute indoor cycling class, for example, and getting all of the same health and fitness benefits in just 20 minutes. Who's not up for that?
Read More ›
Now that the sun is out and spring is in full swing, you might finally be taking to the roads on your long-lost bike that was so neglected over the cold winter months.
Biking is a great way to enjoy the outdoors while getting in some heart-pumping cardio, and also offers a fun opportunity to bond with friends and family. But, let's face it: Those narrow bike seats can get uncomfortable pretty quickly, and sitting for an extended period of time might be an issue if you suffer from back problems. You could always enjoy the outdoors by going for a run, but running can be more jarring on the joints than biking. Wouldn't it be great if there was a happy medium between biking and running that allowed you to get some heart-pumping outdoor cardio while salvaging your joints, back, and backside?
Well, guess what? There is! It's called the
ElliptiGO
.
Read More ›
This contest is now closed.
The winner is: STARGIRL_46. Congratulations!
The Bike Month festivities continue. You were so stoked about last week's bike giveaway that we found a second bike to give away. WooHoo!
Schwinn has generously offered to give away an Avenue bike (a $244 value) to one lucky reader as a way to promote a great program called "Bike if FWD." (There is a men's and a women's version, so the winner will be able to specify.)
In addition to the contest on dailySpark, Schwinn is offering you another way to win:
Read More ›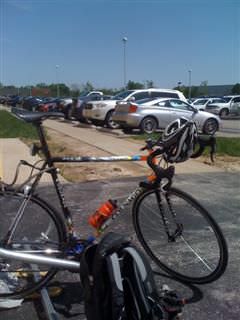 Editor's Note: Since moving to Cincinnati in 2009, Sam Klontz has commuted from his downtown apartment to his office in northern Kentucky--about 25 miles round trip--via bicycle almost every day year-round. Co-founder of the Cincinnati-area amateur road cycling team BSM Cycling, Klontz sold his car last year and relies on his bike almost exclusively for transportation. Whether it's 90 degrees and sunny or 20 degrees and windy, he rides to work. Despite the extra hour he must allot for bike commuting each day, the extra clothing and food he must carry, and the inevitable sweatiness upon arrival at the office, he remains committed to bike commuting, and he considers himself to be a bike activist. In honor of Bike Month (and Bike to Work Week), I asked him to share his story, along with some photos from his daily commute. Above, you'll see the bike he rides daily, amid a parking lot packed with cars.
Story and photos by Samuel C. Klontz,
Bike Commuter and Co-Founder,
BSM Cycling
My passion for cycling dictates most decisions I make. Transportation, vacations, clothing, 90% of my conversations with friends, and my spending habits can all be traced to a more than mild obsession with the bicycle. When I was asked to put into words some of the reasons why I bike commute it seemed like a simple and joyous task.
Then I sat down and began to think hard on why I started, where my motivation came from during the 5 degree winter days when I could barely feel my face, and how much longer I can live car free.
Creative juices did not immediately begin flowing as I had hoped. Then the proverbial lightbulb went off. I pumped up my tires, put on some BSM team spandex, and pedaled toward the deserted roads to get lost!
Over the last few days of riding to work, riding with friends, and riding to explore I have compiled a list of reasons that help me to explain my love to riding to inquisitive people. So here it goes ...
Read More ›
The winner is: FREDLYB!!! May is a great month. In addition to marking the beginning of warm weather in most parts of the country, it's also my birthday month, and, more importantly to most of you, it's Bike Month!
Here in Cincinnati, the month is chock full of events such as pop-up bike repair shops, organized rides for all levels, assistance for bike commuters, and free coffee at some local stores!
Monday marks the beginning of
Bike to Work Week
, and next Friday is Bike to Work Day. In honor of that,
Performance Bicycle
has offered to give one lucky winner his or her own fitness road bike from Scattante! Exciting, isn't it?
Read More ›