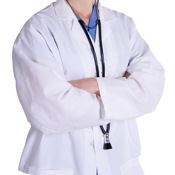 Every winter we face the potential of contracting the seasonal flu. This year, there is added concern with the continued worldwide spread of the novel influenza A (H1N1) virus, initially known as the "swine flu." In The Lancet Journal we learn that early studies of this new virus show pregnant women at increased risk for complications from the H1N1 virus, especially if they have other respiratory related conditions.

According to the Centers for Disease Control and Prevention (CDC), pregnant women with novel influenza A (H1N1) may develop acute respiratory symptoms associated with the seasonal flu, such as a cough, sore throat, runny nose and fever. There can also be body aches, headache, fatigue, vomiting and diarrhea. The risk with the novel influenza A strain, compared with the typical seasonal influenza, is that it will progress rapidly with the development of a secondary bacterial infection such as pneumonia. The risk of fetal distress increases as the severity of maternal illness increases. For this reason, the CDC strongly suggests that pregnant women who suspect they may have H1N1 should see their medical providers to be tested for influenza and begin treatment. Antiviral treatment has been found to be most effective when initiated within two days of the onset of symptoms.

Protecting Mom
Here are basic recommendations to reduce the risk of pregnant women contracting the H1N1 virus.
Make sure you are eating well and getting as much rest as possible help you stay healthy during pregnancy.


Wash hands frequently, especially after touching surfaces that others have touched.


Use a disinfecting cloth to wipe down gym equipment handles or communal mats.


Try to limit touching your eyes, nose or mouth as this is typically how germs spread.


Minimize contact with sick individuals, especially during cold and flu season.


Avoid sharing food, glasses or utensils with other people, especially during cold and flu season.


Limit exposure to crowded public environments, especially in communities where there has been an outbreak of the novel influenza A (H1N1) virus or any suspected influenza virus.
Because of the concern with the H1N1 virus during pregnancy, the CDC consulted with the Advisory Committee on Immunization Practice, who put pregnant woman at the top of the list to receive the new vaccine this fall. We encourage you to talk with your medical provider at your next appointment about the risks and benefits of this vaccine as well as the risks of the novel influenza A (H1N1) virus to you and your baby. Having this conversation before you become sick is the best way to prepare and possibly prevent contracting this new strain of influenza this cold and flu season.

Protecting Baby
Breastfeeding has long been seen as a very effective and efficient way to feed your newborn, and infants who do not receive breast milk are more vulnerable to infection in the first six months of life. Today, with the risk from a new strain of influenza called the novel influenza A (H1N1) virus, breastfeeding and breast milk may be even more important than ever.

Infants are believed to be at increased risk for severe illness from the novel influenza A (H1N1) infection. While there is little known regarding how best to prevent the H1N1 flu for infants, there are some preventative actions that may be taken to reduce the risk of this and other illnesses.
Whenever possible, only adults who are free of cold or flu symptoms should care for the infant, especially during feedings. If mom is sick, a well adult may need to provide care and feedings, even if mom is breastfeeding.


If a breastfeeding mom becomes sick, expressing breast milk to be fed via bottle or cup feeding by a healthy family member would be advisable.


Hand washing is critical, especially before touching baby's eyes, nose, mouth or anything that will go into the baby's mouth, such as teethers, toys and soothers.


Older siblings or children visiting the home should limit touching the baby, especially on the face and mouth and adhere to strict handwashing as well.


Avoid coughing around your baby. If that is not possible, cover your mouth or cough into your sleeve.


Wash blankets, burp rags and other items that can be contaminated by others and are used around the face, nose, and mouth should be washed daily. When returning home after errands, a visit to a loved one's home or a day trip, put anything that went out with you in the wash, and use new and clean items in their place.


Make sure baby is not sharing toys or teethers with other babies and avoid shared toys as much as possible.


Limit exposure to crowded areas and stay away from sick people as much as possible especially for the first six months of baby's life.


Breastfeed or provide expressed breast milk as much as possible and limit formula supplementation so the baby receives as many maternal antibodies as possible, especially for the first six months.
If you suspect that your child has H1N1 or any other illness, contact your health-care provider as soon as possible.