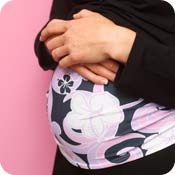 My second child, another boy, is expected to arrive any day. When my first son, The Boy, was born, I read all the articles about preparing for baby and packed and repacked my hospital bag. I made a special trip to get candies I could suck on and bought a new robe for walking the hospital corridors.

I ate the candy three months postpartum when I finally got around to putting away the hospital bag and found the unopened package, and The Boy arrived so fast I never got a chance to walk the hospital hallways, let alone wear the robe.

This time around, I don't have a bag packed and haven't looked at a single baby preparation list in the last 37 weeks. But I have been getting ready. Instead of fretting about the perfect gown to wear during delivery, I've been doing practical things to prepare myself and my family for our new addition. I'm not sure my efforts to get The Boy ready to be a big brother have made any impact--I'll share my successes and failures there after The Lad's arrival--however, I feel I've crossed off some pretty important things from the to-do list.

Here's my advice for the last of your prebaby weeks.


Go on a date.
The Boy was more than a month old before my husband and I went to dinner together--and that miracle wasn't repeated for many more months thanks to exhaustion and a dearth of good childcare (our family lives several states away). I imagine finding a babysitter for a toddler and a newborn will be even harder, so the husband and I took advantage of a friend's offer to watch The Boy one night last week. It was a weeknight and just a few hours, but still, it felt luxurious to sit across from each other and chat without reminding our toddler to use both hands when drinking his milk or going over the next day's to-do list.


Enjoy family time.
Babies demand all your attention. I mean that in the nicest way. They are adorable and cuddly and truly needy, so it makes sense everyone pays attention to them. Before this next one arrives, the husband and I have tried to really enjoy our family routine--and our existing kiddo. We haven't done any special outings, but we have made a point to get to library and the park and to really listen to and watch The Boy.


Pamper yourself.
I am not a high maintenance sort of woman. I don't even color my hair. But one of the best things I did before The Boy was born, on a whim when a friend asked, was to get a pedicure. A postpartum body is a sort of war zone. As I stood in the shower and took inventory of my aches and pains, it was cheering to look down and see pretty toenails. This time, I've also scheduled a hair appointment a week before The Lad's due date. When postpartum exhaustion makes showers a luxury, my hair will be well-cut even if it's greasy.


Clean your house.
Seriously, now is the time for a deep clean, whether it's you or someone else who does it. Nesting might make you want to do this anyway, but for me, the urge was never that practical. And when you're up at 3 a.m. with a nursing or wailing baby, sometimes noticing every dust-encrusted baseboard is the only thing to do. In the throes of postpartum hormones, these undone chores seemed proof I was a failure as a human being, let alone a mother. With less than a month before The Lad's arrival, even my refrigerator is freshly scrubbed, and the husband has strict orders to dust and vacuum before we come home. (Consider "registering" for a visit from a maid service before the baby comes. Not all shower gifts have to be especially for the baby!)


Stock up on necessities.
I, like many women, am the buyer of household goods. If I didn't buy toilet paper, no one would. Outings with babies are not as difficult as some would have you believe. Healthy newborns are easily carted out for short outings; they are mostly squishy, sleepy lumps. But packing up yourself (see: aching body parts, potentially leaky breasts and new parent worries) is difficult, and I imagine wrangling a toddler and a newborn won't be simple. My garage looks like I'm starting a dry goods store. I've also stocked up on heavy-duty pads and Tucks Medicated Pads, two very vital postpartum supplies.


Whip up some goodies.
Many prebaby lists advise freezing meals in advance of the birth. This is good advice. My freezer is full to overflowing with soups, casseroles and other pop-it-in-the-oven meals. But don't forget to make a few treats like cookies, granola and breakfast foods. Whole-grain pancakes and scones heat up quickly and make great, easy breakfasts, and the cookies--let's face it, you deserve to treat yourself to chocolate and sweets from time to time. I'm also planning to bring some treats for the labor and delivery nurses, who really are in charge at the hospital.


Arrange childcare.
The first time around, I would have read that to-do and thought: Find a daycare. That's important, too, but what I mean is: Find someone to watch your other kid. I wish I could tell you I thought of this on my own. Being honest, it didn't truly occur to me until I preregistered at my hospital and read that it didn't allow siblings in the delivery room. Then it dawned on me: Oh yeah. I'm about to have two kids. Life is about to get more complicated.
And that brings me, again, to my most important bit of advice:
Take some time for you.
The pampering appointment is a good start, but go beyond crossing off something off the to-do list. Find something you enjoy and really relish it. Read a book alone and uninterrupted. Meet up with friends for lunch. Go see a movie. You've got some hard work ahead. You deserve the treat.