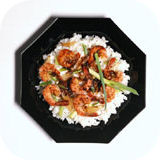 Sometimes, general dining out strategies can only help so much. When you eat at a privately-owned or ethnic restaurant, there's often no pamphlet or website with nutritional information and amenities offered. How do you know what to order, especially when you're bringing children along?

That's why we researched and collected tips for the most popular restaurant cuisines.

This article is part of our BabyFit Family-Friendly Dining Guide. We tried to emphasize kid-friendly foods and health at the same time. As we believe in all things in moderation, you'll find a few indulgences and treats on each of our menus. We also provide pros and cons about this type of cuisine, plus some activities to entertain children at restaurants. Chinese food is an affordable and kid-friendly introduction to "ethnic" food. Mild enough to please sensitive taste buds, with plenty of new foods to try, Chinese restaurants are very family-friendly.

Kid-friendly dishes

Appetizers/soups
Egg rolls: Chop them up for little ones; they'll be eating vegetables in no time!
Wonton soup: Mild pork dumplings served in chicken broth make a fun and delicious soup.
Egg Drop Soup: Egg cooked in bright yellow chicken broth is a colorful start to a meal.
Steamed dumplings: Filled with lean pork and vegetables, kids will like dunking these in the accompanying sauce.
Entrees
Lo mein: Call it Chinese spaghetti. It's noodles stir-fried with meat and vegetables.
Fried rice: Even toddlers can eat rice cooked with egg, meats and bits of vegetables.
Beef or chicken with broccoli or mushrooms or snow peas: If there's a vegetable in the name, chances are it's a good choice. (The meat and vegetables are cooked in a light sauce.)
Moo Goo Gai Pan: Chicken and vegetables in a light sauce will appeal to any kid.
Cold Noodles in Sesame Sauce: Its salty and sweet flavor will tempt kids to slurp these up.
Treats
Fortune cookies: Only 20 calories each, and the family can take turns reading and learning Chinese words.
Orange slices: A healthy choice, and they come free with the check at many restaurants.
Thumbs-up
Chinese restaurants offer large family-style portions, so two entrees can often feed two adults and two children.
Many entrees are steamed, and healthful brown rice is sometimes offered.
Thumbs-down
Sweet and sour dishes are usually deep fried and covered in a sugary sauce. Kids will like them, but there are healthier dishes on the menu. Same goes for Sesame and Orange dishes.
"Szechuan" usually means spicy.
Kung Pao (chicken cooked in a spicy sauce with peanuts) and Cashew chicken and beef are healthy choices, but nuts can be an allergen for little ones.
Many entrees are heavy on sauces and light on vegetables. Ask for extra veggies and less sauce.
Chopsticks can be hard for little ones to manage. Put a rubber band at the top of them, or ask for forks and spoons for the kids--and a knife for you to cut up veggies into bite-size pieces.
Table talk
Many restaurants have placemats with the zodiac years listed on them. Help your kids find out what "year" every family member was born in, like the year of the monkey or the rooster!

Note: Pregnant women should avoid eating deli and processed meats, soft cheeses, and some types of seafood due to the risk of illness to herself and her unborn child. Eating raw or undercooked meat, poultry or seafood also poses health risks. Find more information on which foods to avoid here.