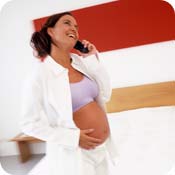 It's true. More and more women these days actually DO exercise for the whole nine months. And one of their major needs is good maternity fitness gear.

Bicycling, jogging and walking are ideal pregnancy activities, as well as prenatal exercise classes developed especially for pregnant women. After all, exercise increases lung capacity, improves circulation, eases back pain from added weight, keeps weight under control, helps prepare your body for labor and delivery, and enables you to recuperate more rapidly after childbirth.

However, until recently, the lack of workout attire for pregnant women has been a common problem. As the baby gets bigger, so does the mom. And it can become very uncomfortable if you do not have the proper workout attire that supports and breathes in the right places. Even buying larger sizes of the regular athletic gear just doesn't work, because the larger sizes are not shaped to the pregnant form.

Fortunately, several maternity companies have finally addressed the shortcomings of maternity exercise apparel, accepting the idea that comfort and support go hand in hand. Although the clothing needs to be cool and non-restrictive, it should also firmly support extra-full bellies and breasts, and over-strained backs and legs bearing the increased weight.

What to Look For
A couple of factors should be taken into consideration when buying workout clothing and will often vary due to individual taste. The first factor is the climate in which you're working out. For cooler climates, long sleeves, leggings and a light-weight jacket might be more appropriate. In warmer climates, short unitards or bike shorts might be enough. A second factor is the type of exercise you are doing. For a low impact exercise like yoga, a jog bra might be fine. However, if you choose to run or do a higher impact exercise, a good sports bra would be much more supportive.

Fabric is another personal preference. Some women find that a cotton/spandex blend wicks moisture away effectively. Meanwhile, others prefer the higher tech Supplex or Lycra blends that are very stretchy and also do a good job of wicking moisture. However, there is one drawback to both types of blends: they can easily shrink if not washed in cold water and hung up to dry.

What's Your Style?
For some women, the unitard is a maternity staple because they create a long line and don't cut into the thighs. They also provide support under clothing without lines or elastic digging in, even if you gain a lot of weight during pregnancy. Most unitards come in a sleeveless or with long or short sleeves, short or full legs, and can also be worn after the baby is born.

Continued ›