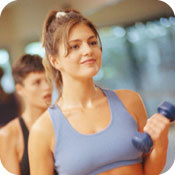 Wouldn't it be great if you could fit exercise in every day? Maybe between, say, taking care of the house, picking up dry cleaning, working a full time job, driving children to soccer practice, taking your husband to the airport, organizing a church/community function... and don't forget preparing and eating a nutritious meal for you and the growing baby 3-5 times a day.

Whew! Does that sound like your day, too?

Believe it or not you CAN fit a workout into your day. All it takes is couple of smart systems to get you started and keep you motivated. The payoff is huge and you will get 3 times back what you put into it. Everything gets better when you exercise. Less stress, more energy, easier delivery and better sleep are just a few of the benefits.

The trick is making exercise fun, convenient and something you look forward to each day. Then you're more like to do and stick to it. Here are some strategies and examples to create your own Smart Workout Systems.

Gym or Fitness Center Workouts

Pack your gym bag the night before so you are ready to go for a workout directly before or after work.
Keep that packed gym bag in the trunk of your car.
Ask a friend to join you at the gym as a substitute for your typical get-together.
Home Workouts
Set up mini gym at home: physio ball, dumbbells, resistance bands, aerobic step, and a few exercise DVDs or tapes.
Walk or workout with friends or family instead of watching TV after dinner.
Remember to rewind those VCR workout tapes after each workout.
Working & Working Out
Set up reminders at work to take stretch breaks. Set auto e-mail alerts for certain times of the day to get up and move around.
Revise your commute. Get to work earlier/later and leave earlier/later to cut commuting time during rush hour AND have more time for exercise.
Also remember that consistent exercise is the most effective method for overall fitness and you can get exercise in a number of ways. You don't have to follow a routine of the traditional sort. Walking 9 holes of golf is exercise and so is getting outside and throwing the Frisbee around a little bit.

It is important that you find low impact and moderate forms of exercise and not push yourself with too strenuous of an exercise routine. And remember to keep it fun! Staying active builds not only strength but also confidence. Enjoy your workout!