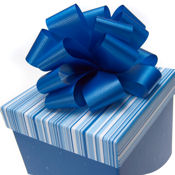 'Tis the season for sharing and caring—not maxing out your credit card—but during these still-uncertain economic times, amid a culture of "more, more, more," it's hard not to stretch beyond your means, especially when you are doing so to give your children what they need and want. While this year we're expected to collectively spend $447.1 billion on holiday retail sales, according to the National Retail Federation, that's only a modest increase over last year.

What that means is that Americans are still feeling the pinch, both financially and emotionally, and resisting the urge to go overboard on gifts. "We did scale back," says Jenifer Helton, who was laid off last year, then went back to work at half her salary. In turn, her budget for her daughter's holiday gifts was also halved, to about $300. The good news? Jenifer, her husband and her 15-year-old daughter had a merry and modest Christmas.

If your family is planning a more modest holiday, here are several parent-tested tips that can help spread the cheer—and stretch those precious dollars:


Set a Price and Amount Limit: Some parents are cutting back on extraneous presents because they are tired of the "gimme, gimme" consumerist attitude that has infiltrated the holidays. They might choose to limit the number of presents and give one big-ticket item instead of 10 cheap toys, or set a budget for each child.

Sarah Matheny and her husband focus on buying their children a mix of gifts and necessities. The Mathenys buy their 3- and 5-year-old daughters "a toy or two that they really want, whatever clothing/pajamas they need (2 - 3 items), and about 3 - 5 books and other stocking stuffers."

Other useful stocking stuffers include shampoo and conditioner, a new toothbrush, a gift card to a bookstore, a date book, and a packet of thank-you cards (for all the other presents they receive!).


Explain Why: It's important to prepare your child in advance for a more modest holiday. Children of all ages understand the link between work and money, and they may worry about the impact of the recession—especially if a parent has lost a job. Approach the topic of a modest holiday without too much emotion, and be positive, as you don't want to unnecessarily upset your child, according to the Business Center North of the Nevada System of Higher Education.

"It was very, very hard for me as a parent to talk to my daughter about cutting back," says Jenifer. "But Kaitlyn is truly a great kid and just rolled with it."

Even if your family hasn't experienced financial setbacks, experts say it's perfectly acceptable to tell your kids that you are attempting to budget and be financially responsible to ensure a comfortable future for the entire family.


Encourage Children to Reciprocate: Urging children to give presents to their siblings or parents is a great teaching moment, as it helps show them how expensive the holidays can be if you're not careful! Either ask the children to budget their allowance so they have money to spend on others or give them a set dollar amount and take them shopping. Work these gifts into each child's overall budget to further reduce spending.


Put it in Perspective: Make the holiday about more than just presents by starting a new holiday tradition: volunteering! "We choose to work with two local charities as a family. Candy Cane Kids, which is set up by my Junior League, contributes gifts for children who otherwise might not have a present to open on the holidays," says Jenifer. "We also volunteer for a shelter that houses women and their children who have been involved with domestic abuse." Volunteering with people who are less fortunate can help your children see how truly lucky they are. Working at soup kitchens or shelters and participating in toy drives are all excellent ways to drive home the true meaning of the holiday. To find a volunteer opportunity in your area, check out volunteermatch.org.