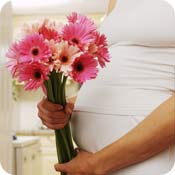 Editor's Note: About one million women give birth via Caesarian sections each year, making the surgical birth the most common major operation performed in America, according to the U.S. Centers for Disease Control statistics. While vaginal births after a prior c-section are quite possible, they also can pose some risks (as can c-sections), and the VBAC rate has fallen 67% in the last decade while the c-section rate has risen.

Many doctors--and mothers--automatically rule out VBACs. However, BabyFit member PRETTYANDI was determined to have a VBAC and even changed doctors to get her wish.

Read about how the 32-year-old mom from Cincinnati, Ohio, successfully delivered her fifth child via a vaginal birth--after three Caesarians.

My first son was born in 1994, via a vaginal birth after a day or so of labor. I had an epidural, and the doctor broke my water, but the birth and delivery were normal.

A year and a half later, Baby No. 2 (another boy) joined our family, but the little one was so excited that he kept flipping for joy. Because he was "sunny side up" (in the posterior position), I needed an emergency C-section for the hefty little guy. He was 11 pounds, 4 ounces, a full four pounds bigger than his older brother was.

Baby No. 3 (our first and only girl) arrived in 2003. She also came via C-section, because an ultrasound at 37 weeks estimated her birth weight to be 9 pounds, 13 ounces (she weighed in three ounces lighter than that at birth). Due to her size, I was told there was no chance of a VBAC.

Two years later came baby No. 4, another boy, who was 9 pounds, 10 ounces. There was no chance for a VBAC with him, either.

Fast-forward to baby No. 5, our fourth boy, and my second vaginal birth.

I was about three months along when I mentioned VBAC to one of the two obstetricians I was using (they're in the same office and share patients). I explained to him that I had been doing research on the subject for the past five years and that I would really like to give it a try. We had about a 20-minute conversation about the subject, discussing my c-section history, the fact that I have big babies and that I may end up needing a c-section in the end anyway. He reassured me that he had plenty of experience with VBAC and trusted it to be safe (which I already knew). We agreed that if I were able to go into labor and progress by myself, I'd have a VBAC.

Because of past problems with high blood pressure and low iron, I made sure to discuss how to prepare my body for VBAC. I knew I needed plenty of water, a healthy diet and regular exercise--which I kept up.

During my fifth pregnancy, I'd never felt better. I was on the right track for VBAC to be successful. In addition to VBAC, I told my doctor that I had every intention of doing natural childbirth--no pain medication. He told me it wasn't necessary to have a natural birth, but having done the research, I knew that epidural or any type of pain medication could make my chances of c-section higher. Plus my small hips and past difficulty with a large posterior facing baby have made me even more determined that I may have some challenges getting this baby to come out!

Meanwhile, I was reading books on natural childbirth, doing research on the likelihood of a small pelvis being the reason for a c-section, and preparing. I researched everything that could possibly go "wrong" based on my history and prepared myself for each scenario with exercise, and even scheduled chiropractic visits for the last 10 weeks of pregnancy to help adjust my hips and back in preparation for labor.

A couple of months later, the other obstetrician I saw asked me about scheduling a c-section. This second doctor did an ultrasound, determined my baby was breech (three months before delivery). This doctor told me that the other doctor was just humoring me and that agreeing to VBAC was "malpractice" and that I would be kicked out of their practice. He then asked if I wanted to schedule a tubal ligation "while we were in there" and ranted about how "no doctor" would ever agree to my VBAC.

Needless to say, I didn't wait to be "kicked out" of that practice. I left. I decided that if for some reason I was forced to have a c-section, it would not be performed by doctors who didn't respect me or my opinions.

I started seeing my new doctor at around 30 weeks, and he agreed to let me try VBAC. All of my appointments were typical for pregnancy--no surprises as I headed toward delivery.

My due date was June 6, 2008, and it came and went. Two weeks later, all was healthy with the baby, and my doctor gave me three choices: 1. Schedule a c-section, 2. Keep waiting or 3. Induce. He recommended No. 3, and I agreed.

I went home and waited for labor to kick in on its own, but no luck.

A few days later, I was induced. It was quite a boring day as I had 13 hours of contractions with no pain. I got checked for dilation at 10 p.m. and was only 5 centimeters -- still only 50% effaced. So my husband and I decided to start walking. We walked for about 15 minutes, and all of a sudden, the contractions started to get very uncomfortable and then incredibly painful. It was all very fast. I so wanted to be able to do natural childbirth, but hearing I wasn't progressing really had me thinking twice. I was in such a panic between the contractions that I was unable to get back on track with my relaxing and breathing, so when they offered me an epidural I couldn't refuse. Less than an hour later, my baby was born after less than 20 minutes of pushing.

Another boy, he was a whopping 10 pounds, 10 ounces and 22 inches long.

Before he was born, I decided that I would have my tubes tied if I'd had to have another c-section. That made me very sad every time I thought of it. But less than a minute after giving birth, I told my husband, "We can have another!"

I had no episiotomy, just a really small tear, but absolutely no pain, thanks to the epidural. I have never been so happy in my life.

I wish all mothers luck and hope that my story can inspire them to insist on VBAC no matter what. It's amazing--nothing less than a dream come true!

Did you have a VBAC or are you hoping for one? There's a MommyTeam for you. Join now.

Do you have a Success Story you'd like us to publish on BabyFit? Send your story, along with a photo of you and your baby, to stepfanie@babyfit.com. Submissions should be 500-1,500 words and will be edited for clarity, grammar and tone.