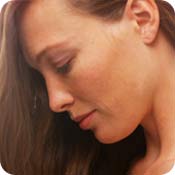 Nearly 80% of women experience a letdown after delivery. But how do you know whether your feelings are typical "baby blues" or a full-blown case of Postpartum Depression (PPD)? Here's a list that explains the main differences between the two. This is great information to share with your partner, family, and friends who might see these signs before you identify them yourself.


Sadness
"Let down" feeling
Teary, crying easily
Moodiness
Tiredness
Signs last up to 2 weeks
Usually goes away after time and rest





Sunshine
Friends
Light activity or exercise


(*after your doctor clears you for exercise postpartum)

Balanced diet
Rest (as much as possible)
Talking to your partner about your fears and concerns
Support group of other mothers
Taking time to get dressed and fix your hair




Constantly feeling restless
Irritability that doesn't fade day-after-day
Feelings of sadness that last more than a few hours or more than one day
Frequent and inexplicable crying
Persistent lack of energy
Inability to sleep, despite fatigue
Weight loss or weight gain that is extreme
Feelings or fears that you will harm the baby
Guilt
Feelings of inadequacy
Excessive anger
Lack of interest in your newborn
Intrusive thoughts
Inability to make decisions
Symptoms last longer than two weeks





| | |
| --- | --- |
| | According to a study conducted by the National Institutes of Health, women with low iron levels were twice as likely to show signs of Postpartum Depression. Beef, pork, potatoes, fortified cereals, spinach, and beans are all great sources of iron. |
This article has been reviewed by Jen Mueller, a certified prenatal and postpartum finess specialist.