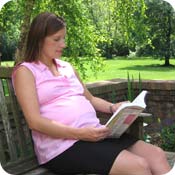 I am a bookworm.

I don't remember a time when I couldn't read. The worst punishment my parents ever dreamed up was taking away my books and journals. I always am reading at least one book.

So, unsurprisingly, a trip to the library has become the standing date for me and my toddler. He gets one-on-one time with Momma, we pick new children's books to freshen our daily reading sessions, and I restock my own book supply. Everyone wins.

Even better: Our library trips are helping to instill a lifetime love of reading in my kiddo, according to Reading is Fundamental, the nation's largest and oldest nonprofit literacy organization.

Reading well and confidently paves the way for academic success. Through books, children can discover places and experiences outside of your home and town, expand their imaginations and learn to think critically and creatively.

Creating a bookworm really does start as simply as reading to your child every day. This tip is on every child development checklist, and education and health organizations including Reading Is Fundamental and the American Academy of Pediatrics have even joined together to create a reading check-up guide to show parents how children should respond to books at every age.

Parents often think of bedtime stories when they plan to tick off this daily reading requirement, but reading can happen anytime and with any printed text. In the first months of my babies' lives, I read aloud to them from whatever book I was reading. My own mother swears I learned to read so early because of the months I was colicky when, in desperation to quiet my screams, they would read to me from whatever was on hand, be it the sports scores, the TV guide or my grandma's favorite romance novels.

As your baby becomes interested--meaning, when she starts chewing on them--"read" simple cloth books by making up stories and rhymes for the pictures. Eventually, they'll graduate to board books and picture books. Encourage toddlers to read along with you by pointing to words as you go along if the text is big enough or by asking them to describe the pictures before you read. When your child asks to have books read over and over--and over and over and over--stifle your own boredom and irritation and honor the request. Repetition helps kids recognize words and sounds. The first "reading" a child does might be simple memorization.

Take them to the library to find new books. Don't be afraid to take even the smallest babies--they'll probably sleep through most of the trip--and the most rambunctious toddlers. Make it a quick trip and engage them by finding books about things that interest them. My little boy was thrilled when a librarian helped us find books about baseball and Curious George.

With older children, respect their choices. One of my favorite memories of my mother is her telling a cranky librarian that yes, I could check out that book from the adult section even though I was only 12. I'm not advocating letting a tween read grandma's romance novels; I'm just saying you shouldn't limit your child to what you think they should be reading. If trashy fiction or graphic novels are what they want to pick up, be glad they're reading. And if you're concerned, read it yourself before you decide yea or nay. Talk to them about whatever they're reading.

But don't just stop at books. Sing nursery rhymes--there's a reason those silly poems have stood the test of time--and play rhyming games to teach kids sounds. When kids color, ask them what their picture is. Write their explanation on the page, or have them do it. The only drawing that's made it into the keepsake pile so far from my 2-year-old is a picture of, in his words, "cows and a brown horse with black hair eating grass. Now it's raining. Boom! They get wet." Encourage older children to write short stories and journals.

Reading Is Fundamental and other literacy organizations, including Literacy Center Education Network, also offer a multitude of tips and reading games online.

Finally, be a good role model. Read in front of your children. It's the best way to make sure your children know reading is a critical part of life and a valid, entertaining way to spend time. And it's a great excuse for me to indulge in my favorite pastime.

I'm not neglecting my boys when they play by themselves while I finish a chapter. I'm making them readers.