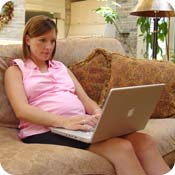 Congratulations on starting a MommyTeam! As a MommyTeam administrator, there are lots of ways you can customize your MommyTeam page. Here are some of the tools available to Team administrators:

Utilize Your MommyTeam Forum
Your MommyTeam forum is the most effective way to communicate with your Team members. Start your Team's conversation by visiting your MommyTeam page and clicking the "Create a New Topic" button. You can create a new topic about anything, but starting with an "Introduce Yourself" thread will help your Team members can get to know one another.

Get Notified about Team Activity
To keep all Team members up-to-date on the activity of your Team, we have added a few features available to all team members. On the right side of your Team page, you'll see a box that says "MommyTeam Personal Preferences." Here, you (and your MommyTeam members) can select the option to receive an email when a new topic is created in your Team's forum and/or when a new member joins the Team.

Start a Challenge
Is your Team ready to work together to meet a healthy goal? If so, consider starting a challenge for nutrition, consistent exercise, or more. These challenges encourage Team members to participate are record their results in a Challenge thread that you'll create in the Team forum. Pick a time frame, whether general or leading up to a special event.

Send Mass MommyMail
As a Team administrator, you have the option of sending a mass MommyMail to your entire team to announce new challenges, updates, changes or reminders. To use this feature click the "Send MommyMail to Team" button when editing your Team page, or when viewing your Team page while logged in.

Select "Sticky" Topics
As Team administrator, you can make up to three threads in your Team's forum "sticky", which means they will stay at the top of the forum. For example, if you have a thread for new team members to introduce themselves, you might want that to stay at the top so it's the first thing they see as they look at your MommyTeam page. Sticky topics are also perfect for Team announcements and schedules. Although you can't "un-stick" a thread, you can choose another one to be sticky in its place. To select your sticky threads, click on the name of the thread you want to be sticky. In the right corner, above the post, you'll see links that say "Make this the 1st (2nd or 3rd) sticky topic." Click on any of the appropriate link to make it sticky!

Thanks for being an active part of the BabyFit Community! We hope you enjoy and take advantage of these MommyTeam features.