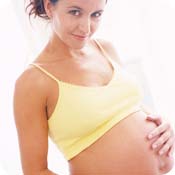 Back pain is an unfortunate, but all-too-common symptom for pregnant women. While you may find relief from stretches and exercises alone, using a maternity support belt can provide additional benefits:
A reduction in lower back pain
Reduced pressure on the bladder
Decreased varicosities and swelling
Improved circulation in the pelvic region
Prevention of pre-term contractions
Greater comfort during exercise
There are many types of support products and all are designed differently to meet the diverse needs of women. Some women feel they need to "lift" their belly to relieve pressure, while others have ligament laxity that needs compression. Some consist of only a pelvic wrap; others with over-the-shoulder or belly support, and some are Lycra bodysuits with built-in support. The product you choose should depend on the symptoms you are trying to alleviate, your needs and lifestyle, and the activities that you plan to use it for (i.e. exercise, or general support throughout the day).

Because prenatal exercise is getting more attention as an important part of a healthy pregnancy, the technology used to design maternity support belts is improving. These product designs are based on medical research with the goal of improving the comfort of women during the late stages of pregnancy. Many insurance companies will now pay for all or part of the cost of a maternity support belt and other "durable medical goods." Contact your insurance company to find out. If covered, ask your health care provider to write a prescription for a "mother-to-be-brace" so your costs can be covered.

The following websites will help you find maternity support products that are highly recommended by physicians and pregnant women: Maternity support products can be lifesavers in the mid to late stages of pregnancy, especially if you are carrying multiples. Get the support you have been looking for so you can keep up with your healthy pregnancy goals!