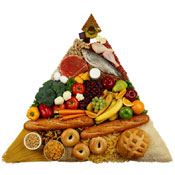 Sometime during your life, you've probably seen that colorful triangle containing a variety of foods and how many servings you need to eat each day. Perhaps you learned about it back in health class, saw it displayed on the cafeteria wall, or glanced at it on the back of your cereal box one morning. That familiar food pyramid (introduced in 1992) was supposed to be our nutrition survival guide in a one-size-fits-all world. But lets face it—one size does not fit all. Individuals have very specific nutritional needs, calorie goals, and food preferences. Therefore, the old guide was seldom used and rarely followed.

But instead of ditching the whole pyramid concept, a new and improved pyramid has entered the scene. Unveiled on April 19th by the United States Departments of Agriculture and Health and Human Services, this new guide is now internet-savvy, providing personalized attention at www.MyPyramid.gov. Taking the best of the old (basically the pyramid shape) while adding some exciting new dimensions and features, "My Pyramid: Steps to a Healthier You" is a perfect complement to your already individualized BabyFit plan…and here are the highlights:

In the new graphic, the overall shape is a pyramid—but so is each food group. This is to clarify that there are healthier choices amongst the foods in each group. The wider base of each group stands for foods with little fat and sugar. The tip of the pyramid represents foods with more added fats and sugar. At BabyFit, we have always encouraged lean meats, low fat dairy products, whole grains, and fresh fruits and vegetables.

The same 5 food groups are still represented, each with a unique color. The width of each food group is also proportional. Although the widths are a general rule, not exact proportions, it does help you visualize how much food you need from each group. It is easy to see that grains (orange) and vegetables (green) should make up the majority of your diet, while oil and fats (yellow) should be eaten in moderation. Fruits (red), milk (blue), and meats and beans (purple) fall in the middle.

At BabyFit, we've always placed great importance on daily physical activity (as long as your health care provider approves it) to improve the health of you and your baby. It's refreshing to see this represented by a person climbing steps up the side of "My Pyramid."

Continued ›