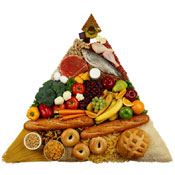 The new pyramid is all about personalization for each individual. By entering your age, sex, and activity level, the system selects one of twelve caloric intake levels that best suits you. These range from 1,000 calories per day to 3,200 calories per day. However, be aware that these ranges are geared for pre-pregnancy weight maintenance, and should discussed with your health care provider. Generally, add 300 calories to you pre-pregnancy range for a healthy range during pregnancy; add about 500 calories to the pre-pregnancy level for a healthy range as long as you are breastfeeding.

At BabyFit, we recommend using standard portion sizes, and measuring and weighing foods for accurate nutrient intake. You will be happy to learn that the nonspecific "servings" that where used on the old pyramid have now been replaced with specific portions listed in cups, teaspoons, and ounces, making it much more user friendly in kitchens across the country.

"My Pyramid" does take into account the fact that change is not easy. Helpful tips and suggestions are found throughout. BabyFit members will enjoy sharing these suggestions with others on the Message Boards as we support, encourage, and motivate each other in our quests for better health. Let's keep each other posted on what we find at www.mypyramid.gov and use it to help everyone improve their eating habits, fitness levels, and overall health.