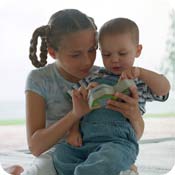 Having a new baby is an exciting time for the whole family! But with that excitement comes the responsibility of preparing all family members. You will need to carefully plan how and when to tell your child or children about the new baby.

A child who is four years or older should be told as soon as you start telling family and friends. She should be told some of the basic facts about conception and pregnancy. Age appropriate picture books, available from the library, will help with these topics. You can wait a while before telling the news if your child is younger than four. But once you start showing, furnishing the nursery or buying clothes, your child should be told what is going on. Getting the child involved in the preparation process will help ease the transition.

It is very common and even normal for siblings to feel jealously towards a new baby. Siblings may become more demanding, disruptive, or aggressive. Behaviors may regress such as not wanting to use the potty, baby talk and temper tantrums.

Here are some tips to help prepare siblings for the arrival of the new baby:

DURING YOUR PREGNANCY:
Try not to make too many changes to your child's routine close to the delivery. If you are going to move your child out of a crib, into another room, or into a new day care, it would be better to do it well before the baby is born.
Do not try and teach your child new skills close to the delivery date (potty training, weaning from a bottle, moving to a new bed).
Talk about when your child was a baby and show pictures of when he was an infant.
Take your child to your doctor visits so she can hear the baby's heartbeat and meet the health care provider.
Talk in terms of "we are going to have a baby." It is okay if he refers to the baby as "my baby."
Have your child help with the baby's room and buying clothes and toys. Discuss toy safety for the baby.
Allow your child to help pack your suitcase for the hospital.
Allow your child to select the baby's coming-home outfit.
Check out library books and tapes on what it is like to have a new baby in the house.
Emphasize the importance of being the big brother/big sister.
Reassure your child that you have plenty of love for everyone, as well as the new baby.
Emphasize that it is fun being the big brother/big sister. Your child will get to show off the baby to friends, show the baby how to eat, drink and play.
Cut pictures from a magazine and discuss what a new baby can do.
Take a sibling class at a hospital and tour the nursery.
Let your child use a doll or stuffed animal to practice changing diapers, putting on clothes, and holding.
Let your child select an inexpensive gift for the baby and make sure you have selected a gift for the new baby to give to your child.
WHILE IN THE HOSPITAL:
Call your child on the phone and tell them "we" had the baby. "Your sister/brother is sleeping now…"
Schedule a sibling visit. Before the baby comes in, spend time with your child. Let your child hold the baby. Show your child how the baby can grasp fingers. Take pictures. Exchange the gifts.
Send notes and cards home.
Have your child make a "Welcome Home" sign and hang balloons or party decorations.
WHEN YOU COME HOME:
Try and have someone else carry the baby inside or at least hand the baby to someone else. Spend some time with your older child.
Continue to spend special time with your older child daily.
Remind visitors to pay attention to siblings and not just the new baby.
Include your older child in pictures, and other activities.
Allow, encourage and praise your older child for helping with simple tasks such as getting a new diaper or finding a toy.
Encourage your child to touch and play with the new baby.
Supervise all contact so that the baby cannot get hurt.