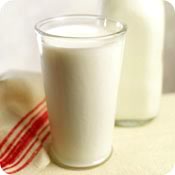 U.K. researchers recently studied how vitamin D intake during pregnancy might affect child bone health later in life.

The study, published in The Lancet, showed that children of women who received vitamin D supplementation during pregnancy had stronger bones at age nine, compared to children of women who lacked sufficient vitamin D intake during pregnancy. Children with stronger bones are at a decreased risk of developing osteoporosis (and related fractures) later in life.

BabyFit Tip: Of course, calcium is important for bone health, but so is vitamin D-without it, your body is unable to absorb enough calcium. Unfortunately, both healthy pregnant women and the elderly at are an increased risk for vitamin D deficiency.

Vitamin D can be found in fortified milk and cereals, eggs, tuna, and saltwater fish, but getting 10-15 minutes of sunlight (without wearing SPF, which blocks the sun's rays), a couple times per week, also helps the body make vitamin D. Pregnant and nursing moms should aim for 200 IU of vitamin D daily. If you're concerned about your vitamin D intake, discuss possible supplementation with your health care provider. Click here to learn more about vitamin D's role and its sources.